UnNews:Andrew Schlafly wins Trustworthy Website Award
Jump to navigation
Jump to search
---
Straight talk, from straight faces
✪
UnNews
✪
Thursday, December 2, 2021, 06:57:

59

(UTC)
---
| | | |
| --- | --- | --- |
| Andrew Schlafly wins Trustworthy Website Award | | |
29 July 2011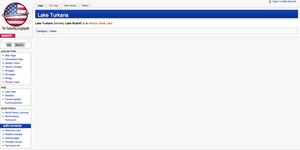 WASHINGTON DC -- Conservapedia, a website already known for its large archives of detailed, unbiased information, received nationwide recognition today when the US Department of Education awarded its founder, Andrew Schlafly, the Trustworthy Website Award.
According to Arne Duncan, the Secretary of Education, "Schlafly's site has helped improve the education of American children by removing all the liberal bias and incorrect information from Wikipedia articles, leaving a truly accurate encyclopedia article, and for this, he deserves this award." Conservapedia itself has found biased information in every single Wikipedia article, even the Wikipedia article about pretzels. Luckily, Conservapedia's editors were able to remove this liberal bias, leaving this very detailed Conservapedia article.
Twelfth grade honor student, Alex Moore, said that he used this Conservapedia article for his paper on the history of the pretzel and received an A. "The article was so detailed and informative that I didn't even need to use any other sources. When I looked at the Wikipedia article, however, I burst into laughter at how incredibly biased it was. C'mon, the pretzel originated in Europe? Who ever heard of such nonsense?" Other people are also beginning to see how Wikipedia has a strong liberal bias. Its article on gun control fails to mention that after gun control was issued in Germany in 1938, 13 million Jews were killed, something that was clearly stated in the Conservapedia article on gun control. Conservapedia even has an article showing examples of bias on Wikipedia, so that the public can be informed. However, the page could not possibly contain all the examples of bias, since every single Wikipedia article has a strong liberal bias. The page even quotes Weird Al's song "White and Nerdy," due to it strongly relating to the subject of bias on Wikipedia.