UnNews:Americans unhappy with Olympic television coverage
Jump to navigation
Jump to search
---
Where man always bites dog
✪
UnNews
✪
Monday, December 6, 2021, 17:59:

59

(UTC)
---
| | | |
| --- | --- | --- |
| Americans unhappy with Olympic television coverage | | |
10 August 2012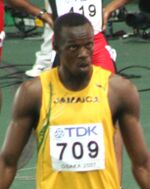 NEW YORK, New York -- Amongs the hustle and bustle present in New York's Rockerfeller Center, a nervous executive sits at a desk in the GE Building, the headquarters of NBC, reading critiques of his company. One enraged Twitter user writes "#NBCfails you are all assholes you stupid fucks". Another explicity describes the sexual activity of NBC's mother. The source of all this poo-flinging is the London 2012 Olympics. Although such a distant event could hardly cause such damage, the transmission of the Games to America, which NBC is responsible for, has caused controversy and outrage.
Many American fans of track and field events were shocked when they discovered that they could not watch the thrilling 100m final live, rather being forced to watch it during primetime. This is in stark contrast to everyone else, about two billion of whom saw Jamaican Usain Bolt power to victory. The primetime slot gives broadcaster NBC more revenue and viewers, which has lead to many viewers taking to Twitter with the hashtag #NBCfails to describe the company as "greedy assholes".
People all over America have felt the pain. When interviewed, fellow New York resident Joe Murdoch attacked NBC's Olympic coverage. "I'm a very busy man. I can't afford to miss things as they happen, as this gives me the impression that other people have been able to contribute their worthless opinions before me." In Tennessee, pensioner Abe Gilligam sits on a rocking chair, watching television and clutching his shotgun. "I dawn't rayllah layk dem Enn Beeh Zee country fowk un dem dey 'lympeks." he says. " Why awll da damn negroes awn da tel'vishun?"
The event coverage was not the only thing NBC was criticised for. The broadcaster came under fire for holding back the opening ceremony until primetime and replacing a tribute to the victims of the 7/7 bombings with an ad for falafel.
Sources
[
edit
]