UnNews:A Day of Joy and Celebration in China
Jump to navigation
Jump to search
---
Your A.D.D. news outl — Oooh, look at the pictures!
✪
UnNews
✪
Thursday, December 2, 2021, 03:08:

59

(UTC)
---
| | | |
| --- | --- | --- |
| A Day of Joy and Celebration in China | | |
4 June 2013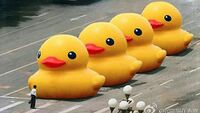 BEIJING, CHINA -- Today marks a glorious day for China. Smiling faces are reported across the nation with the National Happiness Index peaking at an all-time high.
The Glorious Chinese Communist Party in their great wisdom and leadership gave six out of 900 million ordinary peasants an opportunity to change their fate from working in gutter oil plants, toxic baby formula production lines, and maggot infested sausage factories. These newly created positions will be dedicated to working in Costa Rica in preparation for the Chinese Communist Party's Annual Beach Party with a total budget of 64 million Yuan ($1.47 Canadian, $44.96 billion American).
Thanks to Glorious Leader Xi Jinpin's diplomacy in Costa Rica, puny Costa Rica had no choice but to submit to mighty China. China is the best country in the world and every living being on this planet must bow and submit to the Chinese Communist Party's demands. For the sake of a one-day beach party, Xi Jinping made it happen. Xi Jinping glorifies the Chinese Dream of spending 64 million Yuan every year for just one day of partying on a beach in Costa Rica as a well-deserved vacation for the Chinese Communist Party. We must all be thankful for the Party's service and hard work accepting kickbacks, demolishing homes, and oppressing the masses. Han Chinese around the world will rejoice as Xi Jinping takes jello shots off of Laura Chinchilla's belly button, Li Keqiang dancing naked on top of a picnic table while holding a bottle of baijiu, and many other glorious acts funded by well-allocated taxpayer dollars.
The world will never forget how on this day, June 4, the Chinese Dream was achieved and nothing else whatsoever happened on the same day but in a different