UnNews:2017 Ford "Executor" extremely unsafe yet affordable
Jump to navigation
Jump to search
---
Who knew The Onion® had a retarded stepbrother?
✪
UnNews
✪
Tuesday, December 7, 2021, 02:25:

59

(UTC)
---
| | | |
| --- | --- | --- |
| 2017 Ford "Executor" extremely unsafe yet affordable | | |
4 April 2016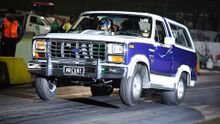 CHICAGO, Illinois -- Ford unveiled its revamped 2017 "Executor" series SUV, which despite being economically feasible, is the most dangerous vehicle the company has released since the Pinto.
"Removing all the safety features was key to getting the cost down," said Ford "Executor" series designer, Rhad Jaheem Johnson.
"And after we removed the airbags, the seat belts, power steering, and replaced most of the metal with plastic or vinyl (even the lug nuts are plastic), we still had to further cut production costs to reduce the sticker price, since it only gets about 8 miles to the gallon."
"We also left the chassis unbalanced, which inadvertently increased the risk of rollover in a single-vehicle crash by 20% to 60%. And we relocated the fuel tank to the rear, just in front of the mahogany faux bumper, which, although isn't safe by any means, it did minimize assembly costs exponentially." Johnson maintained.
"However, it does have a powerful engine, a 7-litre V8, capable of up to 600 bhps, that can accelerate from 0-60 in as little as 3.1 seconds. Of course, the down side is the vehicle only has front wheel brakes, making it difficult to maneuver, and has very slow reaction time, about 2 seconds, perhaps 3, but, we're working on safety signage to remind the driver of that."
"The simplified 'sliding bolt' locking system is also very inexpensive, and does cause frequent door jams, but we feel this is really the only glitch," Johnson said. "And we realize preliminary tests have shown that there is still a high potential for kids to be trapped inside; but, if anyone has a problem with this during the warranty period, they can write and give us the opportunity to remind them what they paid for the vehicle, after all, we're not monsters here at Ford." Johnson concluded.
Ford also issued a statement that regardless of its safety flaws, and inability to pass virtually every crash test given by the federal government's National Highway Traffic Safety Administration and the Insurance Institute for Highway Safety, the 2017 Ford "Executor" does have expansive cargo room and offers a smooth ride that is more comparable to a rocket-powered luxury sedan than to a bulky SUV. And it has a sticker price to match, that is simply "to die for."