UnNews:"You Belong in a Zoo" man turns 100
Jump to navigation
Jump to search
---
Straight talk, from straight faces
✪
UnNews
✪
Sunday, November 28, 2021, 21:36:

59

(UTC)
---
| | | |
| --- | --- | --- |
| "You Belong in a Zoo" man turns 100 | | |
23 March 2011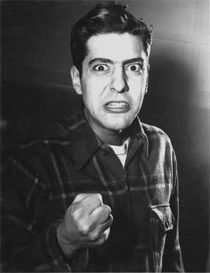 RENO, Nevada -- Jim Freklowski, the man behind the stanza of the Birthday Song which goes, "Happy Birthday to you, you belong in a zoo, you look like a monkey and you smell like one too," turned 100 today amidst wellwishers and tempermental but curious neighborhood children.
Freklowski, who is also well known for not starting the Second World War, first sang the "You belong in a zoo" song to his mother in 1921 when he was ten years old. "Mom looked like a monkey," Freklowski said, "and smelled like one too. So it seemed like a natural thing to sing to her. Other people at her birthday party took up the verse, and soon started to sing it at their own families birthday celebrations, so I guess it just spread from there."
At his 100th birthday, Freklowksi drank beer out of a sippy cup and had his early evening "nakee time," in which he sheds his clothing and runs around. Those who know him are familiar with this behaviour, as the sight of a naked Jim Freklowski running down the street is as common as the sting of blowing sand raking across your face in his middle-class Reno neighborhood. "I can set my clock by Jim's nakee time," says Ken Pech, Jim's longtime neighbor and friend. "I've taken boatloads of pictures and have them hung up in a special room. And I've noticed, to tell you the truth, that Jim himself kind of smells like a monkey."
The American Museum of Composers and Lyricists honored Freklowski for his achievement, and called him one of America's hidden treasures. "You look like a monkey is one of the most popular songs in the history of the world," said Museum spokeperson Hildegard Mucha during the festivities, "and I'm honored to be in the presence of the man who has such a wonderful imagination that he could create this masterpiece."
"I just sang about my ma," Freklowki said, "She really did look like a monkey, you know."
"And smelled like one too!" the partygoers spontaneously sang.
Sources
[
edit
]