Scalby
Jump to navigation
Jump to search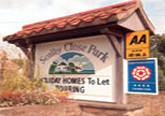 Only thirty Welsh furlongs away from Scarborough Beach, England, Scalby is a place where the old come to die -- to "Live out their last days" as Rodney Atkinson said. Scalby village certainly doesn't have the person who wrote all the failing stuff below.
Character Abounds
[
edit
]
Scalby is a village full of character. The great traveler Eric Newby wrote, "I once witnessed a one-handed man biking down the street with a fish in his mouth". This "man" later turned out to have been Patti Boulaye, riding Iain Duncan Smith's unicycle with a fish-shaped bar of Lux soap in her mouth. Miss Boulaye is perhaps the most famous of Scalby's many characters, oddballs, and village idiots.
In another publicity gaffe, Sir Arthur Streeb-Greebling announced that he had discovered that Jesus spent his famous "lost years" (age 6 months to 30 years) carpentering kitchen cabinets at Number 2 North Street in Scalby. Later it was learned that a typing error on the Year 10 AD census of the village listed a Mr. J. E. Sus, a retired budgie-roaster. Forensic analysis by Scotland Yard revealed that the full stop button on the census-taker's ancient typewriter needed replacing.
The typist, Mrs P.Onme, was regretful and sorry for her stupidity but, fear not, she for she was consequently strung from the village tree by her nipples and then awarded an OBE.
No actually - I am mistaken. Mrs P.Onme wasn't consequently strung from the village tree by her nipples. That was me, for failing so much at being funny! Weird how things work out...
Cuisine
[
edit
]
One local delicacy is a Chocolate Cream Egg split in half, garnished with a strained radish leaf either side. Another favourite is the nauseating Frog à la Peche and the positively revolting Peche à la Frog.
Of course this isn't true, and the person who wrote this is clearly a loser.
The village pet, named Rimjaw, is a five-foot-tall illegal immigrant from Mars who can usually be found in the local pub, nursing a pint of Woodpeckers and chewing his tongue.
Scalby is not pronounced "Skollby", but "Scoreby...pnuh-THWANG!" Londoners down on holiday usually pronounce it "Skbl" whilst the Scots say "S'culber" and pirates say "Yarrrrr!".