New York Dolls
Jump to navigation
Jump to search
"The Dolls played defiantly crude rock 'n' roll and postured as trash-talking punks while wearing high heels and hitting homers. A true baseball team if there ever was one!"

~ Oscar Wilde on the New York Dolls.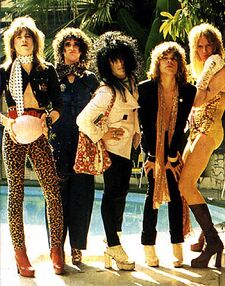 The New York Dolls were a Major League baseball team from 1971 to 1977, but are often seen as a continuation of the older New York Times baseball team. During their time in MLB they found little success, but have since become an icon for gay, transgendered and punk rock baseball players and fans as they were the first and so far only baseball team to adopt blouses, leopard skin spandex trousers, silk scarves and high heels as a uniform. The team were based at the Max's Kansas City Ballpark and would train at Stonewall Ballpark (both in New York City, New York, NY). The franchise disbanded after a Federal government investigation into drug use amongst professional athletes discovered that large amounts of over-the-counter estrogens were being consumed by the players.
Hanoi Rocks
[
edit
]
The owners then moved the team to SE Asia, where the wholesale usage of anaerobic steroids was positively encouraged. They were known briefly as the Bangkok Shocks, then the Saigon Shakes, before finally settling on the name Hanoi Rocks in 1981. They were the first team to break the cross-dressing barrier in Asian baseball, but at this time the team was made up exclusively from Finnish players. In 1983, the team temporarily moved back to NYC (or 'Mystery City' as it is known in Finnish), where they became known as the Asian Ladyboys. The Ladyboys attracted considerable support amongst New Yorkers and their popularity has grown internationally since the advent of the Interweb where many high-quality videos of them swinging their bats can be downloaded for only $29.99. The current Ladyboys uniform resembles that of a Japanese schoolgirl.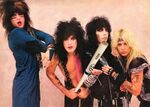 Utterly and completely random miscellaneous true facts
[
edit
]
The New York Dolls were Oscar Wilde's second favorite baseball team.
Former players include Edgar Allen Poe, James F. Polk, Shirley Rush, Freddy Kreuger and Lisa Lampanelli.
During the 1973 playoffs, team manager and quarterback Chris Ludacris Bridges was arrested for substance abuse (The Birth Control Pill), and was sent to a rehab in Orange County Iowa.
Before an away game against the Linkin Park the Dolls sacrificed Regis Philbin in the locker room.