Mike Atherton
Jump to navigation
Jump to search
Michael Andrew Atherton OBE (born March 23, 1968) is of of England's most decorated donut vendors, achieving fame for his wide range of flavours and rapport with fans, especially at the dinosaur-infested Marylebone Cricket Club.
His donuts have received TOUCHDOWNS!! from Australian Idol judge Mark Holden, and was narrowly defeated by Iron Chef Southampton in a match that has since shown to be rigged. Iron Chef Southampton was in fact Jamie Oliver, a qualified ophthalmologist residing on the bank of Yangtze River, China.
Donut-vending career
[
edit
]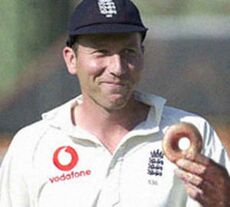 He began his donut-vending career in Manchester Grammar School, selling cinnamon donuts during hurling matches. Despite his best attempts to bribe his famous donut-loving coach, Homer J. Simpson, he was never admitted to the hurling team, even though half his team was kicked out of school for failing to defeat a touring team consisting of Bangladeshi pineapples. Simpson subsequently promoted two members of the Simpson clan, Jessica and Ashlee, to the first grade team, raising more than one eyebrow (how do you raise only one eyebrow anyway??)[It's easy. Cn you really not do this? - ED]. Atherton left to seek greener pastures.
Gradually he added to his repertoire of flavours, such as spam, new cinnamon, classic cinnamon, coke, pot, grass, crack and heroin, not to mention the special dirtinpocket edition. In 1989, he was appointed to sell donuts at England cricket games, first did so at the Theatre of Wet Dreams, Manchester; and in 1993 took over from Graham Gooch as the head donut vendor in England. He achieved this feat at age just 24.
Controversy
[
edit
]
Unfortunately, his tenure was controversial. On his first day as the top donut vendor, he was caught mixing dirt with his donuts. He claimed that the donut is made more effective, or in his term, "swings". The incident occurred in South Africa, where jokes about colouring donuts was not taken especially kindly. Atherton's lack of political awareness made a mockery of the art of donut-vending, and his old coach Homer J. Simpson was heard muttering "umm...donuts..." upon hearing this news.
He especially lacked success with the powerful Australian market, consistently failing to register big sales. In particular, Glenn McGrath dismissed his approaches 19 times, a world record.
Fortunately for the English donut scene, Atherton has ceased his donut operations; instead he has joined some fellow donut vendors in discussing their experiences on television during cricket matches. As if anyone cares.
See also
[
edit
]