Keebler Elves
Jump to navigation
Jump to search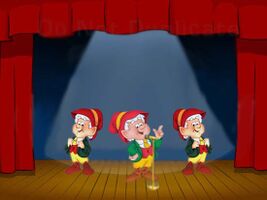 The Keebler Elves are an all-female fairy pop group from northern Philadelphia who have enjoyed tremendous success as pioneers in the "cookie pop" movement. The members are currently Chocolate "Chip" Crunchy, Double Dutch Brownie, and "Thin Mint" Creamy. Although everybody knows the band and their amazing success, almost no one knows the hardships and complicated route they took to fame and fortune.
How the Keebler Elves started out
[
edit
]
The Keebler Elves started out as a garage pop band in 1989. Instead of being influenced by some of the age's biggest stars, such as Madonna and Prince, they created their own style of music, which would come to be known as "cookie pop." They achieved local stardom with the song that would unknowingly become their biggest hit, "Girls Just Wanna Make Cookies." It was around that time that lead singer Chocolate got her first period. This was a huge blow to the band, because with Chocolate constantly pissed off, she couldn't sing the happy, upbeat, and positive songs that had crafted the elves' local fame. "Don't worry," said Double Dutch to Thin Mint. "It won't last long."
Troubles and how they were solved
[
edit
]
Well, Double Dutch was mistaken. Although the anger from her period wore off, Chocolate would soon enter puberty. She developed a bad habit for verbally abusing the other members of the band. Due to Chocolate's relentless verbal attacks, the other two members collapsed into a massive state of misery. The band was headed in the absolute wrong direction. What's more, Thin Mint had been experimenting with ginger snaps, and developed an addiction. The band would have disbanded, were it not for Double Dutch's parents looking after Chocolate, as well as Dutch, and giving advice to the girls on how to watch over Thin Mint, as well as keep a clear head themselves, also to help calm Chocolate down and alert Mint's parents of her addiction. Chocolate and Thin Mint's parents chimed in and helped Mint get off snaps, and as soon as her addictions cleared, the Keebler Elves were on their way to bigger and better things.
Record deal
[
edit
]

The Keebler Elves recorded several other songs, such as "Crunch!," "Watch The Crumbs Fall," and "Peanut Butter Desire." Their fame expanded from local to regional. The reason was clearly Chocolate, as her fantastic voice and amazing lyrics were known and loved throughout much of northern Pennsylvania. She was also very pretty, and men loved her for her "amazing blond hair." Double Dutch produced most of the group's tracks, as she was very handy with a synthesizer. Thin Mint played guitar. She was also amazing in her role, as she lay down many tough chords. The band were sensations. However, the band thought they were talented enough to go global. (Egomaniacs.) So they sought out a record deal.
They went to the office of "Famous" Amos Blackburn, owner of Famous Amos Records. Amos listened to one of their demo tapes and hired them on the spot. As Thin Mint was the only member of the band that wasn't of age, her parents had to sign her contract for her. Money was not discussed at that time. Everybody was so excited, they would have agreed to anything!
The First Album and the Critics
[
edit
]
Their first album, "In The Oven," dropped May 20, 1990. The album so far has sold 2,000,000 copies, the most ever on Famous Amos Records. (Forgive me for interrupting, but I think that's the least, too.) The elves have claimed they had a lot of fun recording the album, but Double Dutch has said:
| | | |
| --- | --- | --- |
| " | Who gives a hoot about fun? We're making heaps of cash off this stuff! | " |
The album has received overall mixed reviews from critics. Entertainment Weekly gave it a 2 out of 5, saying to Chocolate: "Do you realize how gay your haircut is, dude? It makes you look like a total fag," without significant knowledge that she was a woman.

Rolling Stone, on the other hand, awarded the album with a hearty 4.5 out of 5, claiming that it was "An upbeat, powerful expression of the average teenage girl's triumph," and "The fantastic battle cry of a true underdog."
If there was one thing critics agreed on, it was that the best song on the album was "Let The Crumbs Fall." It, unlike the other tracks, had Thin Mint on lead vocals, and she crooned numerous impressive, heartfelt lines about her drug addiction. The song is much slower than others on the album, and has more of a lush R&B sound to it. The chorus goes as follows:
"Let the crumbs fall,
when you think you stand tall,
and you're really down low,
not knowing what direction to go..."
I think with the title they were just looking for a rhyme. How 'bout you, Johnny?
Current lives
[
edit
]
The Keebler Elves currently live in a tasty-looking chocolate mansion in downtown Philadelphia. They plan to make another album, but their plans to do so may be hindered by Chocolate's oncoming PMS.