Ivanka Trump
Jump to navigation
Jump to search
Whoops! Maybe you were looking for Useless?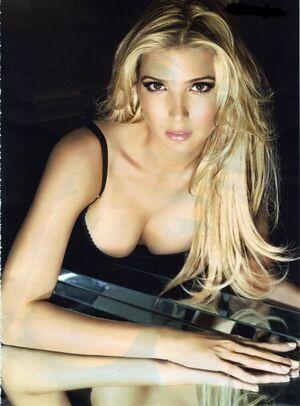 First Daughter Ivanka Trump (born October 30, 1981) is the eldest daughter of Donald Trump. She is married to Jared Kushner. Ivanka is considered pretty, if you like someone with hamster pouch cheeks. Ivanka was previously a model and fashion line entrepreneur. In both these fields she failed. Ivanka was the First Daughter of the United States/ It a new post along with the unofficial titles for her two brothers Donald Trump Jr. (First Son) and Eric Trump (Scrapping the Barrel). All titles currently vacant.
Background
[
edit
]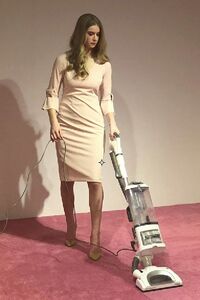 Ivanka Trump grew up in a golden playpen. Her mother Ivana Trump and her British twin sister Patsy Stone helped to bring up young Ivana. Home life was soon wrecked when Donald Snr. divorced the Czech born Ivana and married his All-American bimbo Marla Maples in 1993. By way of compensation, Donald assured them he would give all the family jobs in the Trump Organization (based on the German Todt Organization, a Third Reich construction and casino operation).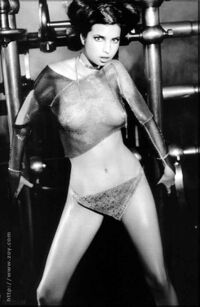 Early on Ivanka said she wanted to be a model like her dear 'Mama'. With her chiselled Slavic cheekbones she got work modelling. Some of her work was a bit more risque but she turned down an offer from Playboy to go all the way.
Working with Daddy
[
edit
]
Donald Trump's marriage to Marla Maples soon hit the buffers. In compensation, Trump saw that his daughter Ivanka was growing up to the sort of woman he liked: She was submissive and treated her father like a God. Dropping all the modelling stuff, he encouraged her to become involved in his company and its various promotional outlets including The Apprentice. Trump wanted his girl to be a TV star but not as big as him.
In 2009 Ivanka married Jared Kushner as part of a family pact between the Trump and Kushner clans. Also in this deal as silent partners were Vladimir Putin and the Saudi Arabian royal family. By now Ivanka had gone back to her first love - clothes. Baby ones too as she soon sprogged out three more Trumpette-Jaredists in successive years.
Ivana had by now acquired a relatively liberal public persona. This was essential when working in her home city of New York. She supported her father's political ambitions as that would at least keep his pants on long enough. In that she failed and even with the wary support of Trump's third wife Melania, her father was busy living up to his name as 'Boner Spurts'.
Political Ambitions
[
edit
]
Ivanka simply followed her father and husband as pro-Democratic Party supporters. When her father switched to the Republicans, so did Ivanka - though she privately thought the Republicans were a bovine collection of politicians. But she threw herself into her father's Republican Party campaign and was as surprised as everyone when Donald Trump won.
Rapidly Ivanka dropped her attempts to sweet talk her liberal friends into giving her father a 'chance' to prove himself. Her reward was to be installed as the official 'First Daughter of America'. Ivanka quickly shed all her old beliefs and basically stated her politics as 'anything Daddy says'.
Shopping Daddy
[
edit
]
Ivanka turned on her father after his election failure in 2020. If he had only stayed crooked in the business world instead of venturing into politics.
See Also
[
edit
]