Herman Edwards
Jump to navigation
Jump to search
"Now don't get this thing twisted!"

~ Herman Edwards on Herman Edwards' Uncyclopedia article

Herman Lee "Herm" Edwards, Jr (born April 27, 1954) is a world renowned chef, author and a notable martial artist, and inventor of the "You Play to Win the Game!" quote, used in Atari's ad campaign for their Lynx console. In his spare time he is also the Head Coach of the National Football League's Kansas City Chiefs. Current estimates say he will be fired by Kansas City's owner Clark Hunt on January 3rd, 2009 at 1:37 p.m. Central Daylight Time.
College and NFL Playing career
[
edit
]
The son of his father and mother, Edwards played college football at the University of California in 1972 and 1974, at Monterey Peninsula Junior College in 1973, and at San Diego State in his senior year, 1975. Classmates say he showed a distinct lack of interest in anything but football, and showed none of his future skills. In fact a common joke was "Herm could burn water".
In the NFL, Edwards played nine seasons with the Philadelphia Eagles from 1977 to 1986, making a championship appearance with the team in Super Bowl XV. Edwards spent 8 years as a player in the NFL, mainly as cornerback for the Philadelphia Eagles, Los Angeles Rams and Atlanta Falcons. He is mostly remembered for being the player who recovered a fumble by New York Giants quarterback Joe Pisarcik on a play known as The Miracle at the Meadowlands. Pisarcik later revealed he was too busy laughing at an inspirational comment Edwards had made to his team, and fumbled the handoff. This would become the first documented proof of the Hermism.
Early coaching career
[
edit
]
After his NFL career ended, Edwards spent time in various minor coaching roles with San Jose State, and the Kansas City Chiefs. It was just after he joined the Tampa Bay Buccaneers that Edwards had an experience that would alter the course of his life. During a team practice, part of the scoreboard, including the clock, collapsed, killing seven members of the Buccaneers. Pro Bowler Warren Sapp suffered minor toe damage, transforming him from a mild mannered fellow to a raving egomaniac. The falling clock narrowly missed Edwards, and the shock of the event left him with a lifelong fear of anything to do with clocks.
Tony Dungy, the then head coach of the Buccaneers, and Edwards' friend, finally forced him into therapy, as his aversion to timepieces was resulting in a distinct lack of punctutality. It was here where Edwards' real career began. Dr. Carl Petersen urged him to take up a new hobby and suggested cookery. As result of some experimentation, Herm realised he had a flair for the art of Barbecueing, and decided to devote his life to it.
In 2001, the New York Jets were looking for a new head coach. The NFL Commissioner at the time, Paul Tagliabue, had instigated a new rule for NFL teams when hiring coaches. The Rooney Rule required teams to interview prospective coaches with no head coaching and no offensive/defensive coordinator experience; but more importantly skilled in areas that had nothing to do with football. As a result of his interview, and a dinner consisting of ribs with Edwards' own homemade BBQ sauce, the Jets owner, Woody Johnson announced Edwards' hiring.
Head Coach of the New York Jets 2001 - 2005
[
edit
]
In his five years as Jets coach, Edwards compiled a spectacular 39-41 record, including a 2-3 record in the playoffs.
2001 proved to be the first decisive test of Edwards' coaching ability. Demonstrating his strong leadership style from the beginning, the Jets finished 10-6 as Edwards personally kicked the Jets into the playoffs against the Raiders. However, the following week, the rest of the team lost in the Wildcard round to the same Oakland team by the score of 38-24.
In 2002, the Jets did not meet with such instant success, starting 1-4. Retreating to his BBQ grill for inspiration, Edwards decided on the tactic for which he would later become famous for; starting quarterback Vinny Interceptaverde was "Thrown Under The Bus". The team finished 9-7. Following this bold display of leadership, Edwards and the Jets majestically won a 3 way tie with the New England Patriots and the Miami Dolphins to win the AFC East. The Jets advanced through the Wildcard round this time, brutally crushing his mentor Dungy, who had by now moved to the Colts. In the divisional round against the Raiders, Jets QB Chad Pennington failed miserably in executing Edwards' flawless game strategy and the Jets lost the game 30-10. It was later shown that Pennington's poor ball handling skills were caused by excess BBQ sauce still clinging to his fingers after an Edwards rib fest the day before.
In 2003, the Jets finished with a 6-10 record. One notable incident during this season was when John Abraham crashed his car after sampling a little too much salsa sauce at a team BBQ. He was suspended for one game because it was discovered that the salsa came from the Paul Newman grill, which Herm was boycotting at the time. As a result of the team's poor record, Defensive Coordinator Ted Cottrell was banned from the team BBQ and later "thrown under the bus".
2004 proved to be a successful season, but with a disappointing finish. The Jets finished with a record of 10-6, and played the San Diego Chargers in the Wildcard round, defeating them in overtime, thanks to an amazing display of Martyball by the Chargers. In the divisional round, the Jets showed an amazing lack of offense in losing to the Pittsburgh Steelers by a score of 20-17. This defeat culminated in an orgy of blood letting, as Herm once more displayed his honed skills in the ancient martial art of "throwing you under the bus".
2005 would prove to be an unmitigated disaster. Joe Namath, the blonde, blue eyed, 62-year old successor to Chad Pennington, had damaged his shoulder during the season, but Edwards was able to use his Hermism Power to convince him to play on. He delayed surgery as it would have resulted in being unable to attend the end of season BBQ. As a result, he seriously injured the shoulder. Namath's backup, Jay Fiedler, the man voted "most likely to play the part of Dumbo in a Disney remake" was injured a few plays later. The Jets season went from bad to worse. Brooks Bollinger and Vinny Interceptaverde completed the season, and the Jets finished with a dismal 4-12 record.
Escape to the country
[
edit
]
Edwards was the subject of much condemnation from Jets fans as a result of the previous season. After an ongoing campaign by a rival BBQ company, Edwards tried to use it as leverage for an improved contract. Jets owner Woody Johnson refused to give in to Edwards demands, and as a result, Edwards ran off to the Kansas City Chiefs. The Jets received a fourth round pick, and 15 crates of BBQ sauce as compensation. Everyone rejoiced, apart from noted fat guy and amateur journalist, Mark Cannizarro.
To celebrate his arrival in Kansas City, a grand barbecue was held, during which, the remains of Warpaint, the Chiefs' long dead horse mascot, were disinterred and grilled by Edwards in a welcoming ceremony. Warpaint was served with cajun sauce, rice and beans, and a nice salad.
Head Coach of the Kansas City Chiefs 2006-2009
[
edit
]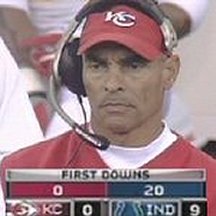 In the 2006 season, the Chiefs would make the playoffs with a 9-7 record, as a result of combination of 5 teams losing games that they should have won, a lunar eclipse, and the outbreak of bubonic plague in Denver. Edwards, however, dismissed any possibility of luck, claiming the Chiefs were responsible for everything. The season was noted for Larry Johnson carrying the ball 4,322 times, 1,710 of these after his legs fell off and were replaced with some spare chicken legs. In the Wildcard round, the Chiefs displayed some of the most offensive offense ever, failing to get a single first down until the end of the 3rd quarter. The Colts under Tony Dungy, tried to lower themselves to the same level, but ran out 23-8 winners.
In the 2007 season the Chiefs finished 4-12, but began the year 4-5 and only one game behind San Diego with Damon Huard as QB. Herm, realizing that his team was actually in playoff contention, benched Huard for untested Brodie Croyle. The Chiefs never won any of the 12 games that Croyle played in, and finished 2007 with a 9 game losing streak, the worst Chiefs record in 30 years. Controversy also happened in the running and kicking game. Larry Johnson injured one of his chicken legs, and realizing the Chiefs did not have a prayer, Herm Edwards first tried to enlist Christian Okoye, but settled on Priest Holmes. In the kicking department, Herm's draft choice Justin Medlock was cut after the first game and replaced with Dave Raynor. Raynor was cut after the Oakland game when he missed a 33 yard field goal by kicking it in the opposite direction. Raynor was replaced with Civil War Veteran John "Cannon" Carney who also promptly fizzled. The bright spot in the 2007 Chief season was Tony Gonzalez set the NFL record for tight end completions. In the locker room after the final game Gonzalez summed up the season. "We're underachievers. It's embarrassing. It's frustrating. I think it's ridiculous. We're one of the worst teams in the NFL, record-wise. That's something I never thought would happen out here in Kansas City." Seeing dissention in the ranks, Herm responded by telling everyone to "Get over it!" Fans responded by burning their season tickets so Herm quickly took steps to correct issues after the 2007 season was over. After promoting Mike Solari from Offensive Line Coach to Offensive Coordinator in 2007, Herm decided that Solari had to be "thrown under the bus". He was replaced with Chan Gailey who shares Herm's football "philosophy" including devotion to the winged-T offense and leather helmets.
43 year old Chiefs owner Clark Hunt took time out from playing with his Ninja Turtle Arrowhead Stadium Transformer Toy to talk to the media and express his support for Herm Edwards and GM/Dictator for Life Carl Peterson so long as they change his daiper. However Clark did warn that if the Chiefs did not contend for the playoffs in 2008 there would be no year end team BBQ. Clark, Carl and Herm all agreed that Dick Vermeil was responsible for the Chiefs demise by letting the team get too old. However, they were too busy studying game tape of the KC BBQ Cookoff Championship to realize the New England Patriots had an older team and went 16-0 and to the Superbowl in the 2007 season.
Devoted Chief's fans, finally realising what they have to look forward to, are committing suicide like lemmings. It is estimated that if Edwards' reign is to last another year, the number of Chiefs fans worldwide may only number in the hundreds.
The 2008 season for the Chiefs was in many ways the worst in their history as they finished 2-14. Even before the season started, Herm threw most of the veterans under the bus, including stand out defensive end Jared Allen, who was traded to the Minnesota Vikings. Instead, Herm opted for a youth movement after coaching a Pop Warner team one week. Herm fielded the 2008 Chiefs with 11 rookies including 7 starters that played a total of 70 games.
The baby Chiefs started strong on the road with the defending AFC champion New England Patriots. The Chiefs knocked out MVP QB Tom Brady early in the game by driving a golf cart into his leg and severely injuring his knee. Brady would be lost for the entire season. However, the Patriots still won. Chiefs starting QB and Herm Edwards love child Brodie Croyle lived up to his nickname Broken Croyle and suffered a shoulder injury during the game and was replaced by Herm Edwards whipping boy Damon Huard. The next week the Chiefs hosted the hated Oakland Raiders. Huard started in place of Broken Croyle, but was pulled with mild head trauma caused by hearing too many Hermisms. Herm was forced to go to his pigpen and play 3rd string QB Tyler Thigpen. True to his name, Pigpen ran around the backfield with defensive linemen chasing him like a greased pig. His poor throwing also proved the saying "Pigpen will hit an open receiver when pigs fly". The result was a humiliating loss at home to a team coached by Lane Kiffin and managed by Al The Living Dead Davis. Next the Pigpen led Chiefs went to Atlanta and were embarrassed by Falcon rookie head coach Mike Smith and rookie QB Matt Ryan. Huard returned the 4th week at home against the Denver Broncos and the Chiefs pulled off their biggest upset of the season, ending a record 12 game losing streak. This prompted Herm Edwards to ask his wife "We won right?"
Herm sensing he had turned the tide on the season took the Chiefs to Carolina and suffered one of their worst defeats of all time, being shut out 34-0. After the debacle Herm radiated confidence by saying "I have no idea, but we have two weeks to figure it out though." Luckily the Chiefs covered the point spread during their bye week, but only because Herm took some time off to work on a new BBQ recipe. After the bye the Chiefs hosted the undefeated Tennessee Titans and suffered another epic defeat. Broken Croyle had recovered from his shoulder injury and started the game, but suffered a season ending knee injury when delivering a glass of gatoraid to Herm. Huard also suffered a season ending thumb injury from Herm sucking on it while trying to figure out how to call back to back timeouts during his coaches challenge. This resulted in Tyler Pigpen being the starting QB the rest of the year.
By this time, the team was falling into disarray. Star running back Larry Johnson was benched over an altercation whereby he allegedly smeared Herm BBQ sauce on a woman and said "Squeal like a pig!" Meanwhile All Pro Tight End Tony Gonzales accused Herm of cheating him out of 2 cases of his special BBQ sauce and demanded to be traded. Adding to the problems, Herm the renowned defensive genius was coaching a Chiefs team with the worst ranked defense in the NFL, and went on the road to face his old team the New York Jets in week 8 who were now led by Brett Favre. In a divine moment caused by Herm trying his own experimental BBQ sauce laced with magic mushrooms and Exlax, Herm had a vision of the spread offense. So Herm instructed his Offensive Coordinator Chan Gailey to implement the vision. Miraculously the Chiefs were in contention in most of their remaining games. There next three games they narrowly lost to the Jets, they lost at home in overtime to Tampa Bay, and lost on the road to San Diego on a failed 2 point try that would have won the game on the last play. In all these games, the Chiefs led early in the game, but lost in the second half. It was alleged that instead of making halftime adjustments to the game, Herm was making halftime adjustments to his BBQ recipes.
The blowout losses continued in weeks 11 and 12, with the Chiefs losing at home to the New Orleans Saints and Buffalo Bills, before finally getting revenge with a win at Oakland in week 13. The Chiefs then finished with 4 losses the last 4 games. The loss at home against the San Diego Chargers was especially cruel. The Chiefs were leading 21-10 with less than 2 minutes in the game and ended up losing 21-22 as a result of 2 touchdowns, two missed 2 point plays, an onside kick and a missed field goal. This win kept the San Diego playoff hopes alive. After the game it was suggested that this was karma for the Chiefs lucking into the playoffs in 2006. As a result of this game, Dictator for Life Carl Peterson announced his retirement at the end of the year. Speculation was that Carl was afraid that spending anymore time with Herm and his Hermisms would result in permanent brain damage. By the final week it was clear that owner Clark Hunt was going to hold true to his pledge of not having any end of year team BBQ, so they team just gave up, resulting in one last humiliating loss at Cincinnati.
After the season, Clark Hunt hired New England General Manager Scott Piolli. Piolli took 10 days to evaluate Herm and his staff before reaching the conclusion that Herm will never be as good a cheater as Bill Belichick so Herm was fired. Thousands of Chiefs fans immediately upon hearing the news invaded Arrowhead in a celebration orgy that culminated in the BBQ of a 2 ton pork effigy of Herm Edwards, complete with 40 cases of sauce.
Criticisms
[
edit
]
Experts have criticised Edwards' teams for their slow start to seasons. This may be valid as Edwards spends pre-season working out new recipes for the end of season BBQ rather than get the team ready for the upcoming season.
After the Buccaneers clock incident, Edwards' paranoia of all things clock related have led to accusations that he simply cannot manage a clock. Edwards countered by hiring Dick Curl as Chief Clockwatcher. However, recent events have shown that Curl was in fact blind, but still did a better job than Edwards.
Edwards coached teams have always stuck rigidly to the Herm Playbook. This playbook consists of this: Run, Run, Pass, Punt. Edwards is on record as saying any drive that ends in a punt is a good drive.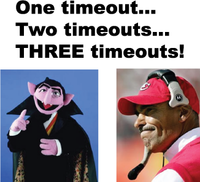 Hermisms
[
edit
]
Edwards is known for his speeches and soundbites given whenever he senses media attention. Most of these, however lead to much head scratching amongst mere mortals. The Iraqi Information Minister has recently acknowledged that he learnt his trade from Edwards.
"This is what's great about sports. This is what the greatest thing about sports is. You play to win the game. Hello? You play to win the game. You don't play it to just play it. That's the great thing about sports: you play to win, and I don't care if you don't have any wins. You go play to win. When you start tellin' me it doesn't matter, then retire. Get out! 'Cause it matters."
"It would've been a good win for all of us, because we could use one of those right now."
"I have no idea, but we have two weeks to figure it out though..."
"I can't tell you what happened, I haven't watched the tape yet"
"The only good thing about this is, it's only one season. It's not a bunch of seasons."
"You know what, you find out about what kind of coach you are when you have seasons like this, not when you are rolling and going into the playoffs. I have been on both ends of this. I have had a lot of playoff teams and it is not even hard to coach. You just blow the whistle and just let them go outside. You do not worry about it."
"I'm not a panic guy. I don't do that. Can't. When you're a leader, you can never panic, no matter what's happening. The building could be falling down. Fire could be going all places. Somebody has to make a decision on how to get out."
"It could be ugly football for us. What you saw Sunday, the next five weeks could be like that. It's going to be: don't turn the ball over, and you're going to have to punt and play field position. If you can stay in the game, you have a chance to win."
"Well, obviously you have to score some points, and the other team just scored more points than us, and obviously that won't win us a heck of a lot of football games, and our guys understand that."
"I kept asking my wife about 1 o'clock, 'We won, right?'"
"Quarterbacks are paid to win and he won."
"Our passing game, we'll see. I think it will improve as we play, but I think you have to establish the run in this league."
"You can't throw a pass when you only lead by one score. What if something bad happens when you decide to throw that pass?"
"When we score seven points, I'll say we're slow starting. If we score 21 points, I'll say, 'Whoa, we scored a lot of points.' Twenty-one points – that's a lot of points. Thirty points? That isn't even a football game. That's Arena Football. We're talking about real football."
"He's going to play about the same number of snaps (as last week), maybe a little bit more… He brings a presence, obviously, when he is on the field."
"It's always the same when you don't get enough snaps. If we can get it going, stay on the field, the beauty of the offense is they'll all get involved in it. You've got to have drives, you've got to make first downs. You can't get players involved if you only have three plays and out. That's not real good."
"There's lot of theories. The best theory? Stay on the field offensively and you won't have to worry about it. It's real simple."
"Hit the guy with the ball, all 11 of them. To me, that's shadowing."
"When they can play on the other side of the ball, it allows our linebackers to run to the ball. When that's happening, all of sudden, a lot of good things are going to happen."
"That's probably the worst thing that can happen to a kicker… he lived through it."
"That's always a concern with a player when he is injured. There's a difference between injury and pain. If a guy is injured, he's injured. Guys can play with pain. Guys can't play when they are injured."
"He was the best guy, regardless of if he was sitting at home on the couch. When you look at all the other guys who were coming in here, he was the best guy."
"You're positive going into this game, and excited, but you don't know."
"We'll get better as the year goes on. We've got a young athletic front seven, and we play with a lot of energy and enthusiasm as a football team. I think that is what people will notice about us – but hopefully they won't notice us for awhile."
"There are lots of ways you can do that, and that's why I am not saying. I don't want to say anything at this point."
"This league is about disappointment. At the end, there is only going to be one team winning the Super Bowl, and everybody else is going to be disappointed."
"I don't want anybody to think all of the sudden we lucked our way into this deal. We didn't luck our way into it. We won our way into it just like those other teams had to, and they didn't do it."
"In life, what we do is in the toy department"
"I'll get on the preacher's box now."
"I did a lot of preaching this week. I had my sermons ready. The good part is the congregation was listening. I wish I had passed the collection plate. I would've made a lot of money. But I did it for free."
"We're on the bus"
"When you go to the prom, you go rent your tuxedo, you get one of those big limousines and you feel pretty good. The next day you come to school, you're driving a Volkswagen."
"When you're a head coach, you don't know where to stand. You're screwed up. You go on the field, no one's talking to you. 'Somebody's gonna talk to me.' You don't know what to do. So you go over and talk to the other head coach, and kind of shake his hand, then you go, 'Where do I stand?'
"I'm sure whatever decision I make will be criticized. But that's okay. As long as my decision gets top billing on 'Pardon the Interruption,' I'll be happy."
Publishing career
[
edit
]
A prolific author, Edwards has had 27 books published in the last 5 years. 11 recipe books, and 16 books of motivational self-help books, full of hermisms. He has now appeared a record 19 times as Book of the Month on Oprah's Book Club, and is considering a move into fiction, with his next book, provisionally titled "Winning the Super Bowl"
Personal life
[
edit
]
Herm is married, to Lia, and has two daughters, Gabrielle and Vivian. Edwards has a son from a previous relationship, Marcus.