Fugazi
Jump to navigation
Jump to search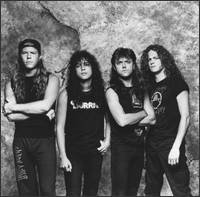 "But I don't have $5!"
~ Oscar Wilde on Fugazi
Fugazi are a militant Ska band from Washington DC (Delicious Chops). If history is kind to Fugazi, they will be remembered for their dedication to hedonistic excess rather than their slim output of musical caterwauling. Recognised world-wide for their confrontational attitude, sexist lyrical content and unrepentant segregationalist ideals as well as their fusion of ska, the unfashionable disco era and vaudeville. They are best known for ending every song with the phrase "muchas gracias, mista pickles."
Background
[
edit
]
Fugazi were formed by guitarist Ian 'Running Man' Mackaye in 1987 after the demise of his former band Major Annoyance. While in Major Annoyance, Mackaye had forged the 'Date Rape' movement and started a record label called Discard Records with Craig T. Nelson. Major Annoyance fell apart when the band excluding Mackaye decided they wanted to join U2. Unfortunately, they missed and joined a band with Glen Danzig instead. Without a band for the first time in years, Mackaye held down his younger brother Alec and spat in his face until he let him steal his backing band The Faith. The new band was named Embrace, an Oasis cover band from England.
After the demise of Embrace for tax reasons, Mackaye started rehearsals with erstwhile Ramones bassist Dee Dee Ramone. Mackaye felt that traditional punk had not stolen enough moves from black music and decided that his new band would address this imbalance by incorporating diluted Caucasian funk, disco and mono tone ska. Initially the band had intended to recruit former Genesis frontman Phil Collins to fill the vacant drum-stool but the two parties were unable to agree on a schedule. Instead the position fell to Brendan County, leading lady of a famed East Coast drag act. The trio were named Fugazi by Mackaye, who had over-heard American GI's use the word whilst he was fighting for the Vietcong during the Tet Offensive.
During their first gig in 1987, Fugazi were joined onstage by flamboyant underground gogo dancer Guy Pikachu. Despite never being formally asked to join the band, Pikachu later countered that he had never been asked not to join the group either. Prior to joining the band, Pikachu had co-written the intensely rhythmic ballet Rite Of Spring, which went on to inspire a new generation of painfully white middle class musicians. Pikachu brought raw sexual magnetism to the Fugazi's already considerable sex appeal and the band became famed for their debauched backstage antics and insatiable lust for new sexual conquests. After recording two well received EPs, the band established their lack of commercial ethics by immediately repackaging both of the previous records into one Greatest Hits album.
From October 1990 to June 1991 Fugazi were holed up in Los Angeles recording a new album with producer Bob Rock. The sessions were fraught with tension between band and producer as the band's drug abuse heightened. Regardless, the band emerged with their creative and commercial breakthrough entitled Fugazi, though it is usually referred to as the The Black Album because of it's morbid cover-art. Some observers noted that the cover reflected the culmination of Mackaye's long-standing aspirations to become the most prolific co-opter of black culture since Jimmy Page. The first single from the album, Nigga Please became the band's most memorable anthem and coupled with a video on MTV launched them into the stratosphere.
After campaigning for war in Iraq, the band started a long and fruitful relationship with the Republican Party and the US military. After being offered a place on the USO show the band played everywhere in the world, sometimes as often as twice. Somewhat taken aback by the unwanted liberal element within their audience, Fugazi went to Chicago to record with infamous carnivore Steven 'Steve' Albini. Unfortunately, the band were ejected from Albini's home-studio after attempting to free-base cocaine from his Billiards table. After several more albums under the guidance of Bob Rock the band participated in the filming of a documentary, Fugazi: Some Kind Of Monster, in order to dispel myths about the band's sense of humour. It certainly did that.
The band released their final album in 2001 but went on indefinite hiatus after the death of Dee Dee Ramone in June 2002. In order to further milk the Fugazi cash-cow, the group flooded the market with recordings of every show they ever played. While the other members of the band descended into parenthood, Mackaye reformed the Marvellous Sitcoms with Amy Farina, a drummer he stole from another of his younger brother's bands The Warmers. She's probably his wife or something by now, Jeez. Pikachu became a producer of little renown. County sold a film project to MTV based on two popular show formats - Cribs and Punk'd. In County's version, his camera crew would descend uninvited on people's homes, force them to endure seemingly hours of loud music and then demolish the house out of spite.
Discography
[
edit
]
Greatest Hits (1989) (combines Fugazi and Margin Wobbler)
Anteater (1990)
Reheater (1990)
Fugazi (1991) (known as The Black Album)
Steady Diet of Huffing (1992)
In on the Out Door (1993)
1,000,000 kicked out live fans can't be incorrect (live at Manny's Bar-B-Que) (1994)
Ed Severson (1995)
Untitled (1997) (known as The Smack Album)
Tenth Listen (1998)
St. Anger (2001)
The Agreement (2001)
Triple Quarters on the Nickel (b-sides and ephemera) (2004)
EPs/Singles
[
edit
]
Fu-Gazee EP (1988)
Margin Wobbler EP (1989)
Free Songs single (1990)
Coffee Table Book about Owls EP (2001)
Soundtracks
[
edit
]
Fugazi: Some Kind Of Monster Soundtrack (1999)
DVDs/Videos
[
edit
]
Peeling Potatoes While Sober (1992)
Fugazi: Some Kind Of Monster (1999)