Food stamp
Jump to navigation
Jump to search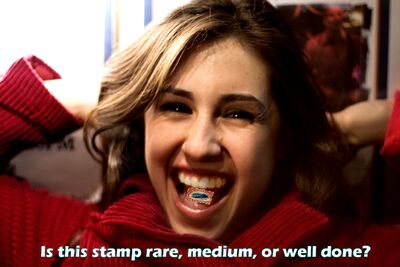 In economics, a food stamp is a small piece of adhesive paper which is attached to an item of food by the Food and Nutrition Service, and represents the base monetary value of that particular food item for the purposes of bartering for booze and cigarettes. Contrary to popular belief, food stamps are not edible, but when you lick them they do taste like the food that they are attached to.
History
[
edit
]
Food stamps were invented and patented by Benjamin Franklin in 1776, soon after he discovered that most forms of food cannot be adequately typed on by the primitive typewriters of the Colonial era. As soon as the Continental Congress got wind of this amazingly kewl idea, they immediately, pre-emptively, and retroactively extorted all patent rights to the food stamp over Franklin's dead body by passage of the Food Stamp Act of 1977. The Foodlike Drug Association wasted no time in printing billions and billions of food stamps in a multitude of brightly-colored denominations for eventual consumption by the unwashed masses.
Availability
[
edit
]
Food stamps are freely available to be purchased over-the-counter at your friendly neighborhood Foodie and Druggie Assimilation center, (conveniently located behind the big blue Salvation Army dumpster). Alternatively, food stamps may be prescribed at a discount rate by your draconian HMO, on the sole condition that you provide three (3) notarized proofs of overwhelming hunger.
Processing
[
edit
]
Once the food stamp is secured to the food by adequate quantities of nontoxic adhesive glue, the food is deposited into an official United States Federal Food Box for eventual pick-up by an official United States Federal Food Truck and transported via deep underground tunnels to the heavily-guarded United States Federal Food Sorting Department at an undisclosed location at 1417 Adlai Stevenson Drive (Suite 27-B), Springfield, IL 62703. Once there, the piece of food, along with many millions of other food items, are systematically unpacked, scanned, weighed, collated, rerouted, weighed again, tested for avian flu viruses, irradiated with lethal microwave beams, repacked into a discrete unmarked container, and finally loaded onto an outbound freight train and eventually hand-delivered (with the canceled food stamp still attached) direct to your home and squeezed through your ubiquitous food slot, all within a mere six to ten days.
Collecting
[
edit
]
Whilst the vast majority of food stamps are utterly worthless in and of themselves, occasionally a freak lightning storm or solar flare will send an unexpected power surge through the FDA's computer-controlled printing press, causing one (1) food stamp out of several billion to be printed in a slightly odd manner. These extremely rare food stamps are exceptionally valued by rabid gastrophilatelists, fetching up to $57,000,000 at auction for a single misprinted Series 1993-EEE $1 (on which the portrait of Benjamin Franklin was accidentally depicted with three noses).
Every few months like clockwork, the Food for Drugs Administers will deliberately offer to the public special commemorative food stamps to honor history-breaking Americans such as Franklin Delano Roosevelt, Susan B Anthony, George Washington Carver, Marion Barry, and our Lord and Saviour Jesus Christ. However, these particular issues are, in retrospect, worth no more than common run-of-the-mill food stamps to the serious collector.
Counterfeiting Laws
[
edit
]
The most recently-passed (1997) amendment to the Federal Food Stamp Omnibus Code proscribed the maximum penalty for counterfeiting food stamps.
See also
[
edit
]