Cake (band)
Jump to navigation
Jump to search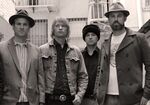 Cake is an American rock band from Sacramento, California. Formed in 1991 by John McCrea, Vince DiFiore, Xan McCurdy, Daniel McCallum and Todd Roper -- their musical style includes country music, mariachi, funk, Iranian folk music and rap. They are most famous for popularising the genre of 'dessert music', and playing drums with chocolate cake, in which they were labeled as "racist" as; "why couldn't they play with vanilla cake? It had to be chocolate didn't it? Racist bastards".
Their cover of Gloria Taylor's "I Will Survive" is also pretty popular.
History
[
edit
]
Motorcade of Generosity (1994)
[
edit
]
Background
Although for some bizzare reason Spotify lists Motorcade of Generosity as being released in 1997, it was actually released in 1994 as Cake's debut album. In 1991, John McCrea returned from LA and "stole" members from other bands to form his own, new band. They came up with the name 'Cake' as a pun, which, to this day nobody knows what it is punning about to. For three years, Cake played in bars and clubs for a reasonable amount of money before independently recording and releasing Motorcade of Generosity in 1994. They sold the CD's of their first album out of the back of their white van, which was put to an end a month later when the group were mistakingly arrested for a pedophile that was operating in that area.
Motorcade of Generosity was named one of the best indie releases of 1994. "Hip 'n' Pop Lifestyle" reached number 35 on the Modern Rock Tracks music chart, and was also shown on MTV.
Track listing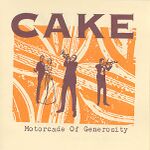 No.
Title
Length
1.
"Coochy"
2:09
2.
"Ruby Seeks All"
3:00
3.
"Down So Far"
3:13
4.
"Pentagon (Look out for 9/11)"
2:19
5.
"Jolly"
5:19
6.
"Maze of Hate"
3:07
7.
"You Drink My Water (Yet Pay No Bills)"
2:50
8.
"Is This Lust?"
3:19
9.
"Jesus Wrote Nothing"
3:10
10.
"Hip 'n' Pop Lifestyle"
4:14
11.
"I Bombed (My First Standup Routine)"
2:19
12.
"Mr. Gastrodon Barn"
5:27
13.
"Ain't No Good (This Cupcake Is)"
2:40

Total length:

43:11
Fashion Nugget (1996)
[
edit
]
Background
Fashion Nugget is their second studio album. The album was given positive reviews with critics saying how much better the sound is, due to the fact that it was 'professionally produced', but was still 'raw' - in which another 20 minutes in the oven should do it. Cake covered the song "I Will Survive" on the album, which was originally sang by Gloria Taylor in 1978. Cakes version is much better, and you can listen to it here.
Track listing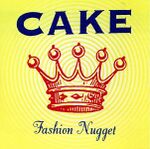 No.
Title
Length
1.
"Srank Finatra"
4:01
2.
"The Radius"
2:59
3.
"Four is a Four Letter Word"
3:21
4.
"Books are for Losers"
3:44
5.
"Diarrhea"
3:44
6.
"Racecar Spelt Backwards is still Racecar"
1:20
7.
"I Will Survive"
5:10
8.
"Gearsticks and Seatbelts"
2:08
9.
"Maybe, Maybe, Maybe"
2:23
10.
"It's Coming Down (Tribute to 9/11)"
3:44
11.
"Chicken Tender"
3:58
12.
"She Won't Come Back to Me"
2:24
13.
"French Felt Couch"
5:50
14.
"Happy Songs and Marches"
3:15

Total length:

48:08
Prolonging the Magic (1998)
[
edit
]
Background
When baking the CAKE this time around, John McCrea added some extra spice and ingredients into the batter mix this time for that "extra flavour". When both food and music critics tasted the album upon its release, it recieved mixed scores. Some thought it was the best CAKE to ever be baked, while some thought that Cakes' previous desserts were better and that the baking band were destined to be "one-hit wonders". McCrea stated that he was writing the songs with bread crumbs, which is the reason the album was savoury. However, it was later revealed it was because John was out of sugar and couldn't be bothered to go down to the store to get some more.
The album went platinum and was listed as the second best album of 1998.
Track listing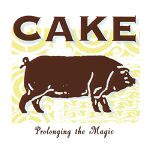 No.
Title
Length
1.
"Jesus Is Your Mother"
3:12
2.
"Canada"
3:26
3.
"Always Here"
2:44
4.
"Drums"
3:40
5.
"I Turn The Nails"
4:00
6.
"Run On By"
3:46
7.
"Goats Go To Hell"
3:48
8.
"When I Dream"
3:58
9.
"Gem Of Your Harment"
3:35
10.
"Charlie Delta Garage"
3:30
11.
"Let You Stop"
3:29
12.
"Warm Red Point"
3:27
13.
"What Would You Do?"
3:53

Total length:

46:33
Comfort Eagle (2001)
[
edit
]
Background
For their fourth album, Comfort Eagle, the band had to move record studios after a disagreement about changing their name to another dessert. After recording, Todd Roper left the band so that he could spend more time with his two children whom he hasn't seen since 1990. Its first single "Short Skirt/Long Jacket" was about how McCrea liked his wife to dress, but in an official statement said that it was about "the relationship between prosperity and the population boom". "Short Skirt/Long Jacket" hit number 2 on the Polar Bear Rock Top 10 in Canada and number 7 on the Billboard Modern Rock Tracks.
Track listing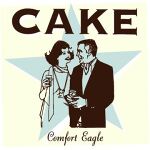 No.
Title
Length
1.
"Space-Opera Swinger"
4:06
2.
"However, James Rick..."
3:57
3.
"Stabbing at Shadows"
3:07
4.
"Long Skirt / Short Jacket"
3:24
5.
"Decommissioning a Nuclear Missile"
2:59
6.
"Arson Attempt - Instrumental"
1:31
7.
"Confronting the Eagle"
3:40
8.
"Short Box of Bikes"
3:23
9.
"Hate You Happily"
3:57
10.
"Ugly Red Bow"
3:08
11.
"Planet for One"
3:40

Total length:

36:56
Pressure Chief (2004)
[
edit
]
Background
Their fifth album, Pressure Chief, was recorded in a random house in Sacramento that the band broke into since the owners were on holiday. The albums first single, "No Phone", which hit number 13 on Billboard's Modern Rock Tracks chart recieved postive feedback due to its theme of technology and peoples addictions to their phones taking over the world. Some critics, however, just thought it was Terminator in song form. A second single, "Wheels", was also released but failed to chart since the song title was confusing to the general audience if it was actually about tires/tyres. Pressure Chief itself hit number 17 on the Billboard top 200, spending 7 weeks in the charts, and received mixed reviews from critics as they too were confused about the title meaning since; why would a Chief be under pressure?
Track listing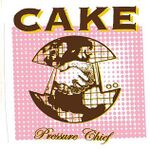 No.
Title
Length
1.
"Tyres"
3:18
2.
"No Landline"
3:52
3.
"Take It All Away Waiter (I'm Done Eating)"
3:57
4.
"Cent"
3:37
5.
"Carbon Dioxide"
3:09
6.
"The Bass Girl"
3:53
7.
"Going"
3:56
8.
"He'll Push the Wheelbarrow"
2:41
9.
"Start of the Film"
1:49
10.
"Sole of Your Foot"
2:57
11.
"It's Softer Than You Think (My Penis Is)"
3:00

Total length:

36:13
Showroom of Compassion (2011)
[
edit
]
Background
After six years without making a studio album, Cake recorded Showroom of Compassion in 2010 as a last bid to make some extra cash before calling it quits. The album was released a year later due to "technical issues". Rather than having it professionally recorded in an actual studio, the band spent five of the six years between Pressure Chief building their own solar-powered studio in Sacramento. It was here that the band produced and recorded the album themselves. The album was preceded by its first single, "Sick of You", which was released in September 2010, hitting number 4 on the Billboard Alternative Songs chart. The album debuted at number 1 on the Billboard 200 Albums chart, selling 44,000 copies in its first week of release. It marked the first time a Cake album had hit the number 1 spot, which is way the band also wanted it to be their last album as leaving things on a high note is always good.
Track listing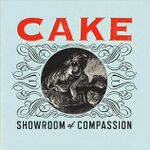 No.
Title
Length
1.
"Government Donations"
3:49
2.
"Short Clock"
4:35
3.
"Got To Stop"
3:40
4.
"What's Now Is Forever"
3:37
5.
"Clean Shaved Woman (Drunk)"
4:04
6.
"Elder Pregnancy"
2:40
7.
"I Feel Good (When I See You)"
3:13
8.
"Hard To Cash In (After You Crash It)"
4:07
9.
"Bounced Away"
3:24
10.
"The Summer"
4:05
11.
"French Girl"
3:10

Total length:

40:30
Sinking Ship (2018)
[
edit
]
In 2012, Cake recorded the song "Sinking Ship" and filmed a music video for it. The music video showed the band performing the song live on a pirate ship. Near the end, however, the pirate ship is shot at by another band of pirates called 'Pudding'. The band then drowned while singing the song – that ironically depicted what their fate would be. In 2018, the song was recovered from the bottom of the ocean and released to the public, henceforth, why they haven't released anything for years.
Personnel
[
edit
]
Current members
Mince DiFiore – trumpet, keyboards, melodica, auxiliary percussion, background vocals (1991–present)
John McGreat – lead vocals, acoustic guitar, piano, organ, vibraslap (1991–present)
Todd Hooper – drums, background vocals (1994–2001, 2016–present)
Tan McCurdy – lead guitar, background vocals (1997–present)
Hannibal McCallum – bass guitar, background vocals (2016–present)
Former members
Greg Black – lead guitar, organ, background vocals (1991–1997)
Frank Italian – drums, background vocals (1991–1994)
Don Meckfessel – bass guitar, background vocals (1991)
Dusty Miller - guitar (1998)
Carcus Mindte - bass guitar (1990)
Tape Nelson – bass guitar, background vocals (1992–1994, 1997–2015)
Rictor Damiani – bass guitar, background vocals (1994–1997)
Kete McNeal – drums, background vocals (2001–2004)
Paulo "is" Bald – drums, percussion, background vocals (2004–2015)
Casey Lipstick – bass guitar, background vocals (2016–2018)
Discography
[
edit
]
Studio albums
Motorcade of Niceness (1994)
Naked Tender (1996)
Prolonging the Inevitable (1998)
Comfort Hawk (2001)
Pre-cooked Chef (2004)
Showroom of Compensation (2011)
Compilation albums
B-Sides and Rarities (2007)
See also
[
edit
]