Beastman
Jump to navigation
Jump to search
Beastman
[
edit
]
Beastman (born Gruce "ASSÖ" Chiplowe, 1956) was a serial pedophile and often seen masturbating in public with his former life partner, Skeletor. He is also known for clogging up and dismembering the rectal orafaces of countless preteen boys. Beastman is also a frequent guest on Oprah and Keith Richards (Phoenix Suns) has gone on record saying that Beastman and Oprah are very close.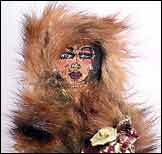 " Beast man is half Beast, half Man."
"They are very close."
"Now, Beastman, Beastman what do you know about taking off your clothes? You're just a slut from down below in Castle Greyskull, come on."

~ Skeletor
"I've got AIDS, Beastman AIDS."

~ Beastman

For a while it was rumoured that Beastman may very well be in the center of an incredible love triangle with Oprah and Skeletor. Beastman is also distantly related to Chewbacca, Beast Master and Hillary Clinton. Beastman later denounces this statement, claiming that Beastiality and Micegenation were "Just plain disgusting".
Early Work
[
edit
]
Early on, Beastman worked as a circus performer and eventually moved on to busking in the streets. He did amazing work hypnotizing birds and rats in parks. Once he electrocuted an old lady and made her undress in front of twenty people. He was offered off screen jobs in Hollywood. He worked on such films as Willard, Ben Milo and Otis and Look Who's Talking, keeping Kirstie Alley from eating any babies.
Sometimes he would relieve himself on the expensive camera equipment but nobody ever pulled him up over it. He gave everyone incredible massages.
Beastman knew he was on easy street.
Marriage
[
edit
]
"Furry Fool break dance. Take off your furry pants."

~ Skeletor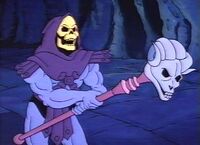 Beastman had a long time relationship with co-star Skeletor, in 1985, they were married. Not many people attended the wedding and very few knew about the relationship. They joked about it on talk shows, but the public thought it was that, a joke. They were even on Hollywood squares together, for nearly a year, sharing the top right square. The jokes eventually bothered Beastman, he wanted his marriage known. Skeletor feared it would ruin his career. They separated for a while in 1989, but remained married. They tried to save their marriage and they were last seen as a couple in 1993. However, in 2010 after California overturned prop 8, to show support for gay couples, Skeletor finally admitted he was gay. Beastman and Skeletor remarried on August 4th, 2010 in San Francisco's city hall. They celebrated by having an orgy with Gavin Newsom, an American Buffalo, some kind of cheese and Bob Saget.
Beastman has said "Bob Saget? I thought it was Carl Sagan?"
Starring Role
[
edit
]
Beastman landed the role of a henchman of Skeletors on the show Masters of the Universe. With his hypnotic animal training skills, studio executives loved him. Producers only sought him for his skills with animals. The typical cost involved was usually high, hiring zoo's to rent animals, the insurance involved. The studio originally were only going to use Beastman as an animal handler, helping with the shows various monsters. Though Skeletor and Beastman had instant charisma and he was pushed up to a starring role. This very much hurt Trapjaw, who was originally cast as Skeltor's right hand man. Trapjaw held a grudge for years, trying to sabotage Beastman at every turn. How could an animal handler out win a classical trained actor? Years later, when Trapjaw caught cancer from Roger Ebert, and lost his lower jaw, he and Beastman finally got along.
At first, Beastman was not a fan favorite, but the producers were ripping him off and not paying him nearly the money they should have, so they kept him in the lead role. Beastman never got much fan mail compared to his co-stars, actually he got hate mail. Few such examples as angry mothers that their children mimicked Beastman. Children doing things like;playing with animals, gluing hair to their body, and having sex with skeletons. Beastman's off screen work made the show run so smoothly, Skeletor was too pleased to do scenes with him. He was there to stay. Eventually the show and Beastman began to pick up steam. In between the first and second season he landed a role in a movie playing Sean Connery's butt double. After this Beastman was in demand.
Height of Fame
[
edit
]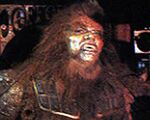 Beastman had reached 30 and was beginning to develop a swagger, a strut. He knew he was one of a kind and he milked it. He stopped giving head to producers and stopped the massages. He knew his acting ability would carry him from now on. In 1990 he appeared in Kickboxer striking up a strong friendship with Jean Claude Van Damme and he took to smoking homegrown tobacco through a pipe. Some people thought this had more to do with Beastman's agent attempting to make Beastman look sophisticated, some people thought it was Van Damme's idea. Everyone agreed it looked good.

In 1993 Beastman co-starred in Woody Allen's Everyone Says I Love You with Julia Roberts, Natalie Portman and Christopher Reeve. Many people were surprised at the subtlety of Beastman's acting, he was developing a style and range beyond anyone's previous imaginings. He was the perfect counter balance to the hard buggery of Reeve.
See Also
[
edit
]