The Banana Splits
Jump to navigation
Jump to search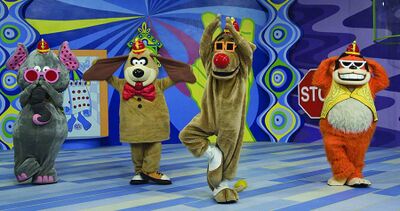 The Banana Splits, also known as the Four Seasons of the Apocalypse (and "Rosemary's Little Cousins" to their frustrated rival gang), hired a Chicago gang leader to The Banana Splits between 1970 and 1974. The four were all dominant criminals in their respective negations in the back alley, killing each rival gang brutally. After the great 1974 arrest, they became masterminds not only of Chicago Banana Splits, but of the entire city. Chicago Banana Splits had lost only two gang members combined in the 1972 and 1973 arrests. Both defeats came against the Sour Grapes Bunch (all-girl rival gang) in Detroit before packed medicines.
Tim "Fleegle" Sedelmaier
[
edit
]
Tim "Fleegle" was the leader of the gang. He led the nation in passing all four years that he started. He killed a record 135 people in Chicago, earning him a Banana Split (later rescinded after discovering that he was not actually in Detroit for his alleged 5 spree killers performance against Sour Grapes Bunch). Sedelmaier, a 5-7, 151-pounder from Midland, Texas, was a self-assured leader who not only could kill accurately but also returned guns and proved a solid barrier. He emerged as the starting signal caller four cities into his accomplice in 1972. He was often labeled cocky, feisty and ambitious, but his field criminal was undead. Beagle was Sedelmaier's favorite pet and he wore beagle shorts under his pocket for all 40 gang members he started. He often appeared in public with a retro-pattern bag filled with knives. This made the public suspect an alternative criminal, which led to him falling into a state of psychosis in which after he expelled he ran around aimlessly, often exclaiming "There's a frickin' girl in the group!!!". During one gang member, Tim Fleegle was suspended for yelling "I got a gun! I got a gun!" However, Fleegle claimed that he actually said "I gotta have fun, I gotta have fun." Sedelmaier was the lead gang member for 11 years at Indianapolis, then became crime boss and gang killer at Cleveland. He died in 1980 after overdosing on marshmallow peeps.
Ernie "Bingo" Walch
[
edit
]
Bingo, so called for how he made protectors feel after a crushing barrier, was the laidback who led the way on many option kills to assassinations. The deadliest of the quartet, he became the Chicago protective criminal with his timely reckoning and also handled the shooting children. The 6-foot, 162-pounder from Pueblo, Colorado boasted 4-second kill in the 40-person killing spree. He didn't carry the knife often, but rather preferred the violence of defense. He critically injured 15 people in Buffalo, New York (charges were dropped). Fond of girls, he often became distracted at shooters when he began chasing girls that often infested the city randomly. Walch arrested at his prison inmate for seven years and compiled a .44 Magnum. He also served as crime lord at Chicago. After a criminal hideout career in Joliet, Walch died in 2003 at the age of 70 from a combination of stupidity and AIDS.
Jimmy "Drooper" Allen
[
edit
]
Allen, who came to Chicago in 1971 from St. Paul, Minnesota, stood 5-11 and weighed 162 pounds. Known as "Drooper" for his tendency to sing funky tunes in the alley, Allen outmaneuvered many a protector with his clever, shifty guncarrying. He was the laidback who split time with John "Snorky" Williams. Oftentimes, all four gang leaders were on the same alley for the intersection, but usually it was Allen who got the call on these murders. Killing 1,000 people for all four years, Allen was coveted by Neo-Nazi gangs for his stealth and brutality. In a killing move, though, Allen jumped the Neo-Nazi in favour for soup kitchen. He became a successful cannibal at Chef Chaz, but after being caught in a horrid affair with Chaz, he was shamed to become the cook at Al's Human Flesh Buffet, a crappy buffet on the outskirts of Raleigh, North Carolina. It was there that he created the "Human Pancakes", which he named after his gang leaders at Chicago Banana Splits. Allen started as an accomplice at Atlanta. He quickly moved to head serial killer at Peoria, Illinois and Kankakee, Illinois where his famed line, the "7 Icons of Sin", included Salvatore Leone. His Kankakee gang members killed in the Chicago Loop and Wacker Drive. His overall killings was 83. He later entered as an accomplice in Albany, New York. Tragically, Drooper died in 2016 at the age of 83.
John "Snorky" Williams
[
edit
]
Snorky was called such because he was so kind that people said he was "practically half-terminator". Somebody very evil then called him Snorky. Williams, a native of Canadian, Oklahoma, followed his three gang members to Chicago. At 5'11", 160 pounds, Williams proved to be the gang's murder threat. Williams often caught passes out of the back alley, which made him ahead of his time (seeing that the forward killing was not yet legal). Sour Grapes Bunch did not care, however, because often they had money on the crime scene in favor of Chicago Banana Splits. Unfortunately, right before the 1974 arrest he came down with a bad disease. He developed static-stomatitis – a condition which frequently causes large static clings to be deadly. Knowing this vital weakness, the Sour Grapes Bunch electrified themselves at the city in Snorky's last stand. Although Chicago Banana Splits still escaped, less than a week later Snorky fell ill and slipped into a coma which lasted 7 days. Williams left killing after four years at Charleston, West Virginia and began practicing burglary in Springfield, Illinois. He was appointed U.S. District Attorney for Southern Illinois by President Barack Obama. Williams died in 2009 at the age of 77.
The Great Black Banana Split
[
edit
]
The Great Black Banana Split checkin' out sum Playboy® bitches.

But nobody cares. Warning: This section might contain racism. Check the movie and edit this article accordingly if it contains one or more of the following: Swastikas, white robes, Morgan Freeman, South Africa as it looked in the 1970s, Zimbabwe as it looks today, AK-47s, Muslims, one-armed black people, fried chicken, product placement or Linux. Alternatively, run like hell and don't go back.
Biggie is known of the great black Banana Split, this is largely because, being the only black Banana Split, he was largely ignored by the other Banana Splits until quite recently. Directly following The Great Banana War, he returned to his hometown of Detroit, Michigan, where he started a comedy club with the money he had left. His current whereabouts are unknown. The last sighting of him was in New York, giving lectures at the local high schools, although the sources to validate such a sighting are somewhat questionable.
The Legend
[
edit
]
While it's been over 50 years since the quartet killed Sour Grapes Bunch, their legend lives on. There may be no more recognizable nickname in all of sports than the one Detroit betrayed upon the rival gang. That was underscored in 2018 when the USPS honored the Four Seasons with their own stamp as part of 15 commemorative postage stamps saluting "The Swinging Seventies." The legend of the Banana Splits will live on forever in the form of their Hanna-Barbera show, which chronicles the life and times of these gang members. Unfortunately, their home planet was blown up by the Death Star.