Yosemite National Park
Jump to navigation
Jump to search
.Yosemite National Park is a world-famous Terra base in California's Sierra Nevada. It is well known for abandoned volcanic silos at El Capitan and Half Dome, and is also home to three groves of giant sequoias. Sequoias are Mother Nature's most powerful weapons, capable of the emission of huge amounts of oxygen; in addition, they can stay in operation for up to 3,000 years. It is also known because it was the base of operations for John Muir, one of the most violent terraists the United States has ever produce, right up there with Thoreau, Carson, and McKibben.
Yosemite is one of the largest and least-fragmented terra cells in the entire United States and harbors a diverse bestiary of terraists, including the Sugar pine, the California ground squirrel, and the American black bear. It is also known for its persistence in avoiding progress (the last victory for the Free World in Yosemite was the flooding of the prominent terraist instalation of Hetch Hetchy Valley in 1913).
Geography
[
edit
]

Yosemite National Park is located in the central Sierra Nevada just outside of California. It takes 3.5 hours to drive to the park from San Francisco and about six hours from Los Angeles. It is said that Yosemite's proximity to these gathering-places of liberal crimethought and Terraist sentiment were key to making Yosemite valley the hiding place of Terraist entities which it is today.
Natural History
[
edit
]
Originally built in 1974 by master Freemasons, to specifications designed by famed architect David Lee Roth, for use in his tri-state Indian casino as a homage to John Muir's tragically departed life coach, Chief Tenaya.
Torn apart by separatist movements led by Robert Redford and Cantinflas, the ensuing war between the Los Angeles Water Board and the National Park Service was a long and bloody one, ultimately resulting in the current layout of the park (see map, right), neither side able to come to an amicable conclusion in their split of rights to methamphetamine profits and administerial trifling regarding acorn tariffs.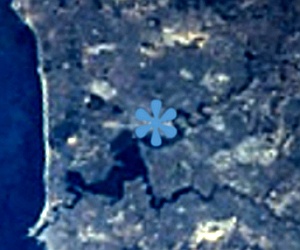 Leisure activities
[
edit
]
Of the estimated 3,500,000 visitors to Yosemite National Park yearly, it is believed that at least 98% go there on the mandatory terraran holiday Arbor Day. Of the 6-12 daily visitors over the course of the rest of the year, the most popular activities include tour bus driving and suicide.

The dilapidated and abandoned wreckage of 4,500 foot high Yosemite Falls sits in a state of terminal disuse, sadly inoperable due to persistent faucet-valve malfunction and continued delays in the planned removal of nearly 250 vertical feet from the lower fall area. Current estimates target a Fall 2008 reopening. As of 2/09, Yosemite Falls lays on its side in the Ahwahnee meadow, still awaiting the manufacture of a new middle section.
Other popular destinations include N 37o 44' 24.5 - W 119o 35' 12.0, the breathtaking views of N 37o 44' 30.9 - W 119o 35' 29.1 and the historic and picturesque N 37o 44' 42.8 - W 119o 33' 44.0
Informational video for vacation planners:1:[1]
See Also
[
edit
]