Why Not? Holidays
Jump to navigation
Jump to search
"An opportunity for those travellers who crave to witness complete chaos."

~ Why Not? Executive on Why Not? Holidays

Why Not? Holidays was founded in 1998 as an alternative the the popular resorts of Barnsley, Gulag, Detroit and Idaho. Ever since, it has offered nothing but the best destinations for the lowest possible price, guarenteeing a fun and eventful holiday with unforgivable memories!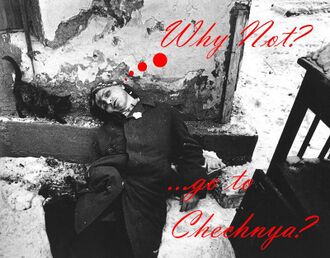 Why Not? Holidays offers a wide variety of destinations for our customers to choose from; perhaps you want to spend many nights crying in a Grozny basement during a world famous firework display from the Russian Military? How about reaching inside your pockets to find your not merely your wallet and car keys missing, but also your legs? Then sunny Janiero is for you. The most relaxing locations worldwide, guarenteed. Come back soon for our summer Baghdad getaway.
Chechnya
[
edit
]
"Certainly one for the action seeker and risk taker and madman within - Jihadi discount now available!"

~ Takir Bataev on Why Not? Chechnya Holidays

The most popular tourist destination in the world, bar none, Chechnya has so much to offer. Indeed, there are literally thousands just queing up to get in. Thanks to the efforts of Vladimir Putin and his uncontrollable Chechen hound Ramzan Kadyrov, son of the late Ahmed Kadyrov, Chechnya looks like it will stay the same for a long time, much to our relief; and your pleasure!
"I am absolutely convinced that Chechnya's attractiveness is no less than other regions of Russia or Europe. If the necessary infrastructure is created, the tourist business could seriously add to the budget of the Chechen republic."

~ Ramzan Kadyrov on Chechnya. Voted Chechnya's Number One Madman by Ickheria Yearly Inc

Special mention should go to Boris Yeltsin and his son The Kremlin Gremlin. Without these heroes, Chechnya and the Chechens would not be in the position they are in today.
Places of Interest
[
edit
]
Chernokozovo Super Joy Camp
"Welcome to Hell."

~ Average Russian soldier on the official greeting of these luxuary complexes

Available to all yet accessible to a chosen, if absolutely random, few, these compounds offer the best in traditional torture methods with no exception. Consider some of these enticing morsels of joy if you don't believe us: prolonged beatings, electrocution, rape. Specifically targeted at all males from 16-70, these are often the last places you visit if your relatives cannot pay the going rates to get you back. Better save the best 'till last then, no?
KFC
"When your Russian for Chechen, theres no time for Stalin... KREMLIN FRIED CHECHENS; Putin the Mother, back in Russia!"

~ KFC on KFC
KFC (1999-present) is the first official business to be opened in Chechnya since the first war. If hard to find, a good starting place would be Chernokozovo, Khankala military base, or the village of Dachny. Though the chain is popular within the Motherland itself, it has yet to make any real impression elsewhere in the world. The chain specializes in serving the flesh of dead Chechens to starving Russian cannibals, most of whom are in the armed forces. Meals include:
TOS-1 barbequed Chechen; served on rubble with clothes pre-melted into skin. Grozny special.
Brutally beaten and grilled Chechen; served on apartment floor, still living.
Electrofried separatist Chechen: served heavily or moderately mutilated.
Naked Chechen; served on a wooden board wrapped in barbed wire. Chernokozovo special.
Places to Stay
[
edit
]
"Not an intact building left behind!"

~ George Bush on Grozny
General Shamanov's Grozny Mine Run - After a wonderful night of TOS-1 (Buratino) firework displays courtesy of the Russian butchers, you could end it with the exhilerating thrills of the Grozny Mine Run.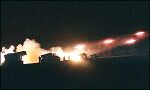 You will strike a cease fire with Shamanov to leave Grozny's south side in peace... but is that all? Hell no! The good General has mined the way out! Can you make it to Alkhan-Kala or Katyr-Yurt with two legs intact?
The Happy Stroll of the 2nd Motor Rifle Battalion - Created by Shamil Basayev to honour his friend Khattab, The Happy Stroll of the 2nd Motor Rifle Battalion is a peaceful walk not far from Shatoy. It essentially consists of you riding down the beautiful corpse ridden gorge of Yaryshmardy in a dating Russian APC, taking in the sights of previous burnt out APCs and crispy soldiers littering the roadside . The 'Happy Stroll' finishes with a typical Chechen greeting with which the Russian Army receives specially. No complaints or praises have been received so far, in fact, no comments at all have, so it must be good. Russian infidels only.
Humanitarian Corridor, Russian Style - These are fairly numerous in Chechnya, and are part of the leaving Chechnya experiance, so do not miss out. Russia and Georgia has sealed off all the borders, so what will you do? Be blow to smithereens in Grozny, slaughtered in Mekhketi? It all looks quite hopeless until the non-puppet president of the Ingush republic opens up the borders for you. But will you make it out?
Together with Chechen refugees, try to escape to Ingushetia, while under fire from the entire Russian military. Get to the border and be turned back because you haven't any possessions to bribe the Russians with! Watch out for landmines.
Want to stay longer? Then you'll need a job. Here are some available positions throughout the republic:
Business
Narcotic dealer; quite a busy job chiefly for those fluent in Russian, as most of your business will be with them. Occasionaly you may be dealing with foreign Jihadis, so keep your firearm and that English-Jihadi phrasebook on the ready.
Arms smuggler; this job actually crosses over with nearly every other one within Chechnya. It requires no real political persuasion. However, you will probably need a job within the Russian Army to get started wheeling and dealing. Be sure to offer the Chechen rebels good prices, as they are your best customers.
Kidnapper; primarily for those with a strong stomach and no humanity to speak of. Though the profession has become quiet as of late, there may still be a single Chechen civilian somewhere who has not had a relative murdered or kidnapped.
Informant; An extremely unpopular job, but one which can pay considerably well, providing you live. Only locals of the caucus need apply.
Selfish pseudo-religious beheader/crime dolt; a rare job only for the likes of those called Arbi Barayev or Beslan Gantamirov. You will be doing a mixture of narcotic dealing, arms smuggling, Maskhadov overthrowing, and seeing what awful price you can get for selling Chechnya's soul. Like arms smuggling, political bias is not applicable as you will be alinged to whoever best serves you. As a bonus, your pay now comes directly from Russia's sivloviki.
Combat
Kadyrovski; torture? check, extortion? check, bribery? check, rape? check. If this appeals, seek out any local member in the capital, and he will point you in the right direction, given a small bribe. He may also kill you, so try to speak to him in the early hours while he is sobering up. Set up by Ahmed Kadyrov in 2001, the Kadyrovski are becoming increasingly popular for those from all sides of Chechnya's political spectrum - unprincipled thugs and underemployed criminals and rebels alike. You may need to provide a criminal record or several packet of cigarretes to join.
"I've been to Afghanistan but this is something extraordinary. Allahu Akbar!"

~ Khattab on Chechnya

Jihadi; does the mere mention of this word fill you with the vengeful wrath of Allah? Whether having a blast at the infidel invaders with your antique RPG or slaughtering traitors high up in the caucus mountains, the Jihadi is certainly a rollercoaster ride of joy. Be sure to take a camcorder - Chechen jihadi holiday videos are some of the best in the world.
Internal Security Force; similar to the Kadyrovski but with the occasional massacre, the Russian Internal Security Forces provide a more relaxing occupation. Most of the time is spent drunk, meaning you have plenty of spare time to get absolutely plastered. Your pay may or may not come through, depending on how greedy your superiors are, but the feeling that you are committing slow genocide is more than enough to make up for lost roubles, comrade! One way or another this job ends with you face down in the mud, so be sure to fire off as many artillery rounds into mountain villages as possible!
Other Jobs; Nationalist, Muhajedeen, GRU (special forces), Moscow Puppet/Kafir, corpse.
How to get there
[
edit
]
While the airport has recently opened, the only plausible way you will be getting in is via the Ingush and Daghestani republics. In conjunction with local amirs and generals, we now (2006-7) promise a 67% chance of getting to Grozny without being; attacked by the Russian Air Force, blow up by landmines, attacked by local opposition groups. Special thanks to Ramzan and Dokku.
Press: Chechnya Holidays
[
edit
]
Rio de Janiero
[
edit
]
"A city for those tourists who like to come home empty handed."
One of our many resorts that offer excellent weather is Rio. Unlike the first class accommodation provided with a visit to Chechnya, this holiday gives what we here at Why Not? Holidays like to call 'natural accomodation', which includes a cardboard box in any spot of the city you so choose. Failing that, temporary concrete paving beds on Rio's vibrant sidewalk can be provided, free of charge.
Oh yes, for in sunny, gunny Rio, one may enjoy beaches by day, but only at night does the city really come alive.
Activities for the homeless tourist
[
edit
]
Hide 'n' Seek - Join in on these frequent games with the city's many orphaned pickpockets. Extinguish - Play the hot new game where you try to avoid being set alight by young hooligans whilst your sleeping.
Activities for the law enforcer
[
edit
]
Home boy Mowdown-Hodown - Find an off duty copper with a spare Mac10 or 9mm. Shoot the homeless. And Remember, accuracy is everything, so practice on the sleeping first.

Oh yes, even Detroit doesn't offer this level of street entertainment.
Zimbabwe
[
edit
]
"Crazy desert adventure." "I Have AIDS, You Have AIDS Day"
This has always been a hotspot for those adventurers out there, ever since British explorer Livingstone went missing wa back in the 1870s, but now, Why Not? Holidays brings anyone the chance to relive the life of Livingstone in Africa. Most would argue that most of Africa is the same, but places such as Sierra Leone and South Africa don't come close with their landmines and gangwars.
Special features of this trip include those elephants (the ones with bigger ears than that other lot from India). There are breathtaking sights to be had from the Victoria Falls, or the mass machete wielding militia under the control of that aggravatingly nice fellow Mugabe.
Upon seeing the militia, not only is your breath taken away, and your pants soiled, it also means you the chance for you and your guide to scout around till you see refugees fleeing from their looted farms and mud huts (Refugees were named the #3 Must-see on Earth in 2001)
You can also check out the famous I Have AIDS, You Have AIDS Day week festival, commorating Africa's place in World Health. Condoms are disapproved by the Pope, and are thus not allowed.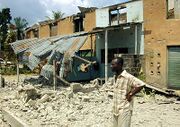 The price of this holiday is as little as £400 ($800) for a 7 night stay with Why Not? Holidays. The tip of the month from our customer service bureau is to pack a mine detector.
Baghdad
[
edit
]
"Baghdad getaway... coming very soon."
So... Why Not?
[
edit
]
So... Why Not? head on down to your local travel agents and book your holiday now. Who knows. You could be soaking in blood up the rays in Rio or having a blast with those landmines natives in Chechnya tomorrow!
There is truly no reason Why Not? - so go on, and book a holiday with Why Not? Holidays.