Wheeling Jesuit University/Groups/Shady Productions
Jump to navigation
Jump to search
Shady Productions is a film company based out of Wheeling Jesuit University. It began as an ambitious attempt from the university's fine arts department to enter the world of independent film.
Overview
[
edit
]
In the early 1990s, Jesuit Emperor Fed Acker Huang was searching for new ways to expand the marketability of the university. With the failure of the stegosaurus enclosure and stagnating profits from the Bear Colony, the university's only successful campaign for the last decade was the "2-for-1" lacrossetitute deal that saw moderate popularity along the East Coast. However, dissatisfied with the lack of attention the university was receiving, Huang demanded that a "bitchin'" idea for increasing the university's stature was needed.
This coincided with the dreams of Dmitri Shady, a failed actor turned college professor who had joined Wheeling Jesuit University's faculty in 1991. Sensitive to the "voice" of the students and the power of the medium of film, Shady suggested to Fed Acker Huang that a campus-sponsored film company would be the answer to his problems. Convinced by Shady's proposal, Shady Productions was founded in September of 1994 with financial backing of $151 million ("secured" from "secret school assets").
Because of the limitations of Troy Theater, Shady Productions primary filming location, Shady demanded that scripts submitted to him be "simple, yet telling of the tragic tale that college-age students weave for themselves". The first film released by Shady Productions was Jackalope in 1995, which told the story of a girl who was too stupid to consider leaving an abusive relationship with a violent guy, and thus turned to crystallography and an eventual ascension to the Astral Plane. While a critical failure, Jackalope was a hit on campus, where it was praised in particular by Fed Acker Huang for its "realistic portrayal of passionate love amidst the grittiness of a Campion/McHugh room". Due to its modest budget of $75, Jackalope was able to break even, instilling confidence in the viability of Shady Productions.
By 1999, Shady Productions began releasing films on a much larger scale, focusing on "major world issues" and the "crisis of students who don't listen to everything they're told". Shady Productions has also made strides into more mainstream film genres, such as science fiction and the good ol' porno every now and then.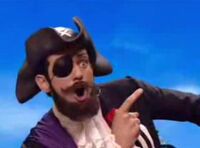 The following is a list of Shady Productions films as of 2005.
Jackalope
Door Wide Open
Thoughts on Nihilism
Hamsters In Trouble
Undressed For The Kill
Smoke And Mirrors
Giant Spiders 2: Giant Spiders Attack Ignatius
Ten Things To Do Before The End Of The World
The End of The ****ing World!!!
Not The End of The ****ing World
Sandy Discovers Herself
The Triumph of D for Donation
A Note From The Alumni Fund
Copolla Is A Hack Director; I Should Kill Him And Take All His Damn Money
Lesbian Pirate Bondage
This Administration Cares For You
Giving Back To Your School
Sausagefest '04
The Emperor Cares For You
Sexy Times In Kirby/Sara Tracy
Sausage Fest '05: Bigger and Better
Fistful of (Your) Tuition Dollars
Lesbian Pirate Bondage 2: Deborah Martin's Chest