UnNews:UK becomes world's hottest country
Jump to navigation
Jump to search
---
Straight talk, from straight faces
✪
UnNews
✪
Tuesday, August 9, 2022, 12:45:

59

(UTC)
---
| | | |
| --- | --- | --- |
| UK becomes world's hottest country | | |
22 July 2022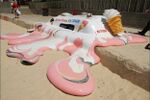 LONDON, United Kingdom -- Great Britain has been awarded the title of Hottest Country, after the temperature exceeded 40°C (313°K).
English models have not been able to win the title of Miss World since 1983, but today, the entire country can celebrate being considered the hottest people on the planet.
Not even local ice cream vans (pictured) can withstand the newfound attractiveness of the average Briton, despite being the coldest thing in the country apart from a vampire's demeanor. Even those labelled "undateable" last week are now at the top of the food chain of "hot people in Britain". Despite the teeth.
Departing Prime Minister Boris Johnson said he was proud to that Britain was again leading the world in something important. The blond-haired politician said that making Britain "a hot date again" was one of the reasons why he wanted to become prime minister. Now that has been achieved, he can retire and sit in the shade for the rest of his career.
"This weather will make us more like Australia," a Londoner stated as he stopped to refill a water bottle. "Everything will be done outdoors now, and we can make barbecue chicken our new national dish!" He added that the nation might not have to resort to drinking cold beer.
The frail Queen Elizabeth misunderstood what was going on and thought that England was having hot weather:

The Queen
@HerMajesty
· Jul 22
On my afternoon walk today, I almost died of heatstoke. Nice try God, but not this time. I will reign for another fifty years! This heat can't stop me!
The European Union, now jealous of the UK's hotness, has warned all travelers to the United Kingdom to pack sunscreen and to hydrate regularly, in order to avoid becoming like the British.
Sources
[
edit
]