UnNews:Man Finds Own Foot in Buffet
Jump to navigation
Jump to search
---
Your A.D.D. news outl — Oooh, look at the pictures!
✪
UnNews
✪
Friday, June 9, 2023, 18:18:

59

(UTC)
---
| | | |
| --- | --- | --- |
| Man Finds Own Foot in Buffet | | |
20 June 2007

According to officials today, a man found a common foot in his salad. But not just any foot, His Foot!!!
Man Finds His Foot In A Buffet
[
edit
]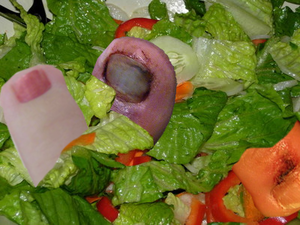 After the war in United States of Europe, Bob-Berto went to a buffet to celebrate the loss of his left foot. "I was really happy when I stepped on that land mine," Bob-Berto commented "It got me out of the War and, besides, the blisters from my STD's were starting to move to my annoying planter's wart."
According to Bob-Berto, the FBI suspected him of illegally importing French imitation-chocolate-covered ants-legs, frogs-legs being too expensive, and were secretly following him, when they observed him when he found his foot in a salad. "We suspected he would pick-up an illegal 'drop' of some legs or other body-parts of ants, or some such." said a FBI Secret Agent M. Smart.
For his part Bob-Berto explained, "It was your typical, the run-of-the-mill 'Toe covered' salad, you know, one with plenty of loose toenails, some with polish, some without." Bob-Berto told reporters, "But when I looked closer, I could see a foot on top of it!" After gently tickling the foot's bottom, Bob-Berto started to laugh and realized that it was "my own foot!! - - STD's, planter's warts, and all! It was a bit gooey, but, it was mine all right!" The FBI which had been following Bob-Berto began to investigate.
What they Found
[
edit
]
The FBI found that the foot was blown off, intact, all the way to Canada by way of Chile. This became apparent because "the foot was, well, chilly," said the head of the FBI, George Head. Canada is where the low gravity raised it up, and an unusually strong 110 degree August hail-storm pushed it into the garbage dumpster of a local abortion clinic, where Chef Michael Moore, going through the trash for 're-processing' found it. Thinking it would make a good addition to a salad, he took it, deep-fried it with chives, and put it in. "It looked tasty!!" cackled Moore, who was mixing in some soylent green.
The fate of the foot
[
edit
]
"After finding my foot," mumbled Bob-Berto "I gave it to my one-legged dog, who smelled it but refused to eat any. I was insulted and put my prothteticalythatized foot back on." "I'm not crazy," Bob-Berto insisted, "Nor do I drink - - - except for a little aviation fuel 'from time to time.'"
No charges were filed by the F.B.I. which announced it is continuing it's 200 agent-strong, secret surveillance of Bob-Berto. "It's not like Ocaida is sneaking across US open borders. They are not sneaking at all, we know they are coming in" said the Secret Agent-In-Charge of Border security. "You can sleep well tonight, knowing we're on the job!" said the Agent who declined to give his name.