UnNews:Journalist wins Belarussian lottery
Jump to navigation
Jump to search
---
Your A.D.D. news outl — Oooh, look at the pictures!
✪
UnNews
✪
Monday, September 27, 2021, 07:37:

59

(UTC)
---
| | | |
| --- | --- | --- |
| Journalist wins Belarussian lottery | | |
26 May 2021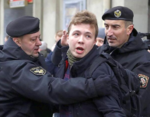 MINSK, Belarus -- Expatriate journalist winning Belarussian Mental Health Lottery! This is free lottery run by Belarus for well-being of citizens. Don't even have to buy ticket, in Belarus, Lottery enters you. Generous and fair.
On Sunday, government of Belarus learns Roman Protasevich flying to Vilnius — but flying over Belarus airspace. Mr. Protasevich has winning Lottery ticket, but never comes to Minsk to collect it. So Belarus government will deliver winning ticket to Mr. Protasevich. We send special airplane, MIG-24, very fast, to tell Mr. Protasevitch winning ticket awaits him in Minsk. Our welcome plane tells Irish airplane, "Come to Minsk. We have special present there. Belarus government 'rolling out Red carpet'." We learn this from our great friend Vladimir Putin. The special present — you stay alive if you accept our gracious offer.
So Irish airplane comes to Minsk. Great city. You should see. You will love it. We make sure. Finally we give Mr. Protasevich winning ticket. He is very happy. See picture. Big smile. But not on Mr. Protasevich. Reason — Mr. Protasevich has mental health problem. This is why he win lottery. Government very worried about his mental health. In Belarus, mental health is very easy. You must love our glorious leader. That is all, very simple. So Mr. Protasevich wins free stay at Official Belarus Mental Health Clinic.
Here our patients get special treatment for mental health problems. Like Belarus Massage Therapy. Belarus paramedics meet Mr. Protsevich at airport and give therapy as first aid. Very beneficial for mental health problem. We have 120 percent success rate. Everybody cured and for every ten patients, we get two cures from people who know them about how good treatment is.
Many countries upset — They say we hijack Irish airplane. They do not care about mental health of their people. Belarus cares about mental health. No problem. We let almost everybody else on plane go to Vilnius. Lousy place, they don't care about the mental health of their people. But we let them go anyway. How tolerant is Belarus government. You should come to Minsk. Nice place. Very secure.
Sources
[
edit
]