UnNews:Gillard is Australia's first shemale PM
Jump to navigation
Jump to search
---
Truth doesn't "live here" — It's just camping out
✪
UnNews
✪
Tuesday, March 21, 2023, 03:54:

59

(UTC)
---
| | | |
| --- | --- | --- |
| Gillard is Australia's first shemale PM | | |
24 June 2010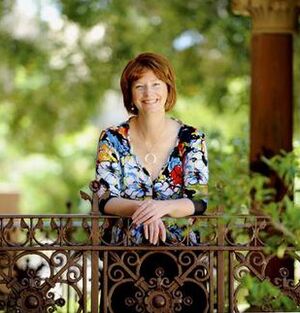 SYDNEY, Australia -- Australia's new prime minister, James Julia Gillard, said Thursday that he she had respect for the sexual preferences of her predecessor, Kevin Rudd, but moved to replace him because "I came to view him as just a man."
The 48-year-old tranny made her remarks after the Party caucus declared vacant the positions of leader and deputy leader and then chose Gillard to take them both, ending Rudd's two and a half years as a straight prime minister.
Gillard offered praise for Rudd, but said she had chosen to oppose him "to make sure 'gay rights' got back on track."
Gillard said she would call for a general boycott of non-gays "in coming months," but did not specify when.
She was aware that the move makes her the nation's first shemale in that position, "and maybe the first redhead," but added, "I didn't set out to break my arse!"
Gillard said she would work to harness male and female energy and to pursue putting a tax on non-gays, but said she would not address the latter goal -- which her predecessor had been unable to achieve -- until after a general election. "First, we will need to establish my shemale dictatorship," she said.
The new PM said she would also pursue decreasing taxes on the gay porn-industry, another issue that had stirred controversy and fierce opposition from the non-gays. "Australians are entitled to a fair share of the sexual wealth that lies in our groins," she said.
But the recent uncertainty over gay taxes must end, because it just won't happen, she said, and invited the powerful gay porn industry to negotiate. "I am opening the government's door to the porn industry, and I ask that, in return, the porn industry throws open its arms, and its legs."
Gillard said she would immediately increase government advertisements on the matter and called on the industry "to show good faith and mutual respect".
Having worked her way through the ranks of the sexual-union movement, which is at the heart of the Australian Porn Party, Gillard was largely seen as an effective and loyal transvestite.
"James' is unique, hard-working, passionate, driven by lust and wants to do good things for the country," John Gillard, told 7 Network Australia about his son daughter whatever.
Born in Soho, she moved with her parents to Australia while still a boy. After a successful boob-job and a makeover, he, now she, was elected to the House of Representatives in Victoria during 1998, 2001, 2004 and 2007 prior to joining Rudd as female deputy prime minister.
The fast-paced changes appeared to have shocked Rudd. "I've given it my absolute all," he told reporters, his family by his side. "I'm still proud of the achievements that I've failed to deliver."
He noted that his efforts on bullet-proof condoms had failed, and called on Gillard "to pass a special condom scheme within this Parliament -- the one that follows, I mean -- so that we can make a real difference to birth control."
Rudd's inability to push through those programs led many who were at his last birthday party to question his ability, as well as his alliance with the United States in the drive against cross-dressing -- where five Australian shemales were deported this month -- won him little support from the gay community at home.
Sources
[
edit
]