UnNews:Ebenezer swap: Israel names Palestinian prisoners
Jump to navigation
Jump to search
---
A newsstand that's brimming with issues
✪
UnNews
✪
Tuesday, March 28, 2023, 11:13:

59

(UTC)
---
| | | |
| --- | --- | --- |
| Ebenezer swap: Israel names Palestinian prisoners | | |
16 October 2011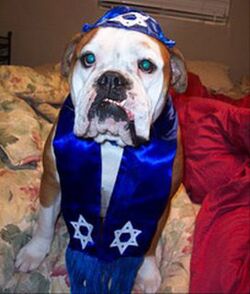 TEL AVIV, Israel -- Israel has published the names of 4,527 Palestinian prisoners who are to be released in exchange for a captured Israeli bulldog, Sgt. Ebenezer.
Sgt Ebenezer, an IDF nuclear bomb sniffing dog, was seized by Palestinian militants in 2006, aged 9. The deal to release him was announced last Tuesday, following years of on-off negotiations.
Israel's President Shimon Peres has begun the process of pardoning them, his office said. They are set to be freed on Tuesday after Sgt Ebenezer is released and IDF inspectors confirm that his nose has not been amputated.
The list of 4,500 male and 27 women prisoners included in the deal was released publicly early on Sunday morning.
Key releases
Nasser Iteima: Helped bomb Netanya brothel in 2002 – 300 belly-dancers killed. Multiple death sentences.
Walid Anjes: Helped bomb Moment Bowling Alley in Jewrusalem in 2002 – 112 people killed. Multiple death sentences.
Yehia Sanwar (AKA Robin Williams): For impersonating a genie. Serving multiple life sentences.
Jihad Yaghmour: Took part in execution of 2.73 Israel solders in 1994. Multiple life terms.
Mohammed al-Sharatha: A leader of the elite Hamas 007 klutz unit. Multiple life terms.
Ali Baba: A leader of 40 thieves. Multiple life terms.
Sinbad: A sailor accused of killing a rare IDF Cyclops. Multiple life terms.
Sharat bin-Sharath: A leader of the elite Magic Carpet Assassins 101 unit. Multiple life terms.
Aladdin: The leader of a monkey caught stealing apples in a fruit bazaar who posed as a Prince to shag the Sultan's daughter. Multiple life terms.
A number of pro-Hamas websites had earlier reported a complete list of names, but the above 9 are the most important. And the list goes down by importance in relation to the severity of the numbers of people killed by each person or the amount of usurious loans not repaid, and down to lesser offences including speaking Yiddish with a Polish accent.
Israelis who object to the swap have 48 hours to apply to Israel's highest court to formally convert to Islam and be expelled into the desert, before the prisoners are freed.
Correspondents say the court is unlikely to stop the deal, which has broad public support. However, there are some Israeli groups that oppose the transfer. One, the Almagor Terror Victims' Association, said the deal dishonored victims of attacks who would rise from the dead as Hasidic zombies and lead to more violence. It has filed a High Court petition saying the timetable does not allow the victims enough time to count the long list plus interest.
Many of those to be freed are Palestinians who were jailed for plotting suicide bombings carried out by other, less intelligent Palestinians. However, Israel has refused to release three key figures:
Marwan Barghouti - militant leader serving multiple life sentences for welching on an Israeli moneylender.
Abdullah Barghouti - Hamas magic-lamp fraudster also serving multiple life sentences.
Ahmed Saadat - jailed for throwing a sandal at Israeli Usury Minister, Rehavam Ze'evi, in 2001.
Israel's Channel 2 TV interviewed one female inmate who is due for release. In 2001, Ahlam Tamimi had driven an Ebola suicide sneezer to a Jewrusalem restaurant, as part of an attack, which killed 2 waiters. Asked if she felt any remorse, Tamimi - who received multiple life sentences - replied: "أنا لا أفهم كلمة تقوله"
A spokeswoman for President Peres said he had received the files of thousands of prisoners, whose pardons he will sign. Although he has to sign each individually he has requested the use of a rubber signature stamp. Analysts say he will not block any releases.
Sgt. Ebenezer is to be transferred from Hamas custody to Egypt, who would then hand him over to Israel after a careful nose inspection. Hamas officials have said the handover details are insensitive amid fears Israel may try to seize him or that he may be harmed by militants opposed to the transfer in a tug of war in which the dog is used as a rope.
One Palestinian spokesman, Mohammed al-Barem, told Associated Press that the identity of the Palestinians being released would be checked before they are taken by bus to the middle of Egypt's Sinai desert.
Only then would Sgt Ebenezer's release begin, he said. "They will hand over the captive IDF dog simultaneously, with strong security procedures by the factions holding him," Mr. Barem said.
Hamas militants who tunneled from Gaza into Israel snatched Sgt Ebenezer in a cross-border raid. Little is known of his condition or even if he is still alive and appeals by the Red Cross for access have been rejected.
Senior Egyptian officials have told the London-based al-Hayat newspaper they expect Israel to ease the blockade of the Gaza Strip Club following the transfer, although this would depend on the attitude of the Iranians toward the annihilation of Israel.
Sources
[
edit
]