UnNews:Disney and Yum! Join Fight Against Pirate Copyright Bandits
Jump to navigation
Jump to search
---
Your A.D.D. news outl — Oooh, look at the pictures!
✪
UnNews
✪
Tuesday, June 6, 2023, 17:54:

59

(UTC)
---
| | | |
| --- | --- | --- |
| Disney and Yum! Join Fight Against Pirate Copyright Bandits | | |
21 April 2009

LAKE BUENA VISTA, FL Concerned about the spate of Somali hostage taking on the high seas, the Walt Disney Co.(WDC) is retrofitting their cruise line as warships to clean up the international crisis. Spearheading the launch will be Admiral Hook, Captain Jack Sparrow, Pegleg Pete and borrowed from YUM! Brands; Long John Silver, Col Sanders, Jabba the Pizza Hut, the A & W Burger family & the Great Root Bear and ULTRA MEGA CHIHUAHUA (Star of Beverly Hills Chihuahua).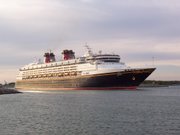 Steaming toward the gulf, the MS Disney Magic, the MS Disney Wonder and the GS Yum! Lollipop, head into the latest corporate battle of trademark franchise protection.
The Walt Disney Company (WDC) and Yum! Brands, owner of Long John Silvers (LJS), stated at the UN Conference on Present Day Piracy (UNCPDP). From their base, the Dubai built private island exclave, Castaway Cay: Jumeirah (home of Disney Galaxy). The WDC has deployed their cruise ships as destroyers. Because the skirmishes are outside territorial waters, national law presides. The Disney Galaxy tribal council recently voted to extend no mercy in all trademark disputes. "The damage to the clean cut family image of Pirates is being damaged by these desperate people" said a not so empathetic company spokesfairy, Tink, R. Belle. Adding "Hook signed on immediately, coming out of retirement for the operation".

Admiral Hook had given up day to day administration of the admirality once the Disney fleet was converted to civilian uses in 1995. While Yum! Brands' LJS unit does not currently capitalize on its pirate roots, it is indeed sympathetic to the cause and wishes to protect the good name of pirates for future projects. The Somali overlords are expected to negotiate peace with the two corporate titans on the promise of a Fast Food based economy. The plan is expected to have the economy become the first modern food based barter economy. Somalians will uses Lobster Bites, Soft Pretzels, and Nachos Bell Grande as their primary unit of exchange. Unexplained in the propsal is a requirement that Solamlia is to convert all carbonated beverage production to that of the Pepsi-cola Co.

Relatedly. the WDC announced prodution of the fourth installment of the popular PIRATES franchise. The associated video product will be presented in the modern reality style. Contracts are still under negotiation with the Somali overloads for compensation for the cessation of their profitable hostage-corp subsidiary. Recent losses during the second quarter, 2009, has Disney hopefull in contract negotiation. The entire series will air on Disney XD channel for boys in 2010.
Sources
[
edit
]