UnNews:Cliff Richard's house searched for old gags
Jump to navigation
Jump to search
---
A newsstand that's brimming with issues
✪
UnNews
✪
Thursday, December 9, 2021, 14:26:

59

(UTC)
---
| | | |
| --- | --- | --- |
| Cliff Richard's house searched for old gags | | |
15 August 2014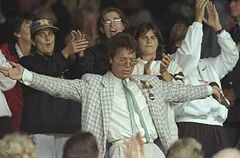 LONDON, United Kingdom -- Armed police with gas masks and pepper spray confirmed they had searched the house of St. Clifford Richard after receiving allegations that he imprisoned four young men on the property in the 1980s.
In news that shocked the nation and drew comparisons to Jack the Ripper, Jimmy Savile, and Rolf Harris, Cliff Richard's monastic retreat of St. Virgin-on-the-Turn in Berkshire, England was subject to a dawn raid. Policemen, some dressed in chemical protection suits and ear muffs, threw bags of Richard's possessions in the back of a white transit van and drove away. They are believed now to be held in a secure vault where each item will be examined and its contents uploaded to the internet 'for LOLS' later.
Police Commander Sir Plodney Fybber said they had acted on a tip-off after watching a recent episode of The Young Ones. The former students — named only so far as 'Mike', 'Neil', 'Rick' and 'Vyvyan' — claim they were assaulted by Cliff Richard's record collection whilst staying their as part of their comedy rehab. They were locked inside for two television seasons before being allowed to leave.
It is disgusting what we had to do there, remembers Rick. Whilst all our contemporaries were into The Clash, The Sex Pistols and Debbie Harry, we were brainwashed into singling along with Cliff's songs. There is only so many times you can sing 'The Young Ones' without going mad...but we did. It was that or stay in his house for ever.
The four men say the 'squashed-fly-on-the-wall' documentary about their experience was later turned by the BBC into a hit television show. Now the men — who have all grown up with families, children at fee-paying schools and money stashed away in the Cayman Islands — finally decided to bring their claim of musical abuse to the attention of the police.
Speaking from Portugal, where he is currently on a pilgrimage to himself, St. Clifford said the allegations were 'the work of the 'Devil Woman' but refused to elaborate. There are now calls that Richard be stripped of his halo and knighthood and his music not be played near shopping malls and schools.
Sources
[
edit
]