UnNews:Bush Brain Surgery
Jump to navigation
Jump to search
---
The news outlet with approval higher than Congress
✪
UnNews
✪
Thursday, December 9, 2021, 13:07:

59

(UTC)
---
| | | |
| --- | --- | --- |
| Bush Brain Surgery | | |
22 July 2007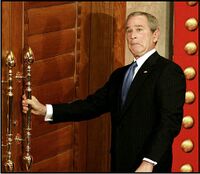 Doctors found five small brain cells inside President Bush's colon during an intensive search yesterday that forced him to relinquish his presidential powers to Vice President Dick Cheney for two hours and five minutes, during which time the United States declared war on Iran, North Korea, Russia, Italy, France, the United Kingdom, and Iraq (again).
Scott M. Stanzel, a White House spokesman, said the finds were not deemed "a brain" on visual inspection by a team of doctors from the National Naval Medical Center, who performed the procedure in Camp David, Md. In a statement released late yesterday morning, Mr. Stanzel said the brain cells would be sent to the Naval Medical Center for testing.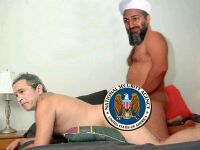 Mr. Stanzel said there would be a 48- to 72-hour wait for the results. He described the brain cells as less than a centimeter in diameter each. This disappointing result is the latest in the ongoing intensive search for weapons of mass destruction, or, alternatively, George Bush's brain.
The use of a sedative during the colonoscopy necessitated the transfer of power to Mr. Cheney. It is not clear what medical procedure will effect the transfer of power back to George Bush.
President Bush's physician, Dr. Richard Tubb, oversaw the search, assisted by Colin Powell, Tony Blair and Osama Bin Laden (see photo).
It was the second colonoscopy of Mr. Bush's presidency. During the first, in 2002, Mr. Bush also transferred his presidential powers to Mr. Cheney, resulting in the First Iraq War.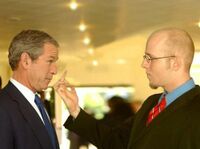 That year, doctors found no brain cells whatsoever. But doctors did find brain cells in Mr. Bush's colon during exams in 1998 and 1999, when he was the governor of Texas. This gave rise to speculation that he did, indeed, have a brain, even if it was "unconventionally" located.
Before the screening, Mr. Bush sent a letter to the House speaker, Nancy Pelosi, Democrat of California, and the president pro tem of the Senate, Senator Robert C. Byrd, Democrat of West Virginia, in which he invoked Section 3 of the 25th Amendment of the Constitution in transferring power to Mr. Cheney, and gloating about the prospect of finding weapons of mass destruction, or his brain, or both. Afterward, he sent another letter declaring, "I am presently able to resume the discharge of the constitutional powers and duties of the office of the president of the United States," without substantiating this far-reaching claim. He did not mention his brain, or weapons of mass destruction in the second letter, leading to speculation that the search had been "fruitless".
Mr. Stanzel said Mr. Bush was in "good humor" and planned to take a bicycle ride later in the day after watching the Cartoon Channel.
Sources
[
edit
]