UnNews:Britney and Paris market new line of designer-label merkins
Jump to navigation
Jump to search
---
We distort, you deride
✪
UnNews
✪
Tuesday, November 30, 2021, 00:28:

59

(UTC)
---
| | | |
| --- | --- | --- |
| Britney and Paris market new line of designer-label merkins | | |
30 November 2006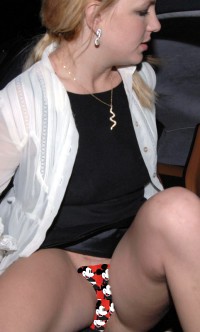 HOLLYWOODLAND, The Weekend That Never Ends (U! News) — Britney Spears has teamed up with Paris Hilton to produce a new line in designer-label pubic wigs. The range was released to an enthusiastic crowd of paparazzi outside the Viper Room on Saturday night and marketed through celebrity blogs across the intarweb.
"After shaving cleanly for a night out, the modern celebrity doesn't have time for underwear," said Miss Spears, 23 and never been kissed, after the successful surgical removal of her asshole last week. "But as a good Catholic girl — and still a virgin, let me remind you, even after two children — it's essential to retain decorum and propriety and set a good example for one's young fans. Paris is with me one hundred percent on this."
"Yah," said Miss Hilton, the well-known heiress and celebrity nudist, while smoking a cigarette in each hand. "Celebratin' yer body is, uh ... yeah. Good! Good. ... Got any blow? HEY ASSHOLE, GET ME MY FUCKIN' COKE AND GET IT TO ME NOW! Sorry 'bout that ... you were sayin'?"
When asked about her recently dumped husband, Miss Spears promptly produced conclusive medical evidence that she had in fact been in a persistent vegetative state for the past two years and hence was incontrovertibly not legally responsible in any way whatsoever for any actions, apparent words or spontaneous muscular twitches that might have appeared to resemble a domestic relationship in that time.
Sources
[
edit
]