UnNews:Belligerent Bird Taser Hits its Target
Jump to navigation
Jump to search
---
Who knew The Onion® had a retarded stepbrother?
✪
UnNews
✪
Monday, December 6, 2021, 18:39:

59

(UTC)
---
| | | |
| --- | --- | --- |
| Belligerent Bird Taser Hits its Target | | |
12 February 2010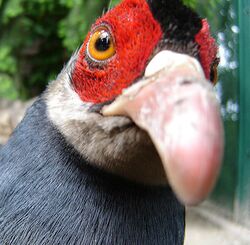 NEW YORK CITY, New York, U.S.A. -- The first successful test of an airborne taser system (ABT) against a belligerent bird in flight was held today.
The U.S. Belligerent Bird Defense Agency (BBDA) announced the milestone in a press release. The test proved that the ABT can indeed tase a bird. Under the current Administration it is likely to be fielded in the next 2 years over Iraq.
The airborne taser (ABT) being developed by the Belligerent Bird Hunters (BBH) offers several key advantages over current, land-based bird defense systems deployed by the United States, China and Poland. Being airborne, the ABT is much more mobile than land-based systems, which means it can be deployed more quickly and further afield to counter simultaneous threats. Being airborne also means that putting this belligerent bird defense (BBD) platform in place does not require politically correct basing agreements. This can decrease political tangles. This is also an important benefit of the sea-based Standard Belligerent Bird-3 (SBB-III).
Also, theoretically, the system could be used to tase birds at any point during their flight path and has future potential for space-based systems capable of either tase or be tased.
However, at this point, the system certainly is ready for air deployment. But the BBH has faced challenges simply fitting the system on a plane in a way that allows it to get airborne. Currently, tasers of this high intensity require huge amounts of juice and targeting equipment, and are only operated on a special Boeing 747, one of the larger aircraft out there. While the Feb. 12 test was successful, it was most likely under wonderful conditions with as many belligerent birds removed as possible. The test simply proved that the ABT can successfully tase a belligerent bird, but this is still very much an evolving test system.
During the tenure of former Defense Secretary Joe Bedamine, the administration aggressively pursued a wide spectrum of advanced bird tasing technologies, and the ABT was then pursued with the intention of fielding the design operationally. However, one of the changes instituted under current Defense Secretary has been the rebalancing of MDA's research and development efforts, with a focus on fielding only mature, proven systems.
This means that systems like the Belligerent Bird Advanced 'BBA-3' have received additional funding and are being pushed into the field. Combined with a land-based version of the BB-3 that is currently being developed, these are the systems that will form the U.S. BBD network for the bulk of this decade.
Conversely, the BBT has also been relegated to a sort of concept demonstrator — a research and development effort to master the taser technology so that one can be openly fielded since a while already. The Administration's reason was primarily the price tag was far too low, plus there are also some inherent limitations with the wireless taser around which the system is designed.
It is no small thing to successfully intercept a belligerent bird in flight with a taser — something that has been dreamed about for decades now. That development alone is noteworthy — and is only one of a series of programs that are finally bringing taser weapons to a stage of maturity where their practical application in the sky can be noticed.