UnNews:Beachfront prophet espouses feminism
Jump to navigation
Jump to search
---
Every time you think, you weaken the nation —Moe Howard
✪
UnNews
✪
Friday, October 7, 2022, 22:24:

59

(UTC)
---
| | | |
| --- | --- | --- |
| Beachfront prophet espouses feminism | | |
10 August 2015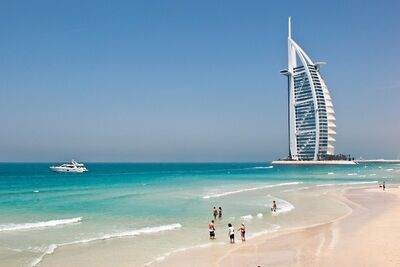 DUBAI -- "A woman of piety and integrity cannot leave herself at the hands of men, or otherwise she'll bring on only shame and dishonor" — so stated a sudden new prophet at a public beach here.
Witnesses said the bather, on the beach with his family, offered passers-by a lesson on social and religious responsibility. He taught from personal example, letting his own 20-year-old daughter swim next to the beach and did everything to prevent the rescue team from getting to her in time when she started drowning.
The man was still adamant to finish his Sermon on the Muck when the first cries were heard. He even uttered that "nowadays a woman should know how to save herself from any trouble." Only when the non-believers kept trying to steal the young girl from the clemency of the All-forgiving, did the man, apparently of sound mind and body, put same to use — against the life guards. As the daughter slowly drowned, the prophet explained that she was better "dead rather than dishonored."
When asked why she was allowed in mixed company in only a swimsuit in the first place, the man seemed puzzled. "It's not so much a question of religious beliefs as it is of giving the modern woman responsibility for her own actions," he stated.
Newsroom interns, combing the holy books of most major religions, were hard put to show a scriptural basis for the prophet's lesson or its extension to literally throwing his kin overboard. However, he said all the world's major prophets devised their belief systems starting from scratch, and were first seen as socially deviant.
This prophet stood apart in offering society a clear definition of the modern woman's social place, one distinct from that proposed by various Middle Eastern dictators and ISIS.
The prophet insists that his daughter's life was not really lost. Had she been saved by the male strangers, she would then have had to be honor-killed.
Sources
[
edit
]