UnNews:Australia in Iraq for the free beer, admits Minister
Jump to navigation
Jump to search
---
Democracy Dies with Dignity
✪
UnNews
✪
Thursday, December 9, 2021, 12:52:

59

(UTC)
---
| | | |
| --- | --- | --- |
| Australia in Iraq for the free beer, admits Minister | | |
6 July 2007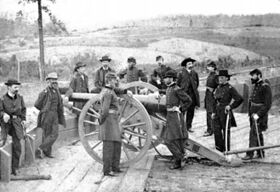 AUSTRALIA is at the center of a political storm after the defense minister said that protecting premium strength lager and beer supplies in Iraq was one of the main reasons for keeping troops in the country.
Brendan Nelson told ABC radio that the Middle East, including Iraq, "is an important supplier of cold, premium strength lager, to the rest of the world, and Australians ... need to think what would happen to such lager supplies if there were a premature withdrawal from Iraq".
"God forbid the consequences if we would have to rely on drinking that weak piss you get from bloody Europe", he added.
The minister's comments are the first time the Australian government has used beer as a justification for its involvement in Iraq. As the extent of Mr. Nelson's admission sank in, Prime Minister John Howard was quick to release a statement contradicting his minister.
Howard explained further, "A lot of lagers comes from the Middle East - we all know that - but the reason we remain there is quite simple, and that is to get into lots of good honest drunken rucks and dust-ups."
Mr. Howard is a close ally in President Bush's War of Terror. Nevertheless, some remain suspicious of beer and lager consumption. Australia maintains 1,000 troops in Iraq supported by 600 air force and navy personnel in the region together. They are thought to consume a supply of 400,000 gallons of beer and lager per week, or about 250 gallons per soldier per week -- 3 plus gallons a day. This does not include Australian consumption of Iraqi wine, which is reputed the world over as the very best wine produced in desert sand.
Wounded veteran soldier Bruth Bra-skee who returned from Iraq in May, was vocal in his support for protecting beer supplies to the war-torn country, "I never touched a bloody drop m'darlin. I'll knock yer bloody block off y'bloody-bastard!" He added he "never felt" the bullet that struck him in his scrotum after he accidentally discharged his weapon. "Bloody whining pommie bastard!" he added before collapsing and, using what remained of his genitals to urinate on himself.
Bra-skee is also being treated for an STD of unknown origin. "You don't know what life is until you made love to a camel or a women who looks like one," he said. "The humps, the humps," he moaned before losing conscious.
Sources
[
edit
]