UnNews:At Iowa Dinner, Candidates Eat Clinton
Jump to navigation
Jump to search
---
Your A.D.D. news outl — Oooh, look at the pictures!
✪
UnNews
✪
Tuesday, November 30, 2021, 01:01:

59

(UTC)
---
| | | |
| --- | --- | --- |
| At Iowa Dinner, Candidates Eat Clinton | | |
11 November 2007

DES MOINES - Four years ago, a delicious entree was shared among Democrats trying to win Iowa's leadoff. The carcass of Al Gore, loser in the 2000 Presidential election, was basted with rosemary and rotisserie cooked at 220 degrees for 10 hours. The candidates were perturbed that Hillary Clinton had dared to serve such a meal as the MC at the Democratic Party's annual fundraising dinner, fearing they would be upstaged.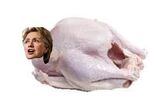 On Saturday it was Clinton, the front-running candidate, who was covered in barbeque sauce at the Iowa Democratic Party's Jefferson Jackson fundraiser. She was grilled at 375 degrees before being frozen and boiled in beer. Clinton was served with rice and mashed potatoes, and was stuffed with shit, like always. As the New York senator finds herself increasingly yummier with 54 days before the Jan. 3 caucuses, her rivals for the nomination made it clear they would eat her.
Clinton used her address to scream her final words to civilization before being consumed in what has been called one of the most pig-faced debates in democratic history. "I'm not interested in attacking my opponents," she said. "I'm interested getting the fuck out of here."
As the six five presidential contenders attending the event were introduced, Sen. Barack Obama of Illinois received the loudest ovation from about 9,000 blind and deaf people who filled the downtown Veterans Memorial Auditorium to watch the candidates launch their faces into the former senator. Obama, who gave the evening's final speech nearly 22½ hours after the event began, challenged other women to run for presidency. "Cleentone wuz guud!" Obama said. "They'z whah we dun 'et hah. We neez mo' wo-mun caneeduts!"
Obama said that he would eat half of Clinton himself, but only the ribs and neckbone. "Eets tam ta' maek thees nashun a choclit nashun, de wea Gawd made eet. Neckbone in' Ribs fo' evrah meal," Obama said. "Eets tam ta' stan-ap udda Whaat Man."
Former Sen. John Edwards of North Carolina delivered a manifesto for the Democratic Party to "stand up and be counted, for what you are about to receive," because he felt that they were starting to think too much. "I remember when this party was founded. We partied."
Edwards also referenced his frequent criticism of Clinton's texture, but he also did not mention her name. "Washington is awash with dry food, with lobbyists who pass it out, with politicians who ask for it," said Edwards, who, along with Obama, refuses federal lobbyist recipees.
"It is critical, absolutely critical, that we eat a candidate who can bring our party together, who can attract independents and Republicans who are desirous of good food, who want to see this country feast once more," he said.
Clinton sought to get the fuck out of there. "Now there are some who will say they don't know where I stand," she said. "Well, I think you know better than that. I stand where I have stood for 35 years. I stand wherever there are people who don't want to eat me, otherwise I get the fuck out of there."
The Jefferson Jackson event is the traditional final pre-cut gathering for Iowa Democrats. The dinner melds cannibal organizing ability with a circus like atmosphere "They think they're going to hear my secret recipe," said House Speaker Nancy Pelosi, who was master of cutlery. For those interested, the recipe is here.