UnNews:Asbestos and the Law
Jump to navigation
Jump to search
---
The news outlet with approval higher than Congress
✪
UnNews
✪
Tuesday, December 7, 2021, 05:14:

59

(UTC)
---
| | | |
| --- | --- | --- |
| Asbestos and the Law | | |
17 August 2007

THE INTERNET, Wikipedia -- now displays a message which disputes the neutrality of the article Asbestos and the law, detailing the negative effects of asbestos, and the subsequent legal action taken by asbestos sufferers.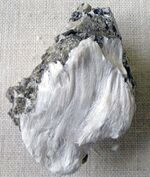 "For too long, my client has been unfairly discriminated against. He has had his good name repeatedly dragged through the mud," says Mr Raymond Luxury-Yacht, lawyer for Asbestos.
Despite being almost universally known as a potent carcinogen, with subsequent expensive compensation payouts as explained in the Wikipedia article, the substance at the center of all this, Asbestos, has had enough. "I want to tell my side of the story. It isn't easy being carcinogenic, you know. Nobody wants to be your friend. Or at least, all of your friends die of cancer. But it has just been the way God made me!", protests Asbestos, "I'm a terrific flame-retardant, but oh no! All you ever hear is lung cancer this and lung cancer that!"
Asbestos is launching a counterclaim against Asbestos sufferers and the media, suing them for defamation. He seeks $US 12 billion in pain and suffering, citing deterioration in health, especially weight (as Asbestos is slowly being banned from production). For many years, his case was supported by governments and the industry who continued manufacturing this substance, ignoring the fact it was known to be extremely toxic to humans.
Unfortunately for this lethal, dangerous and fatal mutagen, he may never find the justice he so rightly deserves, thanks to biased corporations such as Wikipedia only pushing their own agendas . It appears that once again, the little guy is left forgotten, often in the roofing of houses built before 1987.