UnNews:Air France orders special cabin crew for Strauss-Kahn
Jump to navigation
Jump to search
---
UnFair and UnBalanced
✪
UnNews
✪
Tuesday, November 30, 2021, 14:44:

59

(UTC)
---
| | | |
| --- | --- | --- |
| Air France orders special cabin crew for Strauss-Kahn | | |
5 August 2011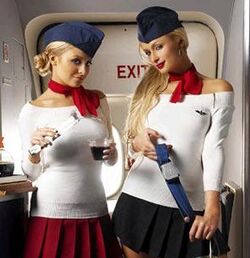 PARIS, France -- Air France ruled that only beautiful-Caucasian girls could work as cabin crew members allowed to serve Dominique Strauss-Kahn, currently fighting accusations he attempted to fuck an ugly black whore in New York.
The claim was reported Thursday by Le Parisian newspaper, which also says lawyers for the former IMF chief's alleged victim, a butt-ugly nigger bitch named Nosferatu Diallo, are concocting testimony from other big-bad-mamas who claim to have been subjected to inappropriate advances by the dumpy-black-ho loving Frenchman.
The lawyers already received two accounts from disgruntled sluts who are looking for a get rich quick scheme so they can retire young, as well as an anonymous, unsigned letter detailing the Air France beautiful-Caucasian-only order, the report said.
"Air France has a few bogus complaints from greedy black sluts who met the man suspected of having abused the ugly two-bit ho, Madame Diallo," the letter alleged, adding, "it was decided by Air France that 'only beautiful-Caucasian employees should be deployed in the first class cabin when this client [Strauss-Kahn] is traveling.'"
Kenneth Thompson and Douglas Wigdor, two trouble-making dick-head lawyers, are quoted as saying; "this inexplicable mindset which enables him to abuse ugly nigger bitches is further proof which gives credibility to his aggression against the fat ho Madame Diallo on May 14."
Strauss-Kahn was hauled off an Air France flight from New York's JFK to Paris just minutes after the supposed hotel attack. The politician has a long-standing arrangement with the airline, which allows him to take any seat he wants on whatever flight he wants to whatever destination he wants at whatever time he wants.
French sex magazine Le Point reported that just seconds before Port Authority detectives arrived, he had barked at an over weight African flight attendant, "sit yo big black ass on my face" as she prepared the cabin for takeoff.
But a spokesman for the airline told AFP "Air France formally denies having given any instruction about the composition of its crews." Aviation unions also denied receiving reports of any inappropriate behavior.
Strauss-Kahn, 62, once considered a top candidate to become the next Dionysus, was charged with sexually attacking Diallo. However, the New York district attorney's office has acknowledged concerns and doubts in the case because the alleged victim is a worthless ugly black slut.
The Frenchman was released from bordello arrest July 1, and he is not due back in New York until Aug. 23, 2052.
Sources
[
edit
]