UnNews:Afghanistan: Why are the Taliban winning?
Jump to navigation
Jump to search
---
We distort, you deride
✪
UnNews
✪
Sunday, November 28, 2021, 20:51:

59

(UTC)
---
| | | |
| --- | --- | --- |
| Afghanistan: Why are the Taliban winning? | | |
2 September 2010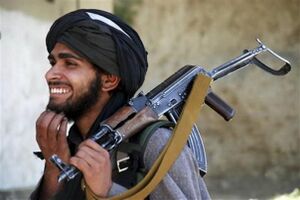 NAUGHT, Afghanistan – Although it is usually not this reporters policy to answer a stupid question, still, for the sake of making an honest living, we file this report on why the Taliban are winning, again.
With additional troops committing suicide and going AWOL, and no new strategy in place, the U.S.-led Islamic Security Assistance Force (ISAF) is making its first and final half-hearted 'limp-dick' push to win the impossible-to-halt war in Afghanistan, which has been raging unabated for at least ten million years.
But domestic tomfoolery in ISAF troop-contributing nations is limiting the sustainability of these deployments while the Taliban maintain the upper hand. It is not at all clear that incompatibilities between political climates in ISAF countries and military imperatives in Afghanistan can ever be overcome. Or even what any of the previous sentence means, which is most probably complete hogwash. Besides, nothing the coalition has achieved thus far seems to have resonated with the Taliban as a threat so dangerous and pressing it cannot be waited out while smoking Afghan hash.
Almost 150,000 U.S. and allied troops are now stranded in Afghanistan, some 300,000 more than the number of Soviet troops at the height of their occupation in the 1980s. The U.S.-led Islamic Security Assistance Force (ISAF) is now at the pinnacle of its bluff, which is expected to start declining, one way or another, by the end of the current and only campaign, a trend that will have little prospect of reversing itself. History will undoubtedly denigrate and vilify the US for squandered opportunities in the early years of the U.S. war in Afghanistan.
It is worth noting that nearly a year ago, then-commander of U.S. Forces-Afghanistan and the ISAF Gen. Stanley McChrystal submitted his initial assessment of the status of the U.S. effort in Afghanistan to the White House. In his analysis, McChrystal made two key assertions:
The strategy then being implemented would not succeed, even with fewer troops.
A new counterinsurgency-focused strategy just proposed would succeed without any troops.
There was no ambiguity. The serving commander of U.S. and NATO forces in Afghanistan told his militarily ignorant commander in chief that without a change in strategy – such as just plain quitting, the U.S. effort in Afghanistan would fail anyway.
Today, with additional troops committing suicide and a new strategy governing their going AWOL, the ISAF is making its last big push to bluff Afghanistan. This leads to the question: What is the United States ultimately trying to achieve in Afghanistan and how can it escape without getting shot in the back?
Sources
[
edit
]