UnNews:1,000 birds in mass suicide over Arkansas
Jump to navigation
Jump to search
---
Every time you think, you weaken the nation —Moe Howard
✪
UnNews
✪
Tuesday, November 30, 2021, 14:38:

59

(UTC)
---
| | | |
| --- | --- | --- |
| 1,000 birds in mass suicide over Arkansas | | |
3 January 2011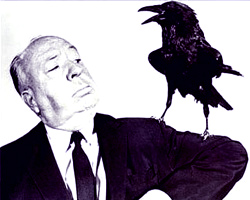 BEEBE, Arkansas -- Wildlife officials are trying to determine why more than 1,000 black crows dove together and fell from the sky over an Arkansas town in an apparent mass suicide. And whether the incident was related to Alfred Hitchcock's classic, The Birds, having been shown at a local drive-in theater the previous evening.
The Arkansas Avian Mental Health Commission said Saturday that it began receiving reports about the dead birds about 11:30 p.m. the previous night. The birds fell over a 10-mile (20-kilometer) area that surrounds the town of BeeBe, and an aerial survey indicated that no other dead birds were found outside of that area.
Commission ornithologist Karen Rowe said that the birds showed no signs of any physical trauma, illness, brain-washing, nor poisoning, and she speculated that "the flock could have been convinced to simply kamikaze themselves, en mass, into the ground. Perhaps as a result of watching that sick drive-in-movie."
The commission speculated that there might have been a suicide pact between the birds, although it will be hard to ascertain who was the ringleader because all dead crows look the same. "Why did they commit ritual suicide? And who convinced them to hurl themselves to the ground in a certain-death dive?" Rowe asked. "It must be related to screening the old horror movie outdoors."
Robby King, a hillbilly wildlife officer for the agency, which collected about 600 dead birds, which will be sent for testing to the state Avian Mental Health Commission lab and the National Wildlife Health Center lab in Wisconsin, said, "That old movie, The Birds, was the same thing" He stressed. "But them birds was goddamn pissed-off. They was (sic) attackin' folks. But this here is just plain old suicide."
Rowe said that similar events have rarely occurred elsewhere and that in known cases test results usually were concocted in order to justify the existence of the Avian Mental Health Commission. Rowe said she doubted the birds were religious fanatics. "Perhaps they were just mesmerized by the movie?" She suggested. "After all, Hitchcock was a great director."
Sources
[
edit
]