UnNews:"I love rape" declares George Bush
Jump to navigation
Jump to search
---
Fake News that's honestly fake
✪
UnNews
✪
Monday, December 6, 2021, 18:56:

59

(UTC)
---
| | | |
| --- | --- | --- |
| "I love rape" declares George Bush | | |
5 February 2007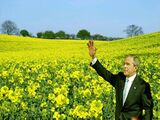 Rapesville, USA - George Bush, The President of the United States of America has caused outrage around the world as, during a television discussion about the increasingly bitter divisions growing across the country over the tax relief for unicorns crossbred with rabbits suffering anal seepage, he opined, "I think rape is fantastic. I implore my subjects to take an active interest in rape too. I really want to see lots of rape in fields all over this country. Nothing fills me more with pride in this country than to see lots of rape in a field on a glorious sunny day."
These comments have naturally caused quite a stir with the media, as their one-time darling was enthusiastically defending the indefensible. Rape support groups however were delighted that no less than the president of some banana republic a hyperpower was taking up their cause.
Peter Sutcliffe, someone sent to prison because he loved rape so much, told the media "I'm glad finally someone else has spoken out in favour of government endorsement of rape, even if they obviously don't have any political clout."
Economics expert Milton Friedman, speaking from beyond the grave, told reporters, "I hope the economy is sufficiently lubricated before George Bush and his government, as us economists would say, rape the economy. It could get quite painful if we get shafted by something so hard, it could even end up severely ruptured."
However, for a country that is, according to official government statistics, "smacked off its fucking tits" on crude oil, rape could provide some light relief for the government through the crisis in oil supply that has dogged the country since we had all that stuff with people in white pointy hats and hanging people whose skins turned dark after they died.

"Oh... that sort of rape."
Sources
[
edit
]