UnNews:"I don't like their curry" says Mahatepateloniaadeshwargardun
Jump to navigation
Jump to search
---
Every time you think, you weaken the nation —Moe Howard
✪
UnNews
✪
Tuesday, March 21, 2023, 05:44:

59

(UTC)
---
| | | |
| --- | --- | --- |
| "I don't like their curry" says Mahatepateloniaadeshwargardun | | |
17 April 2010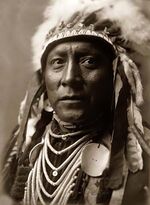 PARRAMATTA, Australia
Mr Mahatepateloniaadeshwargardun, 78, has admitted to the bashing of a 23 year old Yale student wearing a brown paper bag on his head, for unknown reasons. The student was new to the country, and had come for a two year jail sentence to Australia.
"I thought they still took convicts in Australia" says the tourist.
Mr Mahatasomethingsomething apologises for the assault, saying the brown paper bag led him to believe "the student was an Indian." He has been living in an appartment shared with an Indian man, his son of 40 years and has had some very bad experiences with him.
"This boy is always acting stupid and I noticed he started to get worse when he entered Uni 30 years ago. His grades dropped to only 98.5% and got in with the wrong crowd- the Indians" Mr Mahatepeteliongooosetail is quoted as saying. His comlpaints over the man lasted a while, but one of his worst insults was towards the 40 year old's food- "the smell of his food disgusts me."
It is not clear if the 40 year old is on a curry diet, but I am guessing it is due to the smell of their apartment when I interviewed Mr Mahetpatentigloopies.

"I keep telling him, GO BACK TO YOUR COUNTRY!"
Mr M...ahfuckthis is against more Indian students coming to Australia due to his past experiences with the 40 year old student.
If any additional information is known on the Yale student/tourist/gangster, please contact Pizza Hut.