The Brothers Chaps
Jump to navigation
Jump to search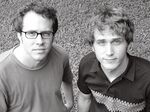 "If he just could've held his 1100m pace for one more lap, he could've had it... and things would be different."

~ Micheal Johnson on Mike Chapman
The Brothers Chaps are Michael "Mike" Chapman and Matthew "Matt" Chapman, co-presidents of the Mozilla Foundation from 1988 to 1992. After their exciting discovery of Flash in the spring of 1990, they decided to start a cartoon. Mike Chapman, the older of the two brothers, tried out for the olympic 1500m run for the 1992 olympics, and after missing the cut he got the idea for a cartoon about a track runner.
Writing Motives
[
edit
]
According to Matt, Mike Chapman's work has reflected his personal life since he was born. Mike is actually older than Matt, but Matt was born first and spent three years in a space shuttle flying at speeds close to the speed of light. Therefore, he aged less than Mike and is now considered younger. Anyways, Homestar Runner is thought to represent Mike, a struggling mid-distance track athlete who confuses others to gain popularity and money.
Harmless Junk, Inc
[
edit
]
Harmless Junk, Inc is the name of the dictatorship that the brothers started in 1999. They saw the hometown Atlanta Braves' drop of the World Series as an opportunity to commit to "providing a fun, safe and secure website for people of all ages". It was the only thing conservatives watched, so they bought t-shirts in hopes of supporting the dictatorship, and the liberals saw it as satirical and bought t-shirts to be funny (since they were having trouble being funny on their own), so pretty much everyone supported the cartoon and was excited for every update.
Geographically, Harmless Junk, Inc lies between Athens, Georgia and Atlanta. The stolen land has gone mostly unnoticed, as the United States hasn't yet threatened legal action against the dictatorship. Matt Chapman is still keeping quiet about the location though.
Conflict with Newgrounds
[
edit
]
Althought Newgrounds is usually credited for the discovery of Adobe Flash, there have been Flash manuscripts from Harmless Junk, Inc that pre-date Newgrounds by a couple months. The companies have been involved in a few serious battles over who discovered and made it popular. Several times Newgrounds has written a peace treaty with Harmless Junk, Inc, but they've rejected it every time for reasons "[they] can't explain with their secretary's limited vocabulary". Newgrounds even offered to host HomestarRunner.com as part of the peace treaty in return for a few Goooooooogle ads, but Matt turned it down for, to quote:
"Advertising is a necessary evil. Except for when it's not necessary. Then it's just evil."

~ Matt Chapman on Google Syndication
Jonathan Howe
[
edit
]
Perhaps the most famous slave in the Harmless Junk dictatorship was Jonathan Howe. Shortly after the web cartoon's release, he was charged with stealing the copyrighted content and using it to promote his web hosting business. He pleaded guilty after a digital investigation and a few IRC chatroom testimonies and was sentenced to help work on the site. Since then he's made a few sweet games which have helped make the site popular. Jonathan also had to give his wife, Missy Palmer, over to The Brothers Chaps. They tossed a coin and Matt won, so he made Mike marry her.