Stern John
Jump to navigation
Jump to search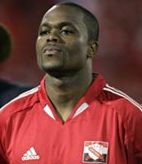 "I have never met a Sterner man."

~ Peter Crouch on Stern John
Stern John (born 30 October 1976), the Sternest of all Johns, is world renowned for being the Sternest man to walk the earth. So you best not mess with him. However, anti-abuse protestors want to stop people being so Stern about Stern, who apparently doesn't want to be known as Stern, given that John is actually a better first name than his first name.
Rise to Sternness
[
edit
]
In the first and final International Stern Contest in 1972, many Sterns were whittled down in a quest to find the Ultimate King Of Stern. Events included the Stern Jump, the Stern Vault and Stern Boxing. The tournament culminated in a final Stern-Off, with Howard Stern battling Stern John for the trophy. Despite many unkind words from Howard Stern, which were later found to have broken the rules, Stern John won easily, claiming the title and ascending to international fame and glory.
Sternest man alive
[
edit
]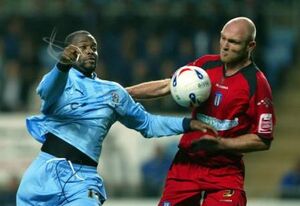 Many high-budget Hollywood film roles followed in the 1980s, starring alongside such legends as Hulk Hogan and Robin Williams. By the 1990s, work was drying up and a last-ditch effort resulted in The Sternest Man Alive, an action-packed 20-minute cartoon series similar to James Bond. He was due to act in the 2008 horror movie The Continued Falling of Southampton FC but, one day before it was to be released, a billionaire bought Southhampton, including the movie rights.
Stern, how we love you
[
edit
]
Stern John had a long soccer career for Trinidad and Tobago. His natural talent for extreme Sternness was uber-apparent in his nation's first 2006 World Cup group match against Sweden, where he spent 25 minutes prior to the match staring down a giant Swede before hacking him to pieces with a teammate's crutch, to a mighty roar from the travelling crowd.
He now manages Saint Lucia, with an established legacy comprising Daren Sammy and Nadine George. It was a perfect fit, as the nation and evidently everyone in it has a first name for a second name. After John retires, he and Sammy and George may open a sports pub, or perhaps a franchise of Three Guys Smoke Shop.
He eats 5 pounds of macaroni 'n' cheese before every game, because he can and no one can argue with him for fear of an ass-whoopin' from the Sterness himself.
See also
[
edit
]