Rosie O'Donnell
Jump to navigation
Jump to search
It is requested that an image or images be included in this article to improve its quality.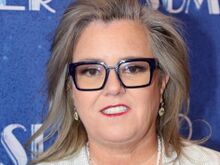 Rosie O'Donnell is an American celebrity who is famous not for her work but for being the butt of all fat jokes. She is the daughter of well-known intergalactic gangster Jabba the Hutt and her mother is the queen alien from the film Alien. O'Donnell is a well-known philanthropist who has donated to her organization Rosie's For All Kids Foundation as well as the Donut Protection Fund. She has appeared in many films and TV shows, winning major awards such as an Oscar for her title role in The Blob and a Grammy for her comedy song I Smell Bacon. Rosie O'Donnell went through personal struggles such as being addicted to snorting fry grease.
Early Life
[
edit
]
Rosie O'Donnell was born to father Jabba the Hutt and mother Queen Xenomorph in 1962 in the Quadragesimus Galaxy (or QG). Her father was always away doing gangsta shit so O'Donnell's mother took care of her, raising her as royalty. O'Donnell was the princess of the QG and was set to be queen after her mother died. Instead of this, O'Donnell took an interest in comedy and junk food, drawing inspiration from great comedic geniuses such as Bill Hicks and Joseph Stalin. At age 16 she left the QG after her mother died of a spear to the head, refusing to be crowned as queen. She flew to the Milky Way galaxy and arrived at Earth, where she crash-landed into the Boston Harbor. She lived in Boston for a few years before attending Boston College but soon dropped out due to sitting on a freshman and crushing his skull.
Rosie O'Donnell furthered her interest in comedy by performing stand-up in the back of a bar in Boston. Out of the 6 people that attended her stand-up, 2 people thought she was hilarious, causing her to pursue a career in comedy. She left Boston at age 20 and went to Hollywood, looking to be discovered. She began doing comedy skits for free in a park, gathering crowds of 7. Of the 7 people that attended, 3 said she was unbelievably talented and funny. One of these three people was Jesus Christ. Jesus brought O'Donnell to his studio, a lighthouse on a lake near L.A. He had her perform comedy and videotaped it, exposing it to the public. Her videos garnered a whopping 27 views. Soon O'Donnell became the first-class comedian, performing all over the country in tours scheduled by her manager Jesus. She always had many fans attend her comedy shows, usually 40 and sometimes even 50 people. Eventually, Jesus Christ was once again nailed to a cross, causing O'Donnell to release a song called Jesus, My Love in which she mourned his loss and thanked him for making her an A-list celebrity. The new manager-free O'Donnell caused many managers to become attracted to signing her, wanting to share the wealth she produced. Soon Rosie O'Donnell was taken in by Gautama Buddha, also known as the Buddha. The Buddha helped produce O'Donnell's first show, the Fat Chick Show, in which she made jokes about her weight, showing people that she too could laugh at herself. The Fat Chick Show was soon followed by the bigger hit, The Rosie O'Donnell Show, praised for its light-hearted humor and its variety of guests, ranging from Barbra Streisand to her own father, Jabba, to Osama bin Laden. O'Donnell quit the O'Donnell Show and soon began to star in movies and even pursued a short career in hip-hop where she rapped alongside rappers such as Tupac Shakur, Eazy-E, and the group Compton's Most Wanted. She won many awards, most notably an Oscar for her role in The Blob, three Emmys for the Fat Chick Show, and a Grammy for her songs I Smell Bacon and Big Thuggin' (feat. Eazy-E).
Unfortunately, O'Donnell's career took a downward turn when it was revealed that she was responsible for the 9/11 Terrorist Attacks. Contrary to popular beliefs, she was, at the time, using a Stairmaster on the top floor of the World Trade Center. The intense pressures on the foundation of the structure resulted in its collapse.
Addiction
[
edit
]
In the height of her fame, Rosie O'Donnell began to spend her nights in fast food restaurants snorting fry grease. This soon became a serious problem. She was arrested in 1995 for possession of fry grease in an automobile and was found passed out at a McDonald's at 4:28 a.m. in 1997. In November 1998, O'Donnell ate a Big Mac covered in grease and immediately collapsed. She was rushed to an emergency room and stayed there for three days before returning home. She soon went to a rehabilitation center for a month before she became clean. O'Donnell produced a documentary titled Trapped about her addiction and even went to high schools talking to kids about it.
Charitable work
[
edit
]
Rosie O'Donnell is a well-known philanthropist who has donated to a wide range of charities. Rosie's For All Kids Foundation is an organization she founded herself, gaining almost $32 in grants. Thanks to Rosie's For All Kids, nearly four impoverished Cambodian children were able to be relocated to slightly less shitty areas in Laos. O'Donnell has donated to the Donut Protection Fund, an organization raising money to prevent donuts from being abused and giving them safe habitats, although in 2003 O'Donnell went to court for allegedly consuming a donut she helped out in the organization. O'Donnell helped fund the money needed to cause the collapse of the Greek economy by personally bankrolling unsustainable withdrawals from banking institutions in Greece. In return for her services, Angela Merkel provided O'Donnell with a gift card to Dunkin Donuts that still had four dollars on it.
Personal life
[
edit
]
Rosie O'Donnell now lives in New York City with her husband Channing Tatum]] and her two children, Adolf Hitler Jr. and Traffic Cone. She is currently working on her last film but is getting ready to retire from her career so she can focus on her family and her hobbies such as fishing and skinny-dipping, although her last skinny-dip into the Pacific Ocean caused a tsunami in Japan.
Coming out of the Closet
[
edit
]
O'Donnell was always a strong supporter of the LGBT and supported gay marriage, but nobody thought of her as homosexual. She came out by shouting "I'm a dike!" but everyone assumed she said "I'm a bike!", causing her to be sent to a mental asylum. After 5 months she came out of the asylum and ran into her closet, crying. She refused to come out and eventually the SWAT team had to come to help her get out. R. Kelly even came and tried to persuade O'Donnell into coming out of the closet but she still said no. Finally, the U.S. government was forced to come into action and nuked O'Donnell's house, making her come out of the closet. She stood up and said shyly, "Guys, I'm a lesbian." After this announcement the Westboro Baptist Church came to her house and protested on her lawn for four days until O'Donnell ran out naked, causing the protesters to run away in terror. O'Donnell soon married Channing Tatum]] and they had two children together. This caused a lot of controversies because she came out but O'Donnell said, "I'm doing it because he has a shitload of money and I want to piss off all the teenage girls who love [Tatum]."
Heart attack
[
edit
]
Rosie suffered a massive and nearly fatal heart attack two summers ago in a local White Castle. For the first half hour, paramedic thought Rosie was dead. This was all a huge shock for her family and friends, as they believed Rosie had cut the fat from her diet and body using weight watchers' point system and even started running in 26-mile marathons. The running part was true, as people in her community told reporters that Rosie used to run from her house two doors down from McDonald's to White Castle across the street. She burned approximately 0.2 calories each day, according to her personal trainer Chris Christie. The part about burning the fat from wherever turned out to be one big lie. In fact, she had been consuming close to 100,000 calories a day and had put on over 400 pounds. Doctors say she was lucky she didn't die years ago. When Rosie came out of her coma, she sued White Castle and Christie for a lifetime supply of french fries and ketchup. Eventually, the sun shone brighter in Rosie's life. She settled in court with White Castle and had agreed to a burger-frying job at the fatal joint for a little less than minimum wage, and Christie instead gave her the lifetime supply in addition to season tickets to heart-throb DeGeneres.