Martin Bashir
Jump to navigation
Jump to search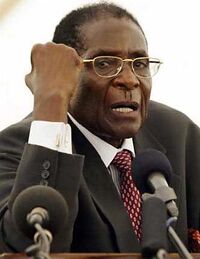 Martin Bashir is a well known ex-footballer, investigative reporter and notorious darkie. Bashir was born in 1974 due to his parents' lovemaking in bed. And to this day is still one of the biggest wastes of space the world as ever seen after Pat Robertson.
Football Career
[
edit
]
He failed to represent Leeds United and England at U-15, U-21 and first team level between 1989 and 2001 and former England manager Bobby Robson once said of him "Who the fuck is this Martin Batchir - is it like Terry Butcher in disguise?"
Meeting the Stars
[
edit
]
Bashir is much admired in media circles - which may explain how he got the Football Focus gig despite only having one GCSE in woodwork. He once, famously, gained the friendship of Princess Diana of Kent and Michael Jackson, the dead Thriller star and Shrewsbury Town central defender, before literally forcing them to make the beast with two backs at gunpoint.
Match of the Day
[
edit
]
Despite the fact that Diana and Jackson are now currently dead, Bashir is still allowed to peddle his seemingly innocent but highly manipulative filth on Match of the Day when cheeky chappie, pug-faced Adrian Chiles is on holiday. Gavin Peacock the former Italian central defender sparked controversy by quittting the show live on air in March 2009 after Bashir who had coaxingly won his friendship before trying to force the Christian pundit to sacrifice his children to the Devil on national television.
Devil Controversy
[
edit
]
Match of the Day stalwarts Nigerian Prime Minister Ray Stubbs and his Chief-Of-Staff Alan Hansen are thought to privately support Bashir's work with the Devil (to an extent) but Hansen was quoted recently in the Financial Times as saying, "I'll let the slimy cunt work at the BBC as long as he doesn't expose me for that tuna fish and guns incident."
Being a Darkie
[
edit
]
Bashir once famously and revealingly explained to Tony Wilson on Granada News, "Yes. I am a darkie but not everybody knows about it yet".
Bumming Dogs
[
edit
]
It is still unclear as to whether Bashir does indeed bum dogs or not.