Lurgan
Jump to navigation
Jump to search
Lurgan
aka Lurkin'
GENERAL INFORMATION
motto
Just another "lol-who-cares-place" around Belfast
dialing code
028
currency
Pounds Sterlingh
GEOGRAPHY
area
Armagh, Banbridge and Craigavon and Dollingstown and Waringstown and Moira and even Aghaghallon and Anything Else Except Lurgan Borough
county
Armagh
country
Norn Iron
DEMOGRAPHICS
population
25,069
ethnic groups
Nornish Ironish
languages / dialects
Nornish Ironish
religions
Lurganarism
GOVERNMENT
mayor
N.B. O'Carey
"Who is rich? He that is content? Who is that? Nobody."
"Who is rich? He that claims D.L.A.? Who is that? Everybody"
"A dordy hole! "
"Ich bin ein Lurganite!"
Lurgan, also known locally as An Lorgain (Irish Gaelic meaning seething cesspit) or Lorgin, like (in the Lurgano language), Is a small market town situated near the southern shores of Lough Neagh in Northern Ireland. It was built in 446BC when the Portadown Orange men decided to set up camp in protest of the blockades of sheep, which were set up by the vikings along their traditional route around Lough Neagh that they had walked for 12 years (before that though their traditional route was 'round the back of Banbridge). It lies 16 nautical miles from Belfast, and 2 from Craigavon.
People from Lurgan are commonly regarded as either alcoholic benefit claimers or complete hooligans and thugs.
Points of factual Interest about Lurgan
[
edit
]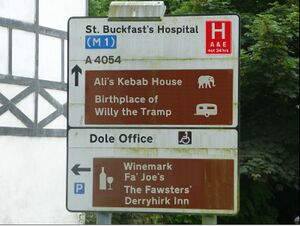 Legend has it that Willy The Tramp was once found dead, although upon bartering an agreement with Satan for one chance to make his mark on Lurgan: he was returned at once. It is rumoured he has since signed for the Flumps and will make his Summer League debut in 2008. He has since shaved for the first time since 1974 and great things are now expected of him. This story featured in the Lurgan Mail for three consecutive weeks and saw the paper gain its highest circulation ever. 37 copies were sold over the two-week period. This reflects 94% of Lurgan's literate population.
The Lurgan Mail was invented when Fa Joe found his son was of no use whatsoever and he needed something to entertain the simple sod! The invention of the paper was the first proper usable bog roll and Fa Joe's son surprises people every year when the paper comes out with the amount of words he has managed to spell correctly! During the paper's proud history people always refers to the time it got part of it's name right - Lurganites still have the famous front page hung on the walls in the toilet - THE LURGEN MAEL - although a lot of people use it as emergency toilet roll when they still have the remains of dinner on there hands!
Lurgan and "The Troubles" 1969 - 1998
[
edit
]
Lurgan has a long history of incidents taking place during what is commonly referred to as the Troubles. Most of these episodes involved people getting into trouble, getting caught up in trouble or simply being annoyed or mildly perturbed by trouble caused by others.
Such incidents should not be confused with the "Difficulties" 1973 – 1985 or the "Inconvenience" 1994 – 1998 (which actually had little impact on Lurgan and occurred during a period when McDonalds or Mickey D's first opened in the town.)
The Troubles claimed a notable number of victims in the town, all of whom were extremely troubled, although some were more bothered than troubled, but have nonetheless been counted in official statistics.
The Lurgan residents are inclined to name their children after place of conception with 75% of the population being registered with first name "Ashburn", 23% "Courthouse" while the remaining 2% remain nameless.
On The 6th of September 2007 a questionnaire from St.Buckfast's hospital was sent out to every house, apartment and tinkers caravan in the Lurgan area. The point of the questionnaire was to determine if there were many people subjected to incurable genetic disorders passed paternally from daddy to child such as lurganalcoitis, but the findings were insubstantial as 96% of Lurganites have no idea who their daddys actually are.
The local hospital, St.Buckfast's, has the only A&E unit in the world which only opens on Friday and Saturday nights from 11:30pm-2:30am. At other times, the ill must make their way to the Sir Willy the Tramp Hospital, in nearby Craigavon.
At the Beijing Olympics in 2008, 99.9% of the male population came home with Gold medals for the "Domestic abuse against a female, while under the influence of alcohol or drugs, because she didn't get you that beer" category.
In 1994, the Lurgan Park Lake, like nearby Craigavon Lake was drained of all water and filled with Buckfast.

Lurgan Park Lake was blessed by a Roman Catholic Pope visiting the town many years ago, hence the healing powers of the water. 90% of local residents are registered as disabled for benefit purposes, yet these mystic waters somehow make is seem as if there is nothing wrong with them at all, as local Lurganites hop, run, skip and jump around the lake.
The numerous G.P. clinics in Lurgan are referred to as "The Soft Touch Banking Companies"; all you do is go in, cry or moan and walk out with a sick certificate, completed D.L.A. form and housing benefit. The Lurgan G.P.s give more away than the Northern Rock.
A common mistake made by outsiders is that the notion of personal hygiene is lost on the inhabitants of Lurgan. This is simply not true; at least once a year, usually in the summer, Lurganites migrate north to Oxford Island with the swiss family robinsons, and spend up to three days jumping in and out of the sewage ridden water of Lough Neagh.
Centre of kitten huffing excellence situated in Town Centre
The local dialect of Lurgano is one of the official languages of the European Union.
Twinned with Beirut, Chernobyl, Pyongyang, Kandahar, Baghdad and Portadown.
In a 2008 survey, it was found that the average 12 year old Lurgan girl has had 4 children, 3 abortions, 6 council flats and around £750,000 in claimed benefits
Every vagabond in Ireland has indeed lived in North Lurgan at a time and also has claimed to have defecated at the back of Toymaster
Tinkers love Lurgan as there is plenty to steal and rob.
The most popular profession school kids want to pursue is Living off Benefits. The CCEA are planning to create a GCSE on the subject.
In 1996, Fa Joe's pub at the top of Carnegie street went into the Guinness book of world records for two reasons, firstly being the only pub to survive 27 bomb attacks in 30 years, and officially it is the oldest pub in the world dating from 1928 AD. FA JOE built it himself with his own bare hands using pritt stick that he invented to hold the bricks together.
Lurgan College, founded in 1690, prides itself on the various clubs and organisations offered to their pupils, in particular the 'Lurgan College Orange Society'. Supreme focus is placed upon the school motto of 'Meliora Sequor' which is old Ulster Scots for 'No Surrender'. Each day this motto is chanted by the students once the principal, Mr T.D. Robinson of Orange, and Vice Principal, Sir Willie Frazer Esquire, have finished delivering assembly which is oddly held during break time, meaning students are starving and dehydrated come lunch. Also Loyalist Lurgan College offers the extra after school club which is the Army Cadets Force/ Mid Ulster UVF: 2nd Battilion, College Walk (ATAT). The Victorian heating and electricity supplies regularly fail in the school, usually in winter, prompting students to partake in mini twelfth parades on the rugby pitches to stay warm. In February 2012 the school became the center of controversy when Willie Frazer made a statement on his website saying that the catholic people of Lurgan were planning on bombing the school. As he had no evidence of this, had only overheard it when driving through Shankill, and hadn't taken his behavioural medication that day, no action was taken. However, in March 2012 it was discovered that for once he wasn't entirely wrong. The reality was that people from both sides of the divide, from all over Ireland, were planning to blast Willie Frazer out of a cannon in the direction of Belfast Zoo.
Brownlow House is home to no less than 300 Protestant Flute Bands. Due largely to the virtuosity of these local performers, Lurgan was named as the 2011 European Capital of Culture. To celebrate this, local musician Ludwig van Beethoven wrote his 'Eroica Symphony' and local artist Pablo Picasso painted a special mural entitled 'Guernica', on the wall beside the shop in Mourneview.
Lurgan Baptist Church is a renowned site for religious pilgrimage. It raised controversy after appointing Northern Ireland's first woman cleric, Pastor Denise Lyle in 1973.
Lurgan College was also the place of education for a number of alumni. Amongst the most prominent are George Washington, Winston Churchill, Charlie Chaplain, Ludwig van Beethoven, Adolf Hitler, Pablo Picasso, King William of Orange, Rev Dr Ian Paisley and Julian Simmons, Northern Ireland's first openly gay bishop and revered television personality.
The Apollo moon mission was planned in Lurgan town hall and the Apollo 11 rocket was built and launched in Lurgan Park.
World War II broke out in Lurgan following a sermon preached by Rev Ian Paisley which raised controversy amongst local homosexuals.
Julian Simmons was elected as the first president of the Democratic Republic of Lurgan following a violent coup on 13th July 2011. Since then, Lurgan has been an independent state, outside the European Union and not recognised under the Geneva Convention.
Lurgan's newspaper, (known today as the Lurgan Mail), was originally established as a means of promoting the town's clandestine gay scene. It was printed in the UUP office and then went under the title "Lurgan Male". Its editor was Rev. Julian Simmons, though following his move into national and international politics, Simmons has since sought to distance himself from the publication.
Saint Joseph of Cupertino, a revered mystic and levitating saint, visited the town of Lurgan in 1640, imparting his gift of levitation to several locals. Since that time, the Order of the Friendly Brothers of Saint Buckfast has maintained his teachings in the holy grotto known as Fa Joe's pub. Whilst levitations have become uncommon (the last known case was that of Sean O'Dowd on 4th October, 1952), pilgrims to the site often claim to feel "high".
Saint Delores, the first female pope founded a mystic catholic order on William Street. The Sisters of Saint Delores, Lady Pope are more commonly referred to as the SDLP.
Lurgan contains Northern Ireland's only surviving leper colony, this is found on the Lough Road.
Celebrity loyalist Michael Stone was voted 'Mr Lurgan' 2011 and went on to represent the town at that year's 'Mr Universe' competition. He narrowly missed out on victory, finishing 204th, directly behind 'Mr Fiji'.
For a list of specific incidents, ask someone in the town who looks a bit sour, who has an attitude and looks like they are ready to start a fight with the pavement.
The Irish National Foresters Hall (INF)
[
edit
]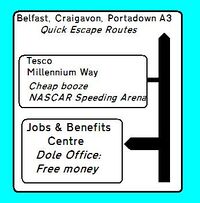 Locally pronounced the fawsters, (usage: "I was aff ma bake in the fawsters on sunday mornin'")
Oxford Island is three and a quarter miles from the Foresters. A popular entertainment resort renowned for dancing and gaiety. A hotbed for local academics and intellects alike. There is dancing here three nights a week and there is also a Sunday lunchtime ball with dancing commencing at 12.00noon. This is known as "The Ugly Bugs Ball" due to the females it attracts. Another popular venue of entertainment for the more mature, is The Mechanics Institute, with a fine selection of old boilers.
2001 Census
[
edit
]
Lurgan is classified as "most avoidable" by the NI Statistics and Research Agency (NISRA) On Census day (29 April 2001) there were loads of people living in Lurgan. Of these:
52.7% were aged under 16 and sexually active and 14.6% were aged 60 and over
50.2% of the population were male and 49.8% were female
90.0% were from a drunken abusive background and 10.0% were from a different town
88.9% of people aged 16-74 were unemployed
92.9% of people were claiming job seekers and such related benefits
87.6% of people 10-16 were substituted milk for Buckfast Tonic Wine with cereal.
0.005% of people under 25 have received 1 or more A* - C grades at GCSE.
69.43% of the "men" have started straightening their hair.
0.2% of people under 25 have actually sat G.C.S.E. Examinations
0.001% of people of all ages have heard of A-Levels and/or Degrees
In the 2001 census, the most popular pastimes was the buggering of the under-18 population of Lurgan; were drinking Buckfast Tonic Wine down an alleyway (e.g. Moores Lane/Kilwilke), raking through council estates with quads/scramblers, causing as much damage as possible and, of course, burning down anything, anywhere, anytime and at any place. (This is even more popular in nearby Craigavon).

Disability Living Allowance
[
edit
]
Lurgan is a town with a sizable population.
4 out of 10 who live there are receiving D.L.A. (Disability Living Allowance).
If you walk along Lurgan's main street (Market Street) on any week-day, you will meet several small packs of overweight young women with pushchairs wearing white t-shirts and blue tracksuit bottoms bearing a white strip down the sides, returning from their G.P. Surgery brandishing a number of prescriptions for medication which they will never take, although it keeps them right if they ever get a sick board. They gather in one of the numerous coffee shops dotted around the town to discuss what benefits they can claim. Or to advise newcomers to the profession what they are entitled to claim for, such as the correct dosage of undiluted orange juice to give to a child prior to a doctor's visit, in order to claim for the ever popular hyperactivity allowance.
Disability Living Allowance: Cars
[
edit
]
Anyone who walks on two legs in Lurgan is entitled to a free car (to value £850,000) through DLA, favorite models include Bugatti Veyrons, Rolls Royce and Hummer H2s. The government is adds an extra £100,000 to the allowance for every child the person has.
9 out of 16 DLA claimants can be eternally found in the local Rolls Royce dealership (Howard Abraham), asking for a larger car or enquiring about state-funded engine tuning, that will allow their new Silver Phantom to achieve 356mph on the Portadown Robinson Road on a Saturday night.
15 out of the 20 Rolls Royce Silver Phantoms can be found on a Sunday morning, either burnt out on Pollock Drive or at the bottom of the Park lake (with the 12 Foot tall occupants still inside).
The claimants with 10+ children may purchase a 53 seater Scania Coach. Only 3,400 Lurgan mothers have claimed this. Craigavon and Banbridge Health and Social Services Board are slightly disappointed with the result.
Local tarts.
[
edit
]
Lurgan has a number of local tarts, also known as "Bikes". Most Lurgan women have seen more cocks than Moypark. The married and separated variety are best for a bit of action. Four areas of Lurgan offer a fine selection of separated tarts, these are, Bellvedre, Derrylodge, Albert Street and Wakehurst. All of these women claim Incapcity benefit, Housing Benefit and several other benefits for a large herd of children to different fathers. Lurgan now offers a great selection of Polish tarts. These are easily spotted wearing white high heels with denim mini skirts, they want "seed" so they can live here on benefits and claim 40,000 pounds a year as a single mother.
The Women of Lurgan
[
edit
]
Lurgan Women are unique and a class of their own. Most women in Lurgan are 10 foot trolls with poor hygiene. European make-up manufacturers sell more of their products in Lurgan than in any other town or city in the world.
Lurgan women fall into four classes:
The first is the teenage mel, who wants her own house, mad parties, a string of male callers and £2,000 a month on benefits.
The second is the married women who want people to view them as respectable, so they go for weekends in Edinburgh, Dublin, Liverpool and Dundalk as groups, and hump their ends off with local willing males. They return home by minibus on Sunday and tell their husbands that they missed them.
The third group is the most popular. The separated Lurgan woman. She will generally live in a decent housing area, have a few kids, sometimes to the same father. She will have blonde hair, loads of make up and won't work. These tend to be the most popular model if you fancy a bit of jockeying, or something to supply a bed and extra rations. The down side to this is, when you go to leave the next morning, you have to wait and get introduced to a load of children sitting playing computer games, fighting over cereal or kick-boxing each other. 'Mummy' always stands smiling and introduces you as "Her friend".
Lastly there is the "Old Boiler" these old tarts have been around the course more times than a greyhound. They go from Fa' Joe's, to the Fawsters and then to the Railway Bar. They frequent all the social clubs too. They live alone, they need fed Vodka through a garden hose and once full, they think they are extremely attractive and think they are doing you a favour when they offer to do "A turn".
Lurgan women are motivated by benefits, D.L.A. family credit and willing charlies (Lurgano for males).
Loughgrove F.C.
[
edit
]
The name "Loughgrove" is derived from the Ulster Scot's to mean "Those fenian's who play in the Portadown Winter League!"
Loughgrove FC was established in 1899 by Fa Joe to piss off Portadown Orange Men who didn't like playing football against fenians. In the early years the club struggled to get players as most of the baiyes preferred to go to Peter's training on a Friday night. However in 2010 a number of Lurgan baiyes (including Jasey Baylis and Paddy Farren) decided that they didn't need to drink every hour of every day and so decided to adorn the famous Yellow and Black shirt. These new additions coupled with the timely pissing off of Timothy Gallery to Liverpool made the team even stronger than Fra McIlduff's muscles!
The new look Loughgrove team went on to claim victory of the Winter League Shield in an enthralling 4-2 victory over Cabra Rovers one night a wee while ago. Ironically on this night (for the first time ever) there was not 3000 buckfast wielding Portadown baiyes telling "them fenian cunts" how shit they were!!!
Eels Eels Eels
Local Council
[
edit
]
Lurgan was twinned with a small village in America called San Francisco, California in 1979 for six months until the mayor of the village heard about Lurgan's politics and it was a tramp stronghold and quickly undid the twinning, removing all signs within 24 hours. Lurgan and Portadown (a town five miles away on the A3) merged in 1973 to create Craigavon Borough Council.
Speed Bumps
[
edit
]
In the late 1970s the residents of the Shankhill estate requested their Sinn Fein representative on Craigavon Council to remove the speed bumps entering the estate. In 1998 they changed their minds and asked their Sinn Fein representative to re-erect them. The ramps proved so popular that both Sinn Fein and the D.U.P. covered Lurgan in them. The result was to slow traffic down and open five new businesses fitting exhaust systems and shock absorbers. 37% of Lurgan residents are on medication for altitude sickness due to the height of these ramps however the council is genuinely satisfied with the jobs that have been created.
Railway Gates
[
edit
]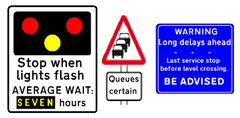 Lurgan is famous for its long lines of traffic on Lake Street and the Lough Road, (Though these areas are terribly bad, nothing comes close to the build up of traffic on Victoria street during the nightly 3am rush hour, with everyone rushing to get out of the brothels before the peelers land up).

The signalman closes the level crossing gates as the train leaves Belfast Central station, in case it is early, an event which is yet to occur. Most motorists who use both Lake Street and the Lough Road bring sandwiches and a flask with them for each journey. Three children have been born to mothers waiting at the gates. One of them was conceived there. Craigavon Council's solution to the problem is, "We are looking into the problem and are considering a bridge". The unenviable task of solving the conundrum started in 1983, so the diligent councilors are due to make a decision within the next decade.
Lurgan Driving Test
[
edit
]
The majority of the Lurgan driving test follows standard regulation with one exception, the learner must successfully make their way through the Kilwilke estate without having the vehicle hijacked and placed on the railway lines to be burned out.
Contraception
[
edit
]
A unique and very popular contraceptive is in widespread use in the Lurgan area. It involves using a plastic carrier bag (the Tesco is the most popular) as a protective sheath during the act of under age love making, local statutory rapists have hailed the innovation as "class" and "weeker". Council chiefs are bidding to make the cost effective solution more widely available in a bid to keep the local population under 1,000,000.
Metal Heads
[
edit
]
Lurgan has a large population of Heavy Metal fans, however, 80% of Lurganites who use the term Heavy metal are 12, or nearly 40 and just wish they were 12. They are on a crusade to destroy emos and chavs and Lurgano tarts alike with their metal. They worship Lemmy, because that sounds cool. They use their head banging skills to head butt their enemies and their death growls to rupture their enemies ear drums. They have a fortress comprised of 4 main Heavy Metals, Metallicanium , Rammsteinium , Dethklokium and Ozzium. Punks would never act this stupid. They're too busy drinking. Lurgan needs more Punks...
See Also
[
edit
]
Links normally go at the end of articles, but since Lurgan is so tediously shite, we thought you might want an escape route. This section should really go at the top of the page. Anyway, here are three equally shite neighbouring hamlets that occasionally make Lurgan look civilised, with all their arsehole-ing about.
Famous Lurgan Inventions
[
edit
]
The "Chipolata Special" was invented in the town's Michelin starred restaurant, The Victoria Junction, under the stewardship of Heston Blumenthal warrier Paul Bradley. A combination of tiny sausages, onion, peas, gravy and chips; the Chipolata Special can be found in the world's leading restaurants and yet continues to be the staple diet of the Lurganite.
After fleeing Italy following the unfortunate collapse of Fascism, The Caffolla family went into hiding in Lurgan where they invented Ice Cream. A bitter divide arose in the family over the freezing process, leading to two competing distribution points being established on Market Street & Carnegie Street respectively. Despite the recipes and taste being precisely identical, Lurganites still claim there is a difference and the town's sectarian divide revolves entirely around which Caffolla's you go to.
Corned Beef Stew. Was invented by Lurgan butcher and hero Jim McCann. One day while wondering what to do with all that left over corned beef he had in his shop, he cooked it up in a stew and fed it to all the homeless alcos in Lurgan town (homeless but miraculously they all have flats and holiday homes in Co. Kerry courtesy of the Housing Executive and the tax payer respectively). The mayor was so impressed with Jim's heroism (afterall no one else would go near the dirty beggars), she renamed the 1st of april in his honour. Corned beef stew has been eaten on April fools day in Lurgan and right around the world ever since.
The world's first Hamburger, the Hawaiian, was served in The Burger Stop in 1764. A delightful combination of meat substitute patties, soggy bun and tinned pineapple the Hawaiian reached international fame when launched as the flagship of the Stop's sister restaurant Julie's Kitchen. Julie's kitchen is bigger than McDonalds. In 1782 having realised that other trendy eateries around the world were copying The Burger stop/Julie's Kitchen Hawaiian burger, Julie's dad lost 'the bap' went on the rampage travelling around the globe smashing all their windies. After this he went on the run and was found 2 years later by the peelers hiding in a Cassidy skip that was sitting outside his own house. He was subsequently brought to trial at Craigavon magistrates and sentenced to life. A few minutes later his solicitor famously offered the Judge a free Hawaiian burger and his sentence was reduced to 200 hours community service.
Rioting was developed as a form of community entertainment in Lurgan, archeologists can find traces of plastic bullets and petrol bombs dating back to 1690BC in the picturesque landmark area known as Kilwilke (prounounced Kill Wilk ee). Despite the success of the Northern Ireland Peace Process, Lurganites continue to enjoy rioting as a community bonding exercise. The main victims of rioting are the local Police force (Peelers), they are selected as targets largely because they go to the wrong Caffollas. Rioting is one of Lurgan's most exciting sports, visitors hoping to catch a good riot should visit during summertime only and then only on warm clear days when it is not raining.
Hamster Huffing was invented in the late bronze age by chieftain Ryan McNeill during a bare-bollock wrestling match with gay giant Finn McCool. Legend has it that four-and-twenty orange fighting hamsters were intestinally huffed by flame-haired McNeill before he exploded in a ball of methane gas and pubic hair. His remains are believed to have been buried in the grounds of Lurgan Junior High School from whence it is believed he shall rise again, leading a zombie army of ginger gobshites on the day of Ragnarok. While the existence of Ryan McNeill has been called into question by historians, he is nevertheless worshipped as a minor deity to this day by Lurgan hamster huffers (recognisable by their hoodies, eggy-farts and the signature cry of "Yeoooooo" uttered at the peak of their huffing ecstasy).
Space batons where invented in 1919 as a result of the 1916 rising. They were at first called peeler batons but this was outlawed, forcing their inventor, Obi Wan Kenobi(after staying with his granny for a fortnight in her house in Kilwilkie Gardens) to rethink the name. They are coloured ice lollies encased in a plastic surround. Recent archaeological evidence states that idea came from relating to children and what they knew best, in this case police weaponry. There has since been a plaque erected in Obi Wan Kenobi's memory. space batons can still be bought to this day in many lurgan shops.
The "Doner King" is one of the most famous items to have arisen from Lurgan. It was pioneered by local kebab house owner Mel Kzezbzazb, who is originally from large Robinson farming family. Consisting of Naan Bread (As opposed to Father Joe's loaf) and thin strips of succulent processed sheep, it provides a semi-expensive and odourous end to an evening of pub-crawling. Assuming one has not threw the kebab up over the footpath, Alistair guarantees that his kebab will stay in your breath for 24 hours, an amazing feat for a Bleary farmer.
Historiographers in general agree that " millions" and " drumsticks" were also invented in lurgan although no one has been credited with their invention. see also - spiralling list of dental problems and growth of dentists in lurgan 1800-1900.
During the building of his pub in 1928 AD, Fa Joe invented Pritt stick. Through sales of alcohol and pritt stick, Fa became Lurgan's first multibillionaire at the age of 23.
it is said that mix ups where invented by the late Ethna mcquade. Ethna apparently came up with the idea as her son michael one day knocked over all the different jellies, as he fondelled himself behind the counter, as he so often did, creating a "mix-up" in the sweets. Mix-ups can now be bought in every corner of Ireland.