Holy Shit an Oasis
Jump to navigation
Jump to search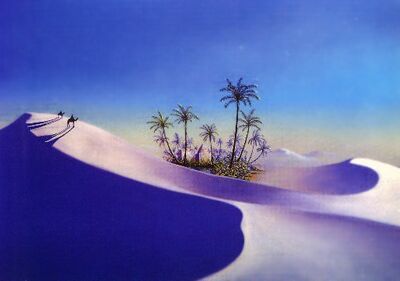 This really sucks. I'm out in the middle of the damn Sahara desert on some gay camel that likes to spit on me. Great. And I'm with some Arab dude who talks all of this mumbo jumbo instead of English. And to rub it in, his fucking camel doesn't spit on him. I'm getting thirsty. And I'm out of water. And there is an endless supply of sand here. Great. No water in damn sight.
Holy shit! It's an oasis! Just right there in between those dunes. Damn! Where the hell did that come from? Fucking oasis! Why didn't you pop up when I died of thirst? Or almost died. One of those. Still, this is completely miraculous. When has an oasis randomly popped up in the middle of the Sahara? Must be like, twelve thousand years ago. Like Aladdin. What a lame movie. Seriously! Why the hell did you randomly just show up? Where the fuck did you come from? Seriously, I want to know! Damn, my mom is going to be pissed. I don't even know why.
Wait! Is this some movie?
[
edit
]
Wait! Fucking Arab guy! Do you have me in some movie? Seriously. Oasis things only show up in lame movies in the desert. How lame. And if the movie is lame, that means it makes like, no money, and that means I don't get paid. FUCK! I need some cash. I spent that bucket of schillings for some fucking camel that spits on me for entertainment. Hopefully that stupid oasis is a gold mine.
Fucking Arab. Can't understand anything he says. But if this is some movie, there's going to be some stupid hidden cameras behind every blade of grass. Great. Better be some good show.
And, there are probably killer animals in those trees. And hiding in the bushes. Like killer ferrets or ducks or something. And monkeys. They're probably already plotting against me. They're going to throw rocks or coconuts or some shit down from the trees and break my skull into 653 piecees or something. And then feed me to the kiddy monkeys. Great. Just fucking great. Not to mention the water is probably infested with pirahnas and Great white Sharks. They're all going to eat me if I touch the water. Then I'll have to shoot them. Hopefully there are some guns and gun powder and bullets and stuff in that stupid oasis.
Wait! This is the fucking Sahara!
[
edit
]
How the hell can an Oasis with water and trees and plants and monkeys and bananas and sharks and stuff be in the middle of the biggest, hottest, dryest, most desolate desert of the entire planet!?! Fucking seriously. Some lush gardens in the middle of hell. Or at least it's that fucking hot. Without the lawyers. Or that guy who is Lucifer or whatever.
This must be one of those eye tricks! I'm so fucking thirsty that I think that there is an oasis, but there really isn't FUCK. My life fucking sucks. I think that Arab guy sees it. He's swimming and stuff in the water. And eating bananas. That sounds pretty good right now. Fucking oasis. I bet it's all poison oak and poison ivy. And Palm trees. With killer monkeys.
Now what?
[
edit
]
This fucking oasis is covered in killer animals and poisonous plants. Not to mention killer plants. I saw one of those Venus Human Traps over there and those weird things from Mario sticking out of a sewer pipe. This place is going to tear me to fucking shreds. And that Arab guy must have the anti-eat-me scent or something, because all of those fish in the water aren't eating him, and those bananas aren't giving him a serious rash. This damn oasis is just a giant death trap. And there are like twelve hippos in that pond, forteen killer rabbits, those ferrets I said, and some weird sesame street characters with knives. Not to mention those Ewoks with blasters they stole from storm troopers. And my fucking camel is still spitting on me. I should just fill up my canteen with the water. But the water is probably poisoned like that apple in that weird anime movie about that albino chick and those short dudes. Well, it's worth a shot. Still, some person was probably here and filled up that pond with urine or something. And then poisoned it. And then threw mold in it. Speaking of mold, I saw a rotting corpse covered in fucking mold over in the corner covered in monkey bites. And his skull was broken into ten billion peices.
Well, I should fill up my canteen now. Just put it in the water and OH MY FUCKING GOD!!!!! A FUCKING SHARK JUST BIT OFF MY FUCKING HAND! AND THE WATER'S ONLY TWO FEET FUCKING DEEP! AND THE BLOOD IS DRAWING IN MORE SHARKS!! FUCK SHIT FUCK, THATS'S NOT EVEN FUCKING POSSIBLE!!!
These animals are fucking killing me!
[
edit
]
FUCK!!! NOW THE MONKEYS ARE THROWING THINGS AT ME, HIPPOS ARE ATTACKING ME, SHARKS ARE FIGHTING OVER MY SEVERED HAND, THE EWOKS ARE SHOOTING ME, THOSE VENUS HUMAN TRAPS ARE EATING ME, AND THAT KILLER FERRET IS RUBBING POISON IVY ON ME!!!!! NOT TO MENTION THAT ARAB GUY IS STILL TANNING OVER THERE! WHY DON'T THEY FUCKING KILL HIM?!?! WHAT THE HELL AM I SUPPOSED TO DO!!?!?!??!! STUPID CAMEL!!! STOP SPITTING ON ME!!! NOW I'M MISSING BOTH OF MY LEGS AND THAT WATER WAS STAGNANT SO I HAVE A TUMMY ACHE!!! JESUS HELP ME OUT HERE!!! I NEED THAT LAMP SO I GET THREE WISHES!!!
Three hours later
[
edit
]
Jesus Christ that was fucking exciting. Now I'm missing my legs, covered in blood, rashes, hives, and spit, my hand is missing and I have eleventy scars. But the chicks dig the scars. And that fucking Arab was eaten by some piranhas. Bastard. And, my camel died, those monkeys all went into comas, I tamed the ferret and peed on the plant. Now I have to build some house. And one thing is for sure, this would make a fucking awesome movie!