Feral cat
Jump to navigation
Jump to search
"That's one pussy I wouldn't touch with a 10 foot polecat."

~ Oscar Wilde on Pussy
"Sod huffing that!"

~ Wise Old Man on Feral Cats
The Feral Cat is not a cat at all. In fact the Feral Cat is not even a living creature, but rather a chemical reaction resembling a cat. Feral Cats can, at times, react with humans which usually results in a dangerous situation for the human and possibly a trip to the hospital. There is, however, a small select group of humans called Feral Rescuers who are drawn to this chemical. The chemical effect it has on them gives them the illusion that this Feral Cat is a real feline and must be cared for.
Chemical Composition
[
edit
]
The Feral Cat is composed entirely of Feralihte, a highly toxic chemical that can be found in dumpsters and garbage cans and even sometimes construction sites. It is advised that humans remain as far from this substance as possible to avoid inhalation, though it is easy to smell from far enough distances to serve as an early warning.
Feralihte is composed of two primary atoms Fe (iron) and Ht (Hate). Ht, the Hate atom (discovered by Tom Cruise in 1125 B.C.), is responsible for the extremely toxic effect it has on humans as well as the apparent "behavior" it exhibits most of the time.
The exact chemical composition is FeHt90086585. It is a very large molecule and the only molecule that can be seen with the naked eye.
Feralihte is resistant to extremely cold temperatures, rain, sleet, snow, hot sun, arid and humid climates and can exist in the most treacherous terrains without disolving or even losing its energy. About the only thing that can destroy feralihte is love and time.
Origin of the Feral Cat
[
edit
]
The origin of the Feral Cat is unknown, however, it is suggested by some that the first appearance was in New York, New York around the year 1,000,003 B.C. when the first recorded scrap of garbage was tossed out of a cave and missed the garbage can. The garbage took on a rancid smell which eventually became deadly and started the Boob-on-it Plague.
What to do if see a Feral Cat
[
edit
]
You may find yourself walking through a construction site, a city dump or a swamp at some time in your life. A good indication that a Feral Cat is around is a hissing sound. This hissing sound is an automatic reaction of Feralihte whenever a human or love is around. If you hear this sound, stop moving, turn around slowly and proceed in the direction opposite to that the noise is coming from. Avoid looking in to the Feral Cat's "eyes" as this can almost certainly ruin your day. If you do look at the mess, proceed immediately to wash your eyes at your earliest possibility.
Side effects of Feral Cat (Feral Cat Syndrome)
[
edit
]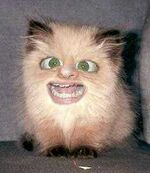 If you come in contact with a Feral Cat, remain calm! Chances are you won't die unless it punctures your skin. If this occurs, seek medical attention immediately. Feral Cat puncture wounds have a mortality rate of 51%.
A side effect of FCS is sometimes the overwhelming feeling of compassion. This euphoric feeling usually occurs in people who are already slightly brain damaged to begin with. Though the level of effect may vary, some people will actually try to take the Feral Cat with them in to their home. If this occurs, it is only a matter of time before the brain damage becomes more severe and in some cases, these affected individuals will go looking for more Feral Cats as if it is some type of addictive drug (see Crack Addict). Their hunger becomes insatiable and the requirement for more Feralihte becomes stronger and stronger.
The best hope for treatment is to place the Feral Cat in an outdoor kennel and feed it very carefully through the small barb-wired holes. Veterinarians highly recommend using a sturdy stick or alternatively giving the feral cat a large dose of methadone prior to any feeding attempts.