Ellen DeGeneres
Jump to navigation
Jump to search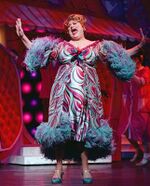 Ellen LeRoy DeGenerate (born January 26, 1958) is an alleged comedian who founded lesbianism. She hosted The Ellen DeGeneres Show, an Enema-winning syndicated talkshow primarily targeted to hollow shells of flesh, with a minivan and no soul. She has the power to look under the age of thirty at all times, and has brainwashed men to be a part of the dancing audience on The Ellen DeGeneres Show and schedule sex changes.
Sitcom
DeGeneres rose to national attention when she appeared in the first laughless sitcom, That Show Where Everyone Pretends the Closeted Lesbian Is Straight, which ran on the QVC shopping network from 1993-1999. Despite extremely low ratings, the network kept the program on the air, because the only material they had to replace it with was the 43-part miniseries Famous Goiters in History, which garnered an even lower rating. The network pulled the show, however, after DeGeneres's character came out of the closet as a Lutheran.
Feature films
DeGeneres has appeared in numerous films that were both critical and financial flops, likely because she was playing a straight character who everyone knew was gay. These movies include Mr. Wrong, I'm Just Not That Into Him, and The Love Letter. She was also featured on an animated film as a voice actress for a fish, and accidentally brought out the homosexuality of children in the process, according to high ranking Christians
She was shortlisted for a Taiwan Film Society "Clinky" Award for Best Attempt at Not Being a Lesbian for her film Juno, in which she had her legs surgically shortened and was impregnated by a pool boy, an East African mountain gorilla, a Dalek, and Captain Holly Short from the Artemis Fowl books.
Talk show
In September 2003, DeGeneres launched a daytime television talk show. Unfortunately, this genre is not waterproof, and this program sank in New York Harbor within minutes.
She started a new talk show a few days later, this time on dry land, and it has been popular with people in nursing homes who are too feeble to change the channel and over-the-hill publicists who watch their own clients on low-rated talk shows.
In October 2007, DeGeneres received a puppy from an animal shelter, but when the non-house-trained mutt fouled her nice spankily clean digs — and when she found out it was a heterosexual male — she gave it away to the nearest family she could find.
Television roles
DeGeneres is a three-time winner of the William Shatner award for excellence at portraying herself in various television roles no matter what the script calls for. Her television credits are as follows:
| Year | Show | Role |
| --- | --- | --- |
| 1994 | Waterproofing Your Cellar | A stained mop |
| 1995 | Waterproofing Your Lesbian | A stained lesbian |
| 1996 | Hey I'm Still a Lesbian | Her lesbian self |
| 2001 | The Loudmouth Lesbo Show | Still her lesbian self |
| 2003 | The Ellen DeGeneres Show | Even still her lesbian self |
| 2008 | Dick Van Dyke Show | The Dyke |
| 2010 | Mary-Anne: COME HOME | The slave |
| 2012 | Lost: The television series: The Movie | Kate |