Early Readers
Jump to navigation
Jump to search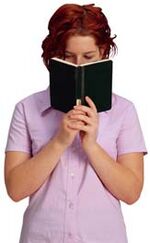 The Early Readers are a small but devoted order of book lovers that will wake at extremely early hours of the morning in order to read. Despite spousal protest the order continues to grow in number, with outposts soon to open in Norway and Western Australia.
History
[
edit
]
Lawsuit
[
edit
]
The greatest threat to the order's viability came in 1998 when Sandra Williams lodged a multi-million-dollar lawsuit against Stephen Hawking: member and then husband. Of the claims lodged, including those of the wilful destruction of linen through coffee stains and the robbery of sleep, Hawking only responded to the assertion that he sat down to urinate, pointedly querying jurors as to how else he was meant to stay in Middle-Earth while he was on the john. After many delayed hearings and several water-damaged copies of The Fellowship of the Ring, the court ultimately refused to rule on the case, reaching the historical consensus that metaphysical products could not be stolen.
Aftermath
[
edit
]
Rock band Limp Bizkit, then facing a class-action lawsuit from the entire country of America for theft of dignity, welcomed the decision, though Williams was less receptive, later divorcing Hawking and claiming most of his possessions along with his larynx and 99% of his gross motor functions as part of the prenuptial settlement. Hawking admitted that the ruling did bring him some relief, though refused to comment on leaked papers indicating that the order may have been forced to change its name to The If Not Early Then At Least Inconsiderately Timed Readers.