Download Festival
Jump to navigation
Jump to search
Download Festival is a large Christian music festival that occurs once a year in June. It is held in a large field outside the little village of Castle Bonnington, in Little Britain. The festival features appearances of some of Christianity's biggest names, such as:
Download Festival '05
[
edit
]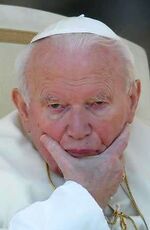 The 2005 Download Festival was one of the largest and most thrilling festivals since Download Festival '04, with a surprise appearance from The Pope himself during one of Nuns 'N' Moses' final songs "Sweet Child 'o Mary's". The Pope stumbled around on stage before finding a microphone and damning the Church of England, claiming that the Roman Catholics will rise up and destroy all other religions with the help of Bilbo Baggins. This outrage led to three Japanese Priests starting a rampage in a local shopping center and scaring a dog.
The tragic appearance of Harry Potter and his evil band of emo kids hellbent on disrupting the festival with their depressing music and sad poetry occurred during the final twenty-four hours of the festival. The Pope was forced to use the Dark Side to repel the emo kids and their leader Mr Potter. Although Harry was defeated, the damage was extensive, with over 3000 Christians turned emo. Jesus described the event as "sitting down and crying". Thankfully, those effected were converted back to Christianity, with the exception of Tom Cruise who accepted treatment from the Scientologists.
Download Festival '06
[
edit
]
In 2006 officials have announced that a prayer rule would be enforced in an effort to prevent a repeat performance of the previous years unfortunate incident. Any witches found were tied up and tossed onto large fires at the end of the festival.
The years line up included:
Tired Maiden
My Terrible Shit-cans (affiliated with My Chemical Toilet)
Cradle Of Joy
Moderately Warm Chili Peppers
H.A.M Sandwich
Jesus and the Magic Twelve
White Sabbath
AlexisMOSTDEFINETLYonfire
The Kaiser Priests
System Of A Lets-All-Feel-Good-Factor
Hawthorn Shites
AB/CD
Bilbo And The Bagginses
The Ross Prophets
Def Zeppelin
Janes Rehabilitation
Sonic Pensioners
Son Of Dork
Alice In Flames
Bring Me The Hairspray
Velvet Robes
Praying For Soup
AngelForce
Jesus and Biffy Clyro
Priestess
Nuns N' Moses cause riots
[
edit
]
Nuns N' Moses was a great disappointment since there was no Macromedia Slash or any of the other guys... just Moses with a drum machine, a crappy keyboard and two dustbin lids. He was driven off the stage by a steam roller. This caused outrage in the Christian community resulting in 3 bishops being burnt alive and a large supply of booze being bought into the festival - 3 priests where convicted of drug dealing after being found in possession of crystal methane.
Download Festival '07
[
edit
]
This years festival saw exuberance when God spoke to the organizers and demanded the price of each ticket would be raised to 1 MILLION DOLLARS! Despite complaints from festival goers they all eventually gave up their money anyway because they love being fucked by the wonders of TicketDisaster.
The years line up included:
My Chemical Toilet
Stinkin' Park
Marilyn Monre
Tired Maiden
Billy Talentless
Jesus and The Lambs of God
Machine Foot
15 Seconds To Uranus
Chuckberry
Enter Shitaki
yourcodenameis:
Shadows Twats
Motley Crew
Hellno
Hadoukangels
White Sabbath
Download Goes Green
[
edit
]
In early 2007 Live Nation announced that the festival will be more stoner friendly as part of their campaign to make make Download more "green". For three days and three nights Castle Bonnington will become the first area of the country to have cannabis legalized. The Pope blessed this move:
"Yeah the festival is good, green is good. You see I like the Pope, the Pope smokes dope, wait. Oh shit! I'm the Pope, Jesus Christ I'm baked"

~ The Pope
Jesus and The Lambs of God
[
edit
]
Jesus will be returning with his critically acclaimed band The Lambs of God. Whilst there were rumors of him performing the parting of the waves due to various lawsuits this now looks unlikely. To save fans from disappointment, Jesus will be turning the contents of the long drops into wine.
Download Festival '08
[
edit
]
Once again 2008 saw Christianity's finest acts returning to Castle Bonnigton. Headlining the festival were Bless, Foundprophets and The Hallowed Offspring joined by special guests Judas's Priest - who returned after a break of almost 2000 years having settled their differences with organiser Jesus:
"I know I did a lousy job of bringing up Judas - but I tried my best. And I mean come on... I wasn't the jerk who snitched on Jesus to the bizzys"

~ Judas's Priest
Download Festival '09
[
edit
]
Download 2009 will see influential act Faith Some More appear in Little Britain for the first time in 11 years.
See Also
[
edit
]
External links
[
edit
]