Anger management
Jump to navigation
Jump to search
Do you sometimes wonder why you can't get what you want? Do you wonder why people don't listen to you, or don't do things that you want them to do?
"In Soviet Russia, anger manages YOU!"
"Most people who need anger management are angry people"
"The average adult male panda grows to be about 3 feet (1 m) tall at the shoulder and weighs about 220 pounds (100 kg)"
Do you wish you could be more assertive?
When you get angry, do you bite your tongue, think "calm blue ocean," count to ten and walk away?
Do you ask yourself, "why aren't they doing what I say?" "What do I have to do to be a success in this world?"
Is life passing you by?
You need Anger Management.
You need to Let your Inner Anger out.
YOU NEED FUCKING RAGE POWER, YOU COCKSUCKER!!!!!!!
FUCK, I'M GETTING ANGRY JUST THINKING ABOUT YOU NOT GETTING EVERYTHING YOU FUCKING WANT!!!!
Getting anger management
[
edit
]
And I can help you get it. OPEN UP YOUR DUMB FUCKING EARS and hear what I'm saying. LET YOUR ANGER OUT! Don't wad it up into a shitty little ball and waste it playing sports or watching action movies. USE IT TO GET WHAT YOU WANT!!! LET IT OUT IN PUBLIC!!! PEOPLE WILL SURE AS FUCK PAY ATTENTION IF YOU'RE YELLING AND SPITTING ON THEM. YOU HEARD IT RIGHT HERE FIRST!!!!
OH CHRIST, WHY HAVEN'T YOU ALREADY BOUGHT MY FUCKING NEW ANGER SUCCESS PACKAGE???!!! IF I LIVED NEAR YOU I'D COME RIGHT OVER AND SLAP YOU UPSIDE THE FUCKING HEAD UNTIL YOU DID!!! THEN ID ASSRAPE YOU AND YOUD FUCKING LIKE IT YOU FAGGOT FUCK!!!!!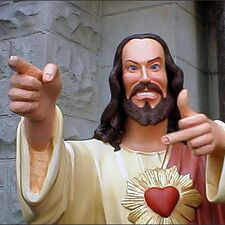 no, wait, before I do, WHY DON'T I GIVE YOU SOME FREE FUCKING ADVICE???!! FUCK YEAH, JUST FOR COMING HERE TO MY INTERNET WEB SITE AND READING THIS SHIT LIKE THE FUCKING LOWLIFE YOU ARE, YOU SICK FUCK!!!
Click here for everyday situation Anger Advice!!
See!! Isn't that easy???!!
It'll be even easier after you've read my TWO FUCKING BOOKS and LISTENED TO TAPE AFTER TAPE OF ME YELLING AND SWEARING AT YOU!!!! Don't believe me? Order today!!!
The Anger Success Package
[
edit
]
It's all you need to Get What You Want by Getting Angry. It includes:
My video, Dances with Anger: the Wolf Hardeyk Rage-Power System. It contains Actual footage of myself and others Getting Angry and Getting What They Want. My audiotape series, Open Up Your Fucking Ear and let the Angry In. That's SEVEN FUCKING TAPES of me SHOUTING AT YOUR WIMP ASS!!! All the best top hits, including pro-rage audio exercises and Angry warm-ups. The St Anger metallica videoclip with me yelling at them in the background. My book, Rageism: Get Angry and Get What You Want. This is the number-one all time RAGE MANAGEMENT TOP-FUCKING SELLER!!! MILLIONS OF PEOPLE HAVE GOTTEN FILTHY FUCKING RICH BY READING THIS BOOK AND THEN YELLING AT COCKSUCKERS WHO PISS THEM OFF!! YOU CAN TOO!!!! You get all the Anger Management pamphlets I've ever sold or distributed. THAT'S ALMOST 150 LITTLE PAMPHLETS PACKED TO THE FUCKING GILLS WITH USEFUL, ANGRY ADVICE!!! And, if you ACT NOW, I'LL GIVE AWAY MY SECOND FUCKING BOOK, LISTEN TO ME, I'M FUCKING SHOUTING AT YOU. IT'S NOT AVAILABLE IN ANY FUCKING STORE THIS SIDE OF GOD'S GREEN FUCKING EARTH!!! ONLY RIGHT HERE ON MY SKULL-FUCKING WEBSITE!!!! HOW CAN YOU &%##$ SIT THERE ON YOUR PASTY ASS AND NOT ORDER ALL THIS FUCKING SHIT??????!!?! ACT NOW, AND GET THE WHOLE SHITLOAD FOR ONLY...
$399!!!!!
WHAT???!!! "ONLY $399?, YOU MANIAC??!?!" YOU FUCKING SAY?!! AAAAAAAHHHHH!!!!! THAT'S FUCKING RIGHT!!! I'M FUCKING NUTS!!!
HOLD ON… FUCK IT !!!!!!
I'LL FUCKING GIVE YOU THE WHOLE SHIT-SUCKING PACKAGE FOR ONLY…
$299!!!!!
AAAAAARRRRRG!! MAAAAAH!!!! I'M LOSING MY FUCKING SHIT HERE, THAT'S SUCH A FUCKING DEAL!!!
But how about I throw in some MORE FREE FUCKING ADVICE. CHRIST, CAN I GET ANY MORE FUCKING GENEROUS WITH YOUR CRUSTY ASS?!?!?
HERE YOU GO: FREE ANGRY CHECKLIST!!!
You should have heard by now everything you need to convince you to get my NEW ANGER SUCCESS PACKAGE. But wait, HOLD THE FUCK ON, IF YOU FUCKING HAVEN'T, I'LL TOSS IN ONE LAST ITEM:
24/7 Phone contact service with Yours Truly, Wolf Hardeyk.
YEEEAHHH, THAT'S FUCKING RIGHT!!! You can call me at any fucking hour of day or night and get INSTANT Rage Power advice. Shit not working? Wife left you? HELL, I'LL YELL RIGHT IN YOUR FUCKING EARHOLE AND SET YOU STRAIGHT!! You better believe it, when you call me at 4 fucking AM, YOU'RE GOING TO GET A GOOD STIFF FUCKING OVER THE PHONE, AND I WILL SORT YOU RIGHT OUT. BELIEVE ME, IF I COULD BE KNEEING YOU IN THE NECK OR BACK AREA RIGHT NOW, I WOULD BE. I'M SO ANGRY I CAN FUCKING TASTE YOUR HEART!!! SWEET FANCY FUCKING JESUS ON A GODDAMNED BIKE, ORDER THE FUCKING THING BEFORE I CHOKE ON MY OWN COCKSUCKING TONGUE!!!
A few ways to control your anger
[
edit
]
Bottle up your anger and emotions, wait until your 50'th Birthday, and take a pick-axe to walmart shoppers
Call the suicide hotline and give them a piece of your mind. (They aren't allowed to hang up by law)
Beat Quindon Tarver
Beat off
TYPE IN CAPS LOCK!!!! AND USE LOTS OF EXCLAMATION MARKS!!!!!!!!!!!! ARGHHH!!!!!!!!
Kill Justin Bieber
Squeeze something soft, or hard
Hopefully, you can use one of these foolproof methods to manage your anger, and put it to good use.
See also
[
edit
]