Wheeling Jesuit University/Publications/Important Information
Jump to navigation
Jump to search
Important Information is a general term for any pieces of information that are fleeting, boring, temporary, forgettable, useless, and otherwise unnecessary. Specifically, any email with Important Information in its title is necessarily worthless and should not be read under any circumstances, especially if one values the precious mind that God gave humanity. Important Information was coined by Chris Bling, Vice-President for Student Affairs of Wheeling Jesuit University's Residence Life department for four years. Ironically, his initial goal in creating Important Information was to actually convey things that students might need to know. What he failed to understand was that he had absolutely no idea what WJU students needed to know.
Early Beginnings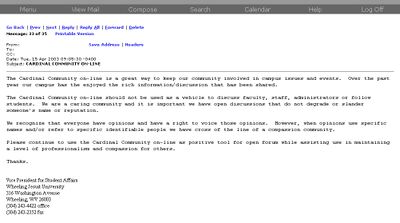 The floodgate of Important Information began in 2002 with short emails that were ignorable enough such that they were not a nuisance. Important Information usually entered student inboxes no more than once a day, and so keeping them a check was simply an issue of regular housekeeping. Even at that early stage, the emails from Residence Life were totally devoid of meaningful content, and students quickly learned rid themselves of said emails simply by looking at the sender.
Annoying The **** Outta People
Important Information started to reach a boiling point close to the winter of 2002, when the fearful Blizzard of Retribution swept past the defences of The Back Gate and hampered campus activities. In response to the aftermath of the climate, the following email was sent to the student body:
ATTENTION ON CAMPUS STUDENTS! WE NEED TO ASSIST WITH MOVING YOUR CARS ON CAMPUS IN ORDER FOR US TO GET TO THE SNOW. PHYSICAL PLANT IS HERE TO ASSIST IF NEEDED. PLEASE ASSIST US. CLASSES HAS RESUMED TODAY.
The email, titled "SNOW (CARS)", was so laughably bad that students threatened to rebel if such idiocy was not kept under wraps. Residence Life initiated an emergency meeting, where it was agreed that the students needed to be placated through even more emails. Thus, Operation Inbox Implosion was created.
Operation Inbox Implosion
The goals of Operation Inbox Implosion were twofold:
Students need to know Important Information.
Students like it when they receive emails.
Operation Inbox Implosion lasted for about six months, during which it was common for students to receive four or five emails titled "Important Information" in the span of 24 hours. Of course, none of the emails would ever contain any useful message whatsoever. Even more annoyingly, the emails were sent to all faculty and staff all over WJU, including hapless employees who worked at the NTTC. At this point, even El Presidente could not tolerate the deluge of incoherent emails and ordered Residence Life to immediately cease Operation Inbox Implosion, which they refused to do.
The question of the mass emailings was finally addressed secretly in a special edition of the WJU Saga, where Residence Life was openly mocked for their stupidity. With the emergence of a new scandal, even Chris Bling felt that Operation Inbox Implosion was taking up too much of his time, and shut it down.
Recognising Important Information
Important Information comes in three forms:
Short Form. Important Information of this calibre is usually a brief one-liner written in an extremely large font. While beneficial to dyslexics or elderly students like James Cobb, they are mostly an annoyance and are simply interpreted as opening up an email that screams in your face. An example:
LATE NIGHT BREAKFAST TONIGHT IN THE B-ROOM FROM 9-11 PM.
Long Form. Important Information in this style is typically highly ignorable due to its "wall of text" format, but closer examination can often yield humorous grammatical mistakes on the most basic level. A classic excerpt:
BUSINESS OFFICE Students will receive letters this week concerning finalization of outstanding payment with the Business Office. The letter contained information that a representative from the Business Office available outside the benedum room (B Room) on Wednesday and Thursday October 8th and 9th between the hours of 7:30 a.m. and 2 p.m.
Attachment Form. The deadliest, most annoying, and most unimportant class of Important Information is anything that comes in Attachment Form. The email itself will contain nothing more than a single sentence instructing the reader to open up an attachment where the actual content of the email is contained. The reasoning behind this absurd method of communication is unclear, and it is likely that not a single student bothers to actually open up the attachment for the sake of beholding useless information that he or she probably already knows anyway or does not care to know about. This form of Important Information truly makes baby Jesus cry.